October 29, 2021
With another pandemic Halloween approaching, fewer Americans are choosing to participate in festivities compared to pre-pandemic levels. This year, 64% percent plan to do something to observe Halloween, such as passing out candy to trick-or-treaters, decorating, watching a scary movie, or carving a jack-o'-lantern. This is down from 2019, when 76% of Americans had Halloween plans.
Though fewer Americans plan to distribute candy this year compared to 2019, it's rebounded somewhat from last year. Last year, a NORC Spotlight on Education poll found just 25% planned to pass out candy to trick-or-treaters in 2020.
The public is still hesitant to return to trick-or-treating this year. Just 16% are taking children trick-or-treating, compared with 25% two years ago. Last year, only 12% reported plans to go trick-or-treating.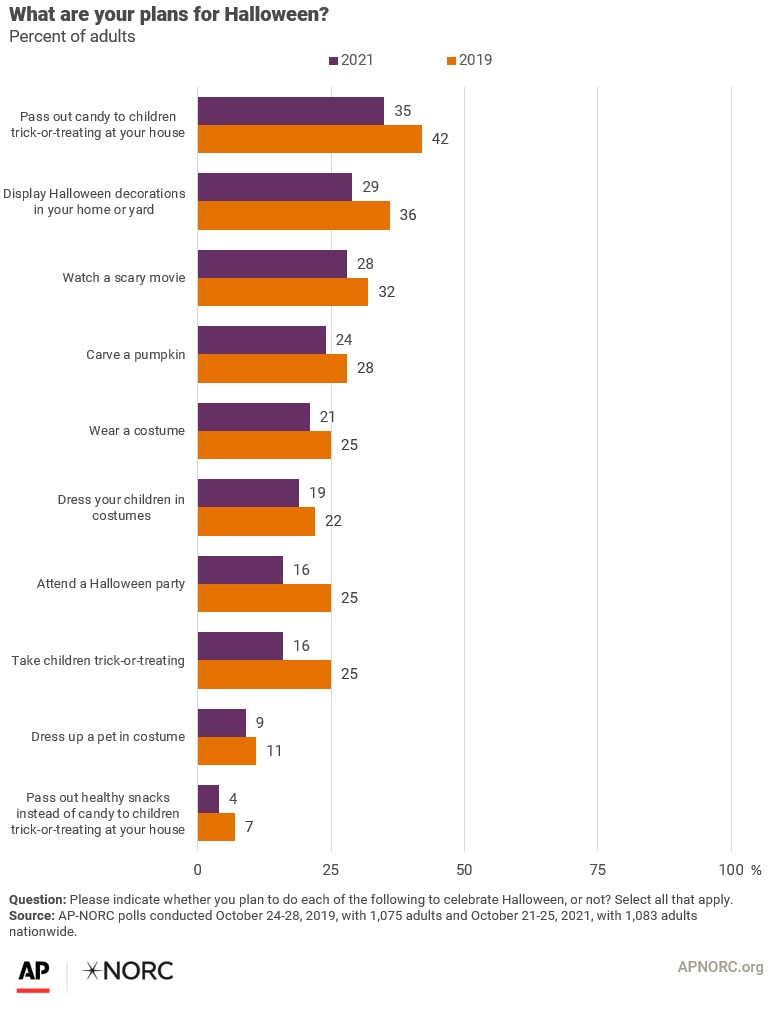 Adults with children under the age of 18 in their household are more likely to have plans for participating in Halloween activities (74%) than those without (61%).
The nationwide poll was conducted October 21-25, 2021 using the AmeriSpeak® Panel, the probability-based panel of NORC at the University of Chicago. Online and telephone interviews using landlines and cell phones were conducted with 1,083 adults. The margin of sampling error is +/- 4.0 percentage points.
Suggested Citation: AP-NORC Center for Public Affairs Research. (October 2021). "Another Pandemic Halloween" [https://apnorc.org/projects/another-pandemic-halloween]