February 15, 2023
A year into Russia's war with Ukraine, most of the public still thinks the United States should play at least some role in the war effort. However, support for supplying weapons or funds to Ukraine, accepting Ukrainian refugees, or imposing economic sanctions against Russia has declined since last spring. And Democrats and Republicans alike are increasingly likely to prioritize limiting damage to the U.S. economy over effective sanctions.
Overall, support for some level of U.S. involvement in the war remains high. Most of the public believe the United States should play a major (26%) or minor (49%) role in the conflict between Russia and Ukraine. Twenty-four percent think the United States shouldn't have a role at all.
Strong bipartisan support continues, though Democrats are more likely to support U.S. involvement in the war than Republicans. Eighty-four percent of Democrats favor the United States playing at least a minor role compared to 70% of Republicans. In May 2022, 91% of Democrats said the United States should be playing at least a minor role, along with 74% of Republicans.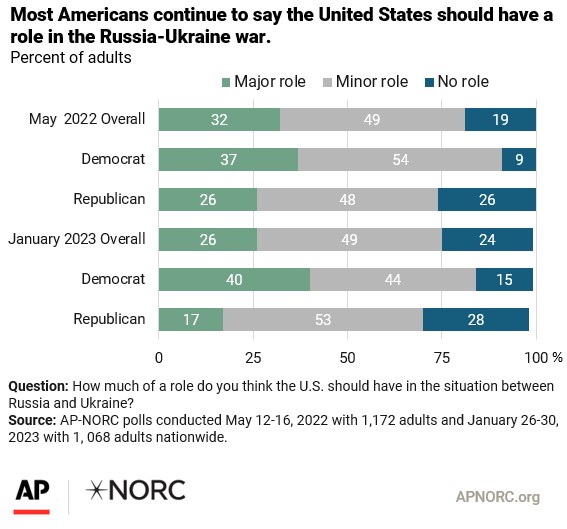 Support for many specific interventions declined since last May. Most Republicans and Democrats favor imposing economic sanctions on Russia. However, while a majority of Democrats support accepting Ukrainian refugees, supplying Ukraine with weapons, and distributing funds directly to the country, there is less support among Republicans.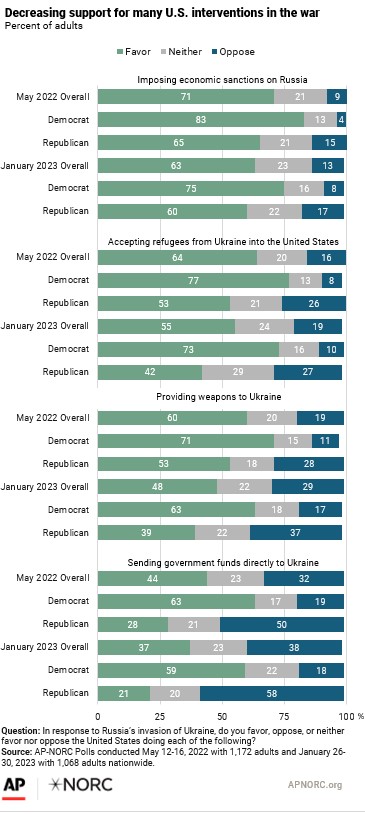 The public is expressing some limits on its support for economic sanctions against Russia. Fifty-nine percent say limiting damage to the U.S. economy is more important than effectively sanctioning Russia. Almost a year ago, in March 2022, just over half of the public (55%) said that it was a bigger priority to sanction Russia effectively, even at the risk to the health of the U.S. economy.
Support for prioritizing effective sanctions over the U.S. economy declined among both Democrats and Republicans. Most Republicans consider the U.S. economy to be the priority while Democrats are about evenly split. Last March, most Democrats supported sanctions despite the risk to the economy and Republicans were more closely divided.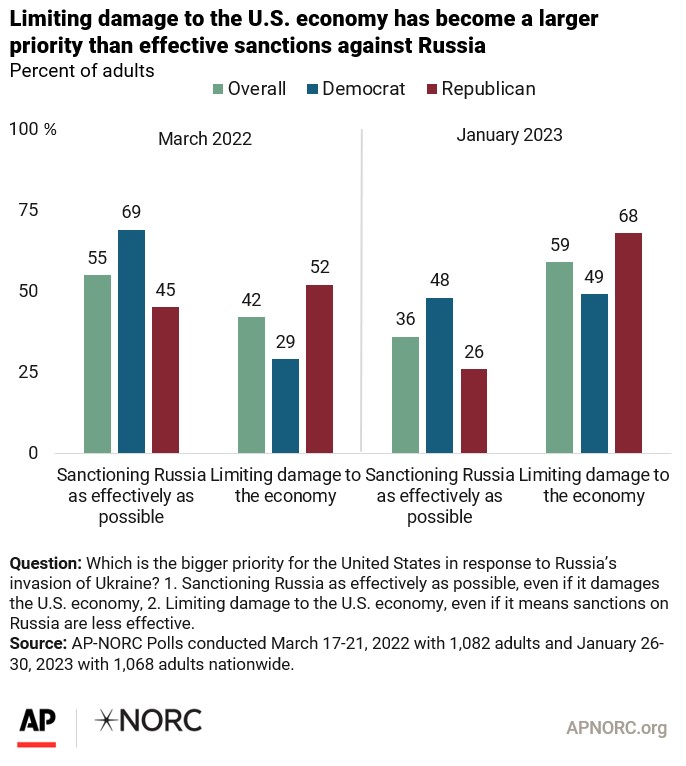 Forty-two percent of the public approve of how President Biden is handling the country's relationship with Russia, and 54% disapprove. Among Democrats, 69% approve, while 80% of Republicans disapprove.
Overall, only 19% of the public have a great deal of confidence in the president's ability to handle the situation in Ukraine, while 37% have some confidence, and 43% have hardly any. Democrats express more confidence in Biden's handling of the war in Ukraine than Republicans.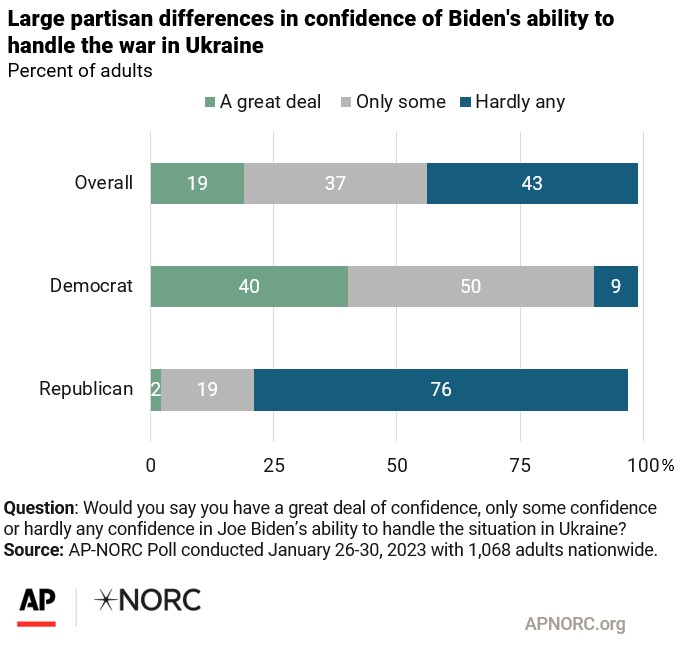 The nationwide poll was conducted January 26-30, 2023 using the AmeriSpeak® Panel, the probability-based panel of NORC at the University of Chicago. Online and telephone interviews using landlines and cell phones were conducted with 1,068 adults. The margin of sampling error is +/- 4.2 percentage points.
Suggested Citation: AP-NORC Center for Public Affairs Research. (February 2023)."Continuing support for U.S. involvement a year into the war between Russia and Ukraine" [apnorc.org/projects/continuing-support-for-u-s-involvement-a-year-into-the-war-between-russia-and-ukraine]