March 9, 2021
Americans are experiencing the financial impacts of the pandemic very unevenly. Overall, they are about as likely as before the coronavirus pandemic to describe their personal financial situation favorably and 68% have even experienced positive impacts such as being able to reduce spending or save more money than usual.
The public's perception of its overall financial health hasn't changed much since last spring: 67% say it is good and 32% say it is poor. Still, more than a third lack confidence in their ability to pay an unexpected bill of $1,000 or unexpected medical expenses.
Because of the coronavirus pandemic, 53% of American households have experienced income loss since March 2020 due to being laid-off, having a wage or salary reduced, working fewer hours, having unpaid time off, or quitting a job. Hispanic and Black Americans are particularly affected by income loss related to the pandemic. Sixty percent of Hispanic Americans say someone in their household has experienced employment changes, along with 51% of Black Americans. This is compared to 42% of white Americans.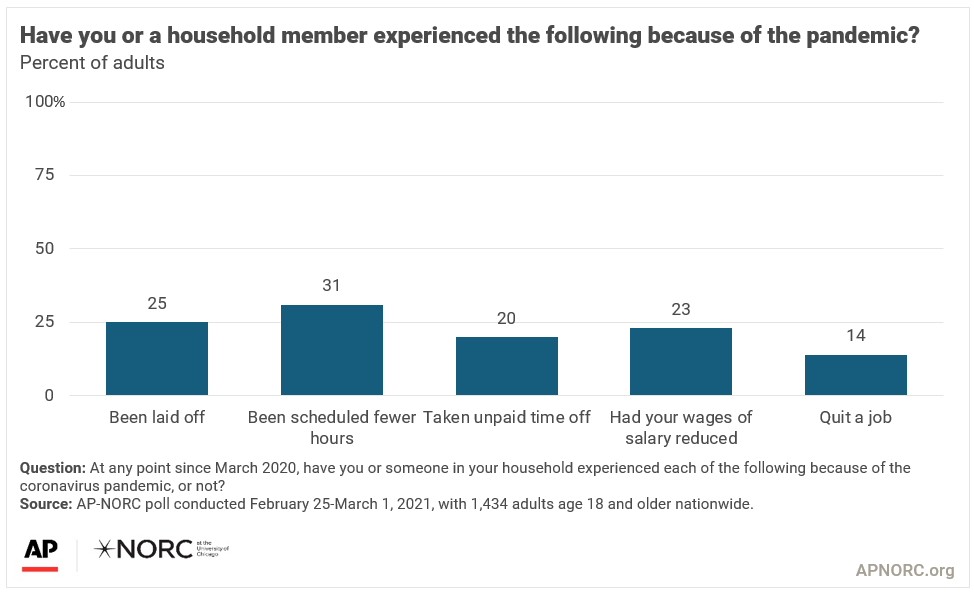 For some Americans, the financial impact of the pandemic is severe and likely to last. Thirty-four percent of households that experienced employment changes in the past year describe the impacts on their current financial situation as major. Another 52% describe minor impacts and 13% say the employment changes have had no impact on their current financial situation.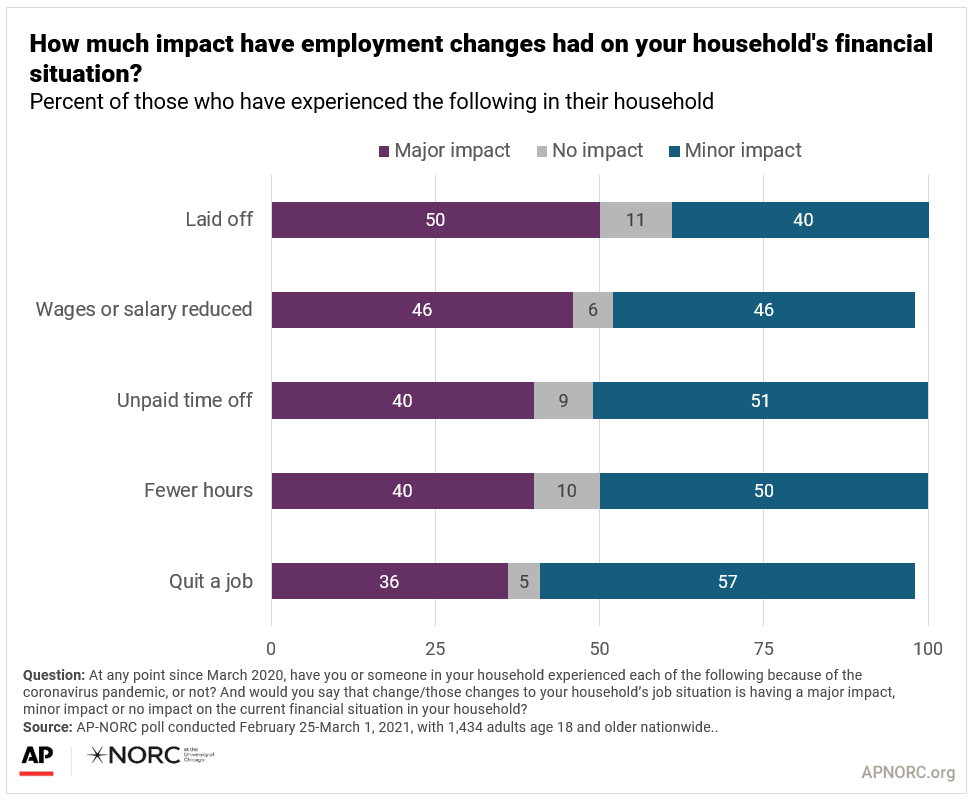 But this masks large differences in the impacts on some racial and ethnic groups. For Hispanic Americans and Black Americans about 45% say their household's employment changes are having a major impact on their financial situation. Among white Americans, 27% say the impact of their employment changes is major.
A majority of those who say their household's employment changes have had a major effect on their current finances currently report lower household income as a result and do not expect to recover financially for at least a year.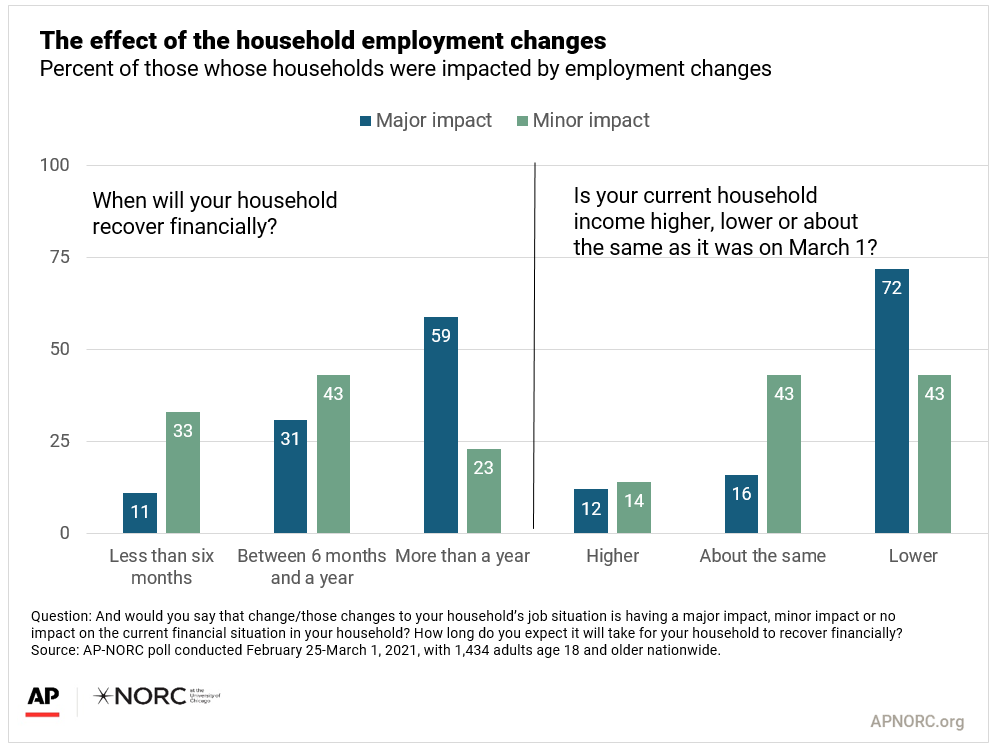 The effects of the pandemic are unequal. Because of the pandemic, 25% have been unable keep up with financial obligations in the last month, having trouble paying bills. But, 68% have been able to reduce their spending, pay down debt, or save more because of the pandemic.
Black Americans and Hispanic Americans tend to have more difficulty with financial obligations than white Americans. Forty-two percent of Hispanic Americans and 40% of Black Americans say they have been unable to pay some bills in the past month, compared with 17% of white Americans.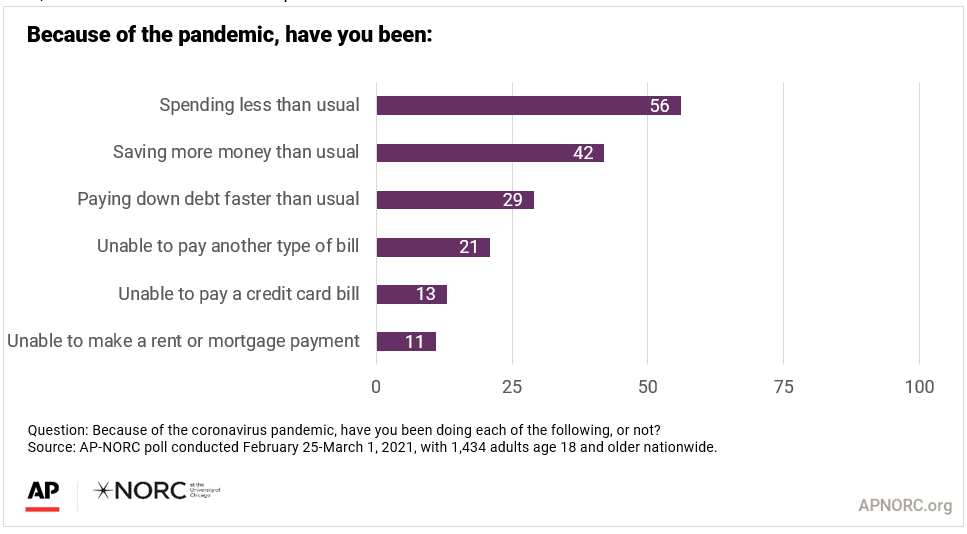 Sixty-seven percent of Americans describe their current household financial situation as good. In January 2020, before COVID-19 was declared a global pandemic, just about the same – 69% – said their financial situation was good. Similarly, 40% think their personal finances will improve over the next year; in January 2020, 42% expected an improvement in their finances.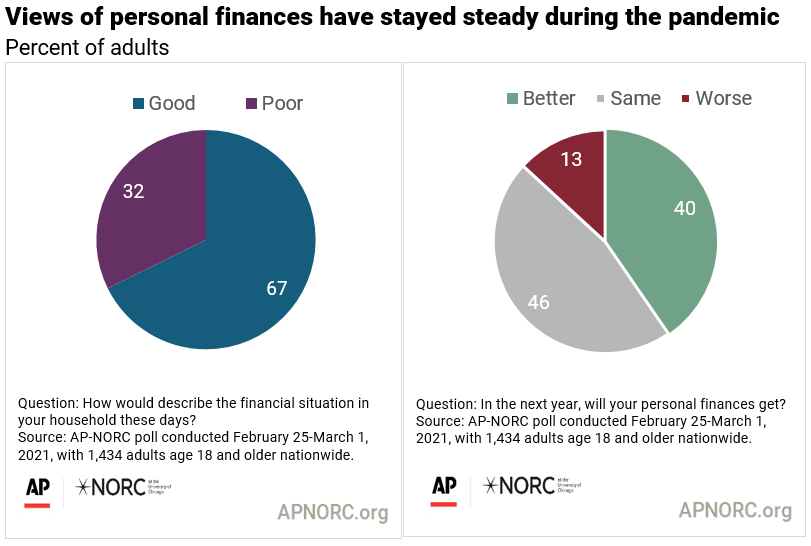 Still, few have a great deal of confidence that they will have enough to pay an unexpected medical bill or have enough funds for their retirement. There has not any significant change since the spring.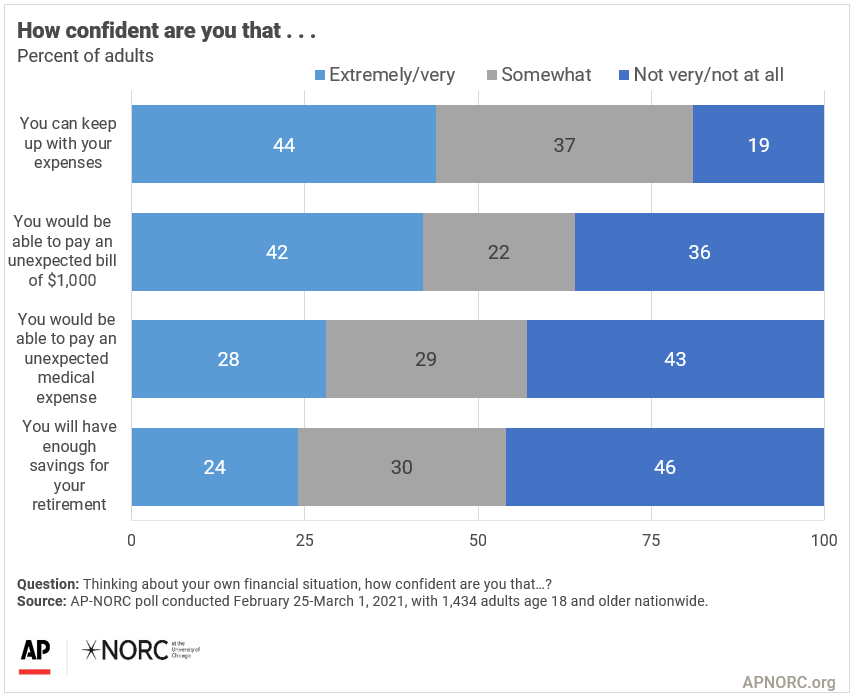 Fifteen percent of Americans have started a new job since March 1, 2020, and 12% have changed the type of work that they do. Seventeen percent of the public say they have received unemployment benefits in the past month.
The nationwide poll was conducted February 25-March 1, 2021 using the AmeriSpeak® Panel, the probability-based panel of NORC at the University of Chicago. Online and telephone interviews using landlines and cell phones were conducted with 1,434 adults. The margin of sampling error is +/- 3.4 percentage points.
Suggested Citation: AP-NORC Center for Public Affairs Research. (March 9, 2021)."Americans Experiencing Contrasting Financial Impacts of the Pandemic." [apnorc.org/americans-experiencing-contrasting-financial-impacts-of-the-pandemic]