The partial shutdown of the government appears to have taken a toll on the public's attitudes toward the country and the economy. According to the nationwide AP-NORC survey conducted during the 35-day partial shutdown of the federal government, Americans have a worsening view of the overall direction of the country and where the national economy is headed.
Twenty-eight percent say things in the country are heading in the right direction, down from 39 percent in December, days before the government shutdown began on December 22, 2018. The 70 percent saying the country is moving in the wrong direction is the highest in an AP-NORC survey since September 2017, when 74 percent of Americans said the country was heading in the wrong direction. That survey was conducted just after a period that included the threat of war with North Korea, complaints about hurricane relief, and following the demonstrations by white supremacists in Charlottesville, NC.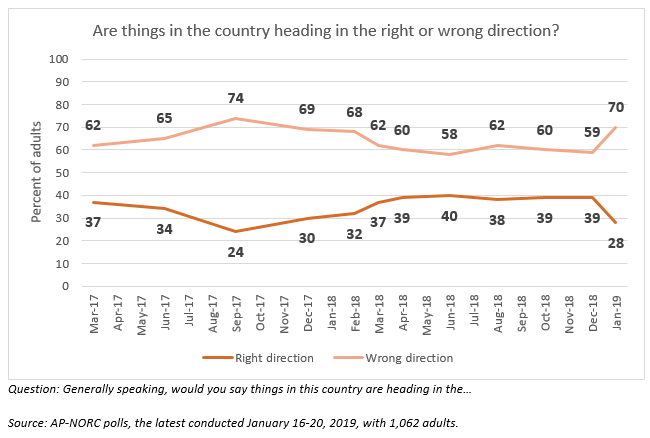 At the same time, only 22 percent expect things in the country to improve over the next year, and 52 percent expect things to deteriorate. Last month, 32 percent had positive expectations for where the country is headed, and 42 percent said things were heading downhill. In both surveys, 25 percent say things will stay about the same.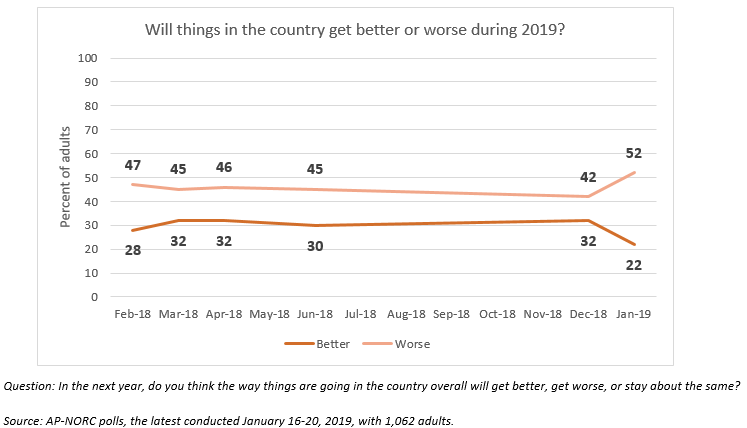 Overall, 34 percent approve of President Donald Trump's stewardship of the country, and 65 percent disapprove. The public is least negative about how the president is dealing with the economy and most negative about his handling of climate change.
However, Trump's handling of the economy took the biggest hit. In the wake of the stock market's dismal performance last quarter, 44 percent approve of his handling of the economy and 55 disapprove. In October 2018, 50 percent approved and 49 percent disapproved.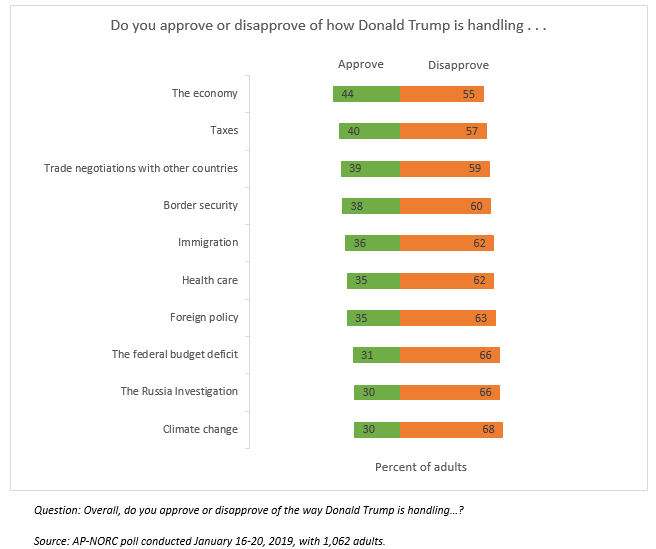 Overall, 53 percent describe the economy as good, and 47 percent say it is poor. Eighty percent of Republicans think the economy is good, and 38 percent of Democrats agree. Sixty-three percent of those with incomes over $100,000 describe the economy as good, compared to 49 percent of those with incomes under $50,000.
And looking forward, 27 percent expect the economy to improve during the next year, while 44 percent are anticipating a downturn. Twenty-seven percent expect the economy to remain the same over the year 2019. Of those who expect the economy to stay the same, 56 percent describe the economy as good and 44 percent think it is bad.
The nationwide poll was conducted January 16-20, 2019, using the AmeriSpeak® Panel, the probability-based panel of NORC at the University of Chicago. Online and telephone interviews using landlines and cell phones were conducted with 1,062 adults. The margin of sampling error is plus or minus 4.1 percentage points.