A new poll from The AP-NORC Center for Public Affairs Research explores Americans' views on clergy and religious leaders, their role in U.S. society today, and the influence they have on individuals' day-to-day lives. The results reveal a public with middling feelings toward religious leaders: 55% of adults say religious leaders have a positive impact on society, and 34% describe them as extremely or very trustworthy. Forty-seven percent would welcome the influence of clergy in their life.
These findings come in the wake of continued clergy sexual abuse scandals that have rocked the Catholic Church. Having a religious affiliation of any kind has a significant impact on attitudes toward religious leaders—the 76% of Americans who identify with a religion are more likely to believe clergy have a positive impact on society and are also more likely to hold conservative policy positions when it comes to same-sex marriage and abortion access. Frequency of church attendance also has a significant impact on attitudes among those with a religious affiliation.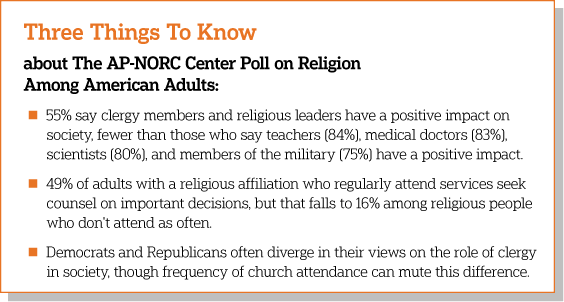 Few adults overall consult clergy or other religious leaders when making important decisions in their life. Among those who have a religious affiliation, 30% say they consult a clergy member often or sometimes when making an important decision. Among those who attend church at least two to three times a week, however, this number jumps to 49%.
Among those who have a religious affiliation, about 8 in 10 say they support their faith allowing women and people who are divorced to become members of their clergy. Fewer say a gay man or someone with liberal leanings on hot-button issues should be allowed.
The study also takes a close look at the relationships between partisanship, religiosity, and views on clergy. It finds that while Republicans tend to hold more positive views toward the role of clergy in society and more restrictive views on who should be allowed to become religious leaders than do Democrats, religious service attendance can have a diluting effect on these differences. For example, when it comes to the type of individuals that should be admitted to the clergy, Democrats who attend religious services more frequently hold views more similar to Republicans than to those of Democrats who attend religious services less often.
The nationwide poll was conducted May 17-20, 2019, using the AmeriSpeak Panel®, the probability-based panel of NORC at the University of Chicago. Online and telephone interviews using landlines and cell phones were conducted with 1,137 adults. The margin of sampling error is plus or minus 4.1 percentage points.