August 28, 2023
About three quarters of the public think Joe Biden is too old to effectively serve as President of the United States. While Republicans are more likely to think so, most Democrats believe it as well. Although Donald Trump is only three years younger than Biden, only about half of the adults agree that he is too old to effectively serve another term. While a large share of Democrats think Trump is too old, significantly fewer Republicans think so.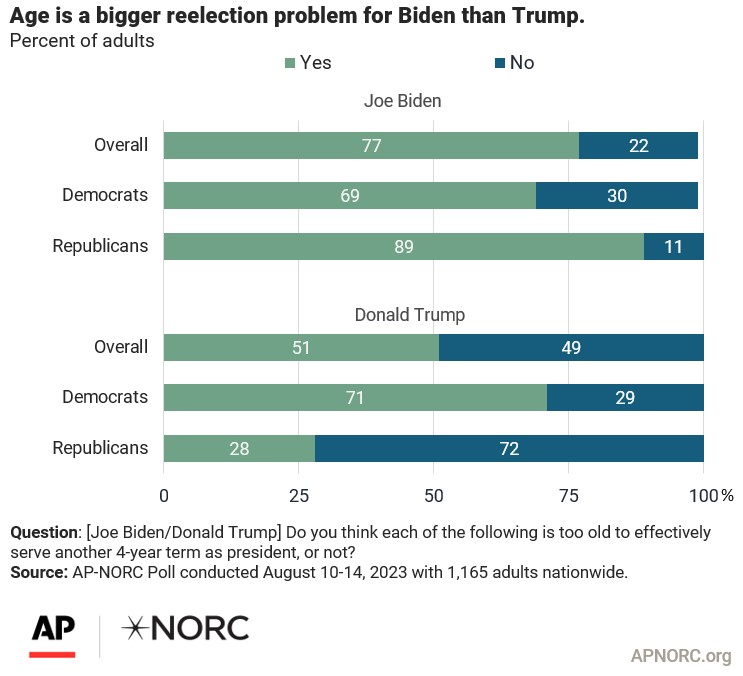 When asked about the first word that comes to mind when they think of each candidate, 26% of all adults cited Biden's age and 15% mentioned words associated with being slow and confused, while only 1% and 3% did so for Trump, respectively. For Trump, nearly a quarter mentioned words associated with corruption, crime, lying, or untrustworthiness, while only 8% mentioned those traits for Biden.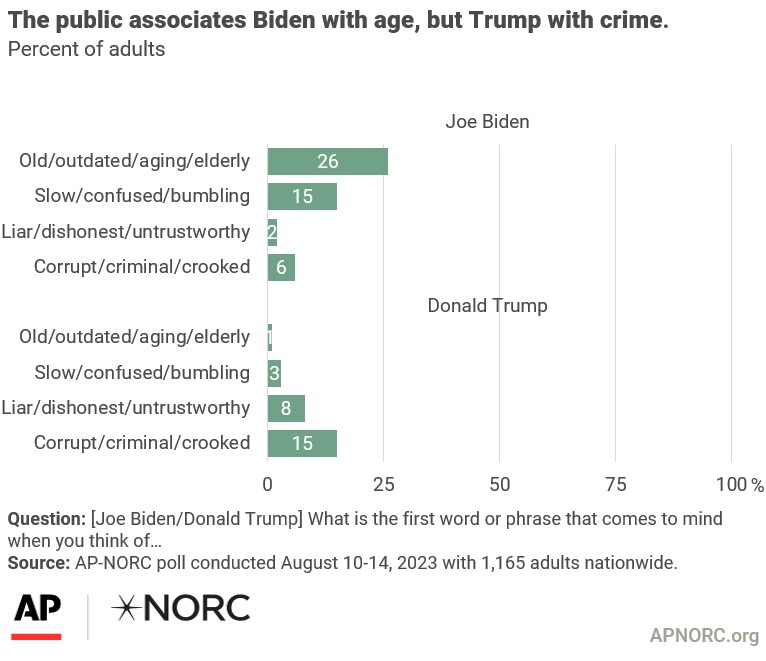 Pessimism over the current president's age is consistent among both younger and older adults, with at least 7 in 10 of those both under 30 and over 60 years of age viewing Biden as too old to effectively serve another term.
Among Democrats though, younger people view Biden's age as a larger issue. Seventy-seven percent of Democrats under age 45 think he is too old to serve a second term as president effectively compared to 62% of those over 45. And while 54% of Democrats age 45 and older want Biden to seek a second term, only 34% of those under 45 agree.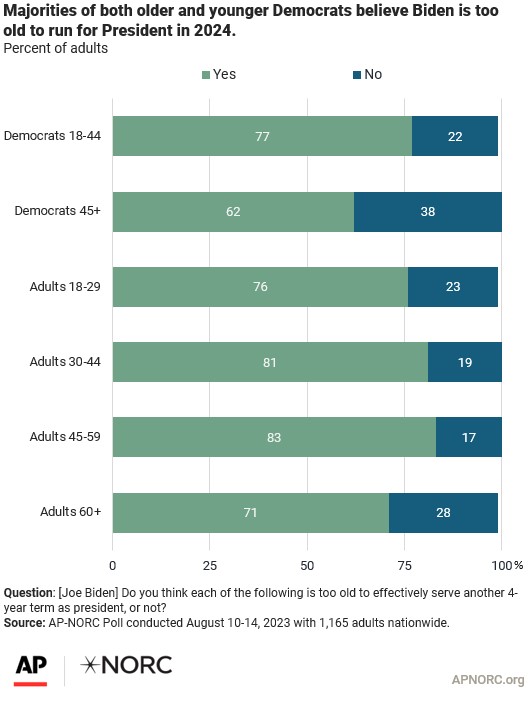 Despite widespread apprehension about Biden's age among younger Democrats, 77% say they will at least probably vote for him if he is the Democratic party's nominee, although only 28% indicate they will definitely do so.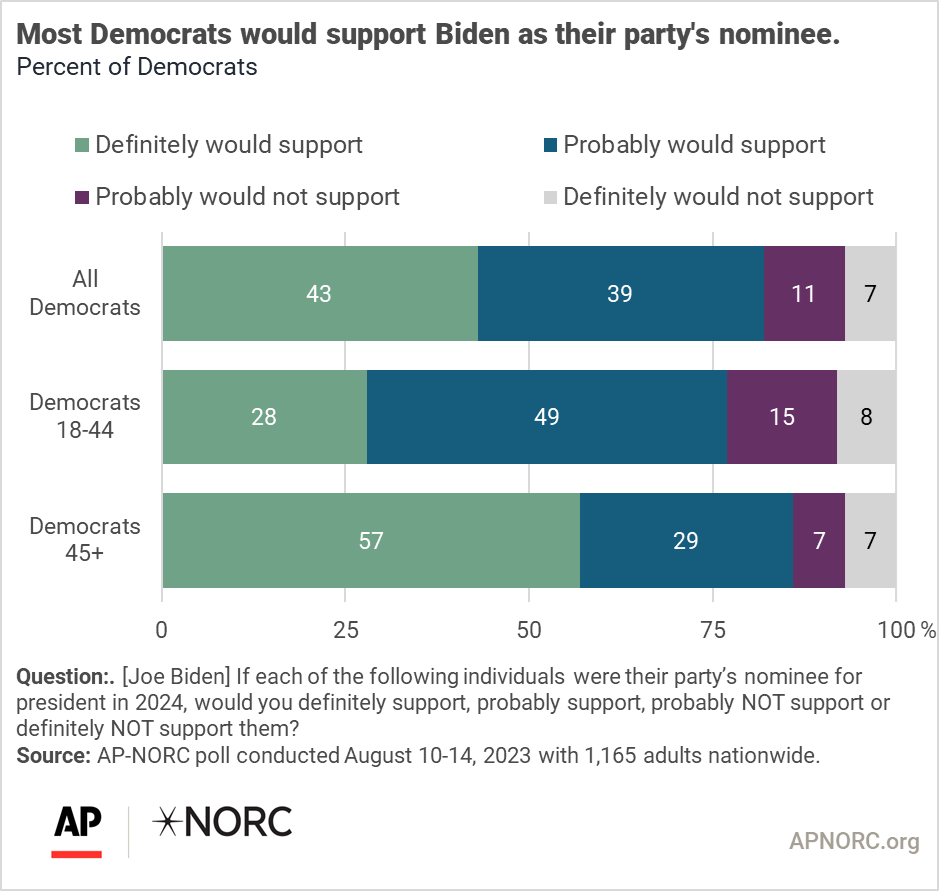 Older Democrats are also more likely to approve of how Biden is handling the economy and his job as president.
Views on whether Biden should seek re-election may be associated with opinions on his age. Among those who do think Joe Biden is too old to continue effectively serving as president, only 14% want to see him seek a second term. Of those who do not view his age as an issue, 60% would like to see him run again.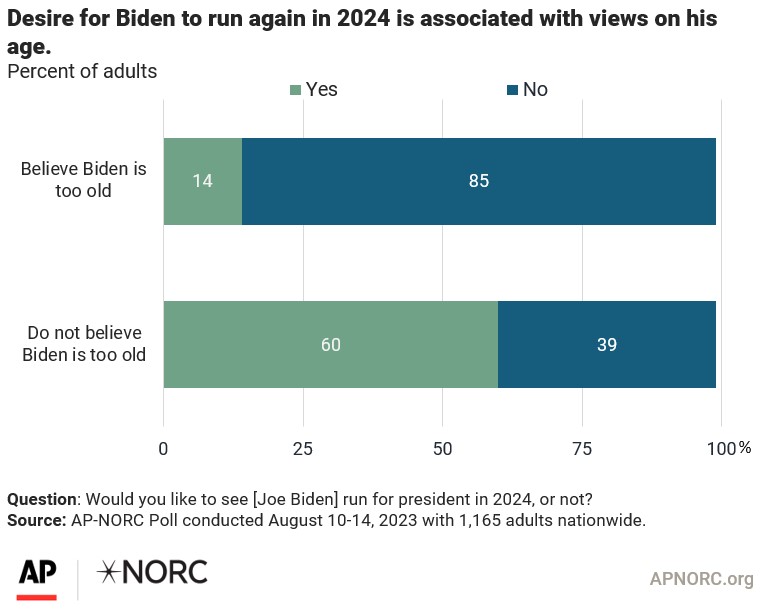 Two-thirds of the public supports setting age limits for the President, members of Congress, and Supreme Court Justices. Democrats are more likely than Republicans to favor age limits for presidents and Supreme Court Justices. However, the same shares of both Democrats and Republicans favor age limits on members of Congress.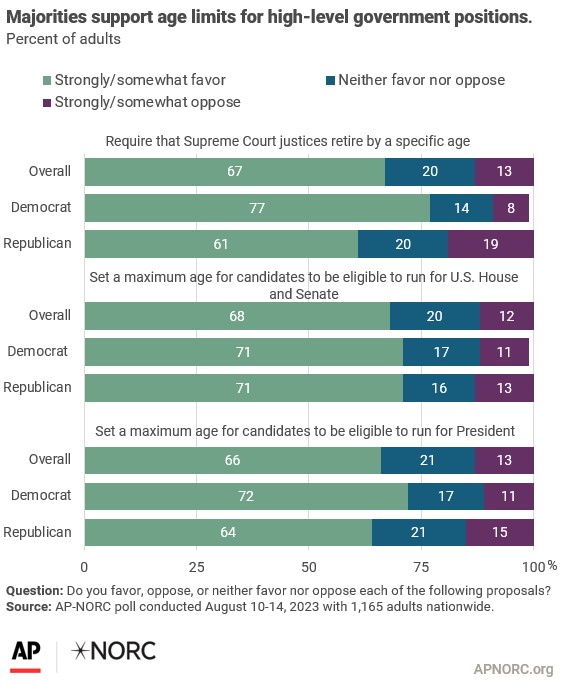 The nationwide poll was conducted August 10-14, 2023 using the AmeriSpeak® Panel, the probability-based panel of NORC at the University of Chicago. Online and telephone interviews using landlines and cell phones were conducted with 1,165 adults. The margin of sampling error is +/- 3.8 percentage points.
Suggested Citation: AP-NORC Center for Public Affairs Research. (August 2023). "Biden's age is a significant concern for voters" https://apnorc.org/projects/bidens-age-is-a-significant-concern-for-voters/