September 15, 2023
In August, the Biden Administration announced the first 10 medicines that will be subject to price negotiations with Medicare. Three-quarters of the public favor permitting Medicare to negotiate with pharmaceutical companies to reduce the prices of prescriptions drugs. About half of adults approve of how President Biden has handled prescription drug prices.
The issue of prescription drugs prices gets bipartisan support, with a majority of both Democrats and Republicans in favor of allowing Medicare to negotiate to reduce the cost of prescription drugs. Ninety percent of adults age 65 and older approve of the price negotiations along with 72% of younger adults.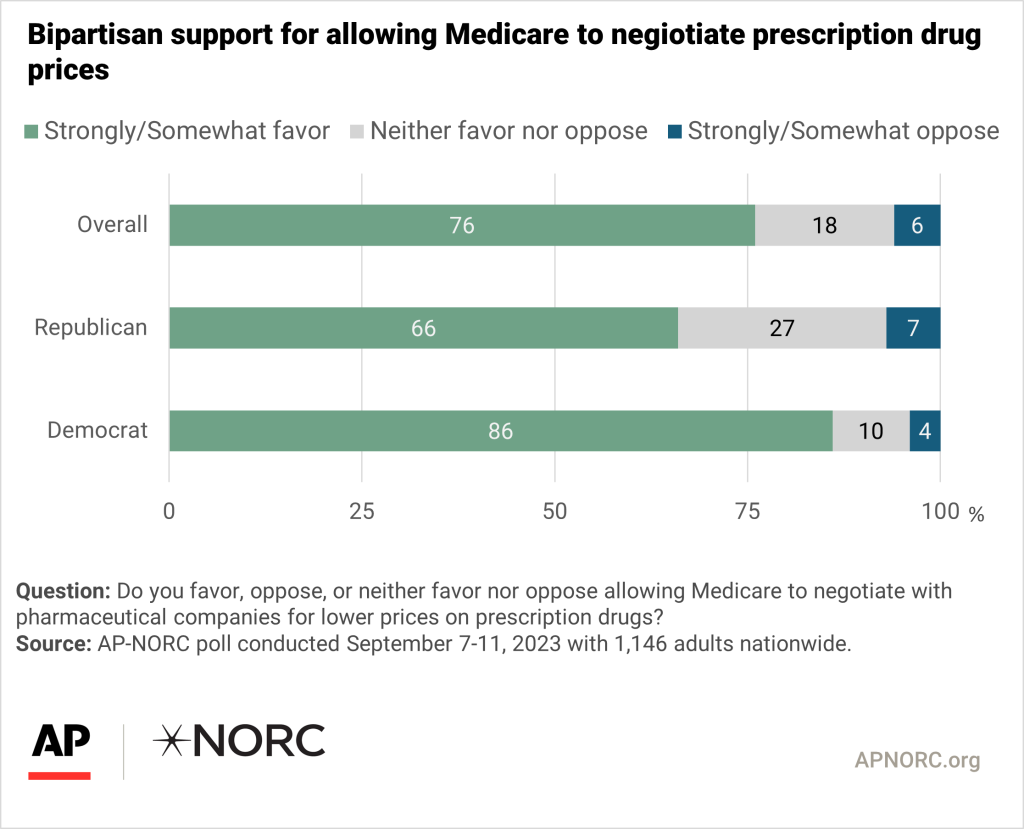 Even though most of the public approves of Medicare negotiating with pharmaceutical companies to lower prices, only 48% approve of how the president is handling drug prices. Among Republicans, approval for Biden's handling of the issue is at 26%.
Biden's overall approval ratings and assessments of his policies remain low. Forty percent approve of Biden's job as president, and only a third approve of his handling of the economy. Forty-two percent approve of how the president is dealing with climate change. In the wake of the wildfires in Hawaii and Hurricane Idalia in parts of the southeastern United States, 52% have a positive view of his handling of natural disaster relief. Still that is lower than the 63% of the public who approved of how Biden dealt with disaster relief in 2022 following Hurricane Ian.
Overall, the public's perception of the direction of the country remains pessimistic, as does their view of the economy. Seventy-five percent of the public says the country is heading in the wrong direction, including 62% of Democrats. Just 30% of adults describe the economy as good, while 70% think it is in poor shape. Only 45% of Democrats call the national economy good, down from 52% last month, and 55% say it is poor.
The nationwide poll was conducted September 7-11, 2023 using the AmeriSpeak® Panel, the probability-based panel of NORC at the University of Chicago. Online and telephone interviews using landlines and cell phones were conducted with 1,146 adults. The margin of sampling error is +/- 3.9 percentage points.