October 15, 2020
In addition to being unhappy with how President Trump is handling the coronavirus pandemic in general, Americans are displeased with the administration's handling of the president's COVID-19 diagnosis and the dissemination of information about his condition.  However there is little evidence of a spillover effect on other assessments. The survey reveals little or no change in how the public views the economy, their own finances, or their likelihood of becoming infected with the virus. 
Overall, 66% of Americans disapprove of how Trump is handling the coronavirus outbreak in the United States. Americans are most likely to say Trump has not taken the pandemic seriously enough (65%). Only 2% think he overreacted the pandemic, while 32% regard his reaction as appropriate.   While most Republicans consider his response to the pandemic to be appropriate, large majorities of Democrats and independents say he did not treat the virus seriously enough. 
Although 70% of Republicans approve of Trump's handling of the coronavirus outbreak in general, they are less positive about how the administration handled Trump's diagnosis.  And a majority of Americans lack trust in the information the administration provided regarding Trump's condition.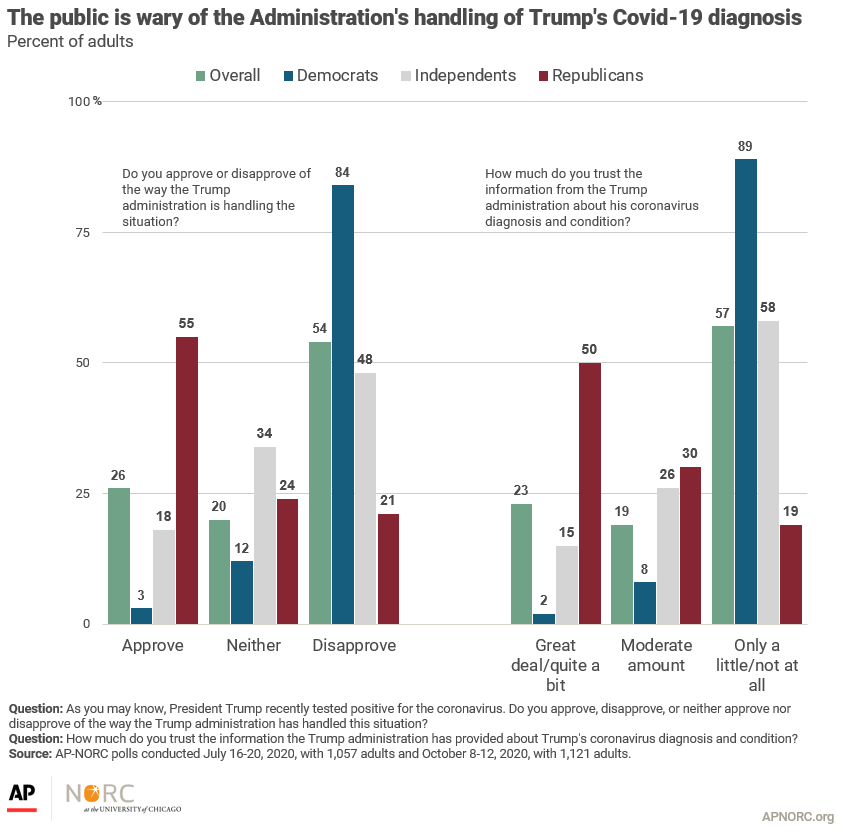 The president's diagnosis of COVID-19 has not increased the public's fear of contracting the virus themselves.  Forty-two percent are extremely or very worried that they or someone in their household might become infected, the same as seen in the AP-NORC poll in August and not significantly different from September. 
While large numbers of Americans continue to favor wearing face masks and limiting large gatherings, support for closing bars and restaurants has dropped along with requiring people to remain in their homes except for essential errands.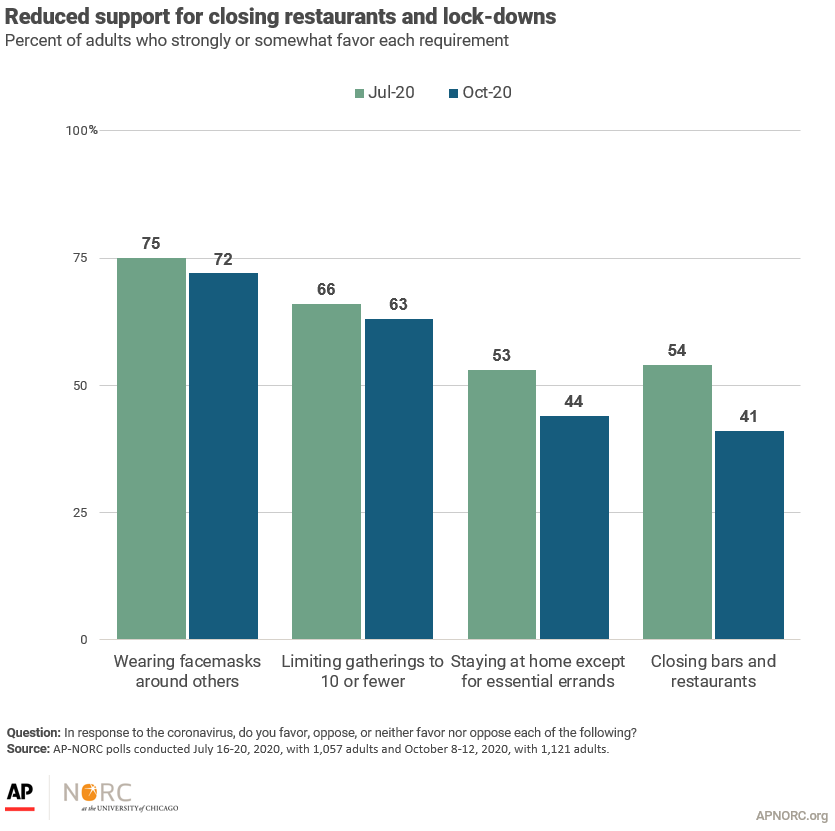 Sixty-one percent describe the national economy as poor, while the continuing to view their own finances in a positive light, with 65% saying they are good.   Overall, the public remains closely divided on Trump's handling of the economy with Republicans very positive and Democrats very negative.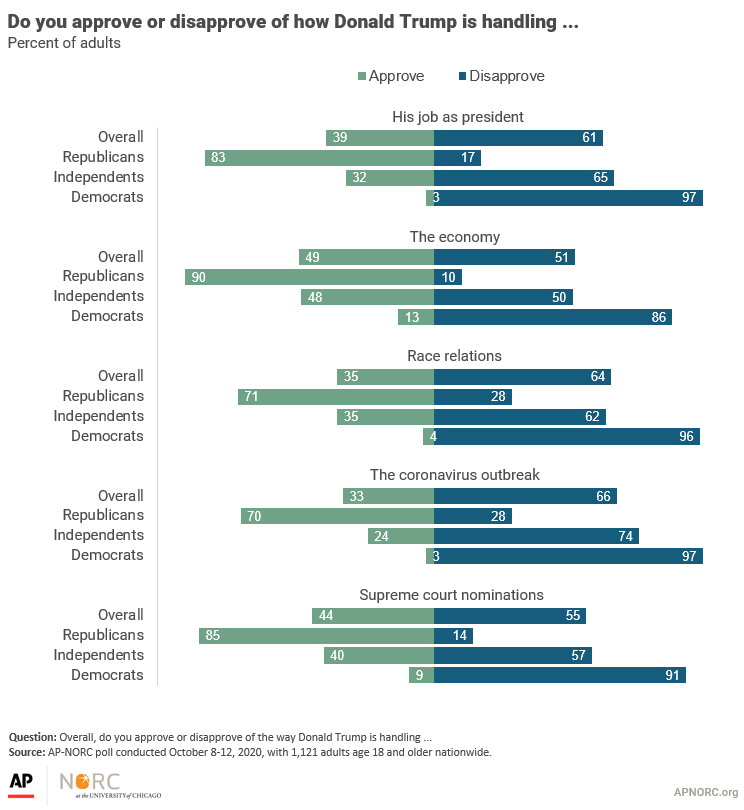 In the days leading into the Senate Judiciary Committee hearings on Amy Coney Barrett, the public was ambivalent about whether she should be confirmed as a Supreme Court Justice. 
As with most issues regarding the president, Americans regard Trump's handling of Supreme Court nominations with distinctly partisan perspectives. Nearly all the survey was completed before the Senate Judiciary Committee began its hearings on October 12.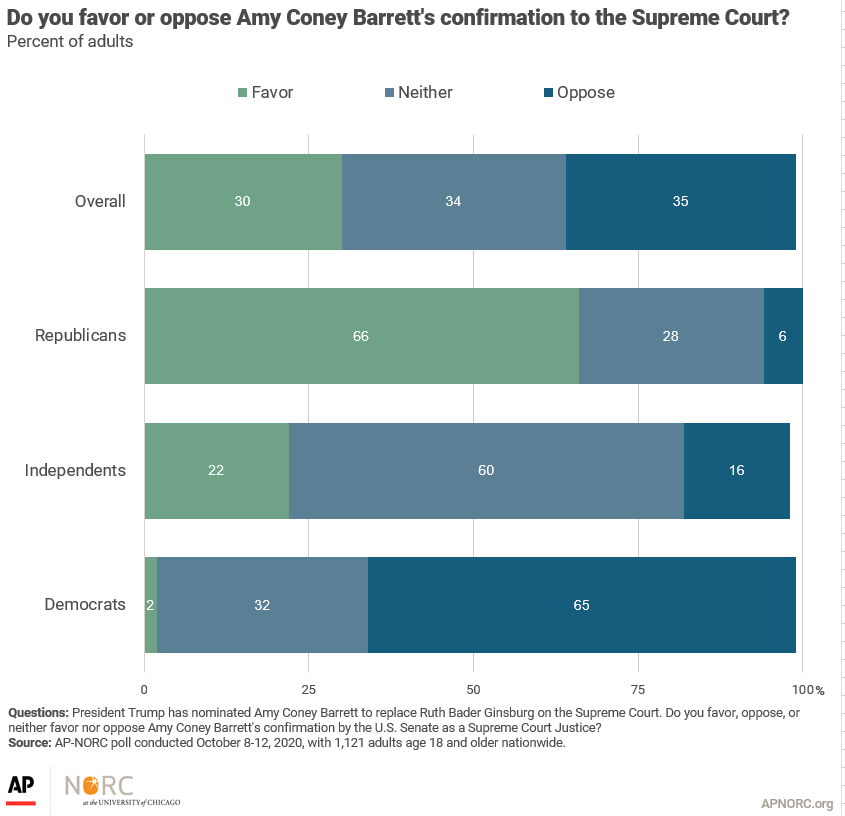 The nationwide poll was conducted October 8-12, 2020 using the AmeriSpeak® Panel, the probability-based panel of NORC at the University of Chicago. Online and telephone interviews using landlines and cell phones were conducted with 1,121 adults. The margin of sampling error is +/- 4.0 percentage points.