June 15, 2022
Fifty years after the passage of Title IX prohibited high schools and colleges from discriminating on the basis of gender, most Americans believe there has been at least some progress in providing equal treatment for women. However, the public perceives somewhat less progress when it comes to protecting against gender discrimination, harassment, and violence than in other areas such as education and sports, according to a new AP-NORC/National Women's History Museum poll.
Although Title IX is best known for its role in equal treatment for women and girls in athletics, more Americans prioritize its other principles, like protecting all students from sexual harassment and female students from discrimination, than say the same about providing equal opportunities and resources to play sports.
More Americans say there has been a great deal of progress made since Title IX toward achieving equality for white women (49%) but less so for women of color (36%), LGBTQ women (33%), and low-income women (26%).
Men are consistently more likely than women to report progress toward equal treatment of women when it comes to areas such as education (58% vs. 38%), sports (51% vs. 31%), and protections against violence (40% vs. 17%). Republicans are also more likely than Democrats to believe there has been improvement in equal treatment over the last 50 years.
The majority of Americans, regardless of gender or political party, approve of Title IX and its key priorities, while at the same time many remain unsure about the actual impact of the law.
About 8 in 10 Americans, including large majorities of both Republicans and Democrats, say it is important for colleges and high schools to protect students from harassment and discrimination as well as to provide equal opportunities for men and women.
A majority of Americans say Title IX has had a positive impact on female students' opportunities in sports and education, but many Americans remain unsure about its impact in areas such as addressing sexual harassment in schools and protecting LGBTQ students from discrimination.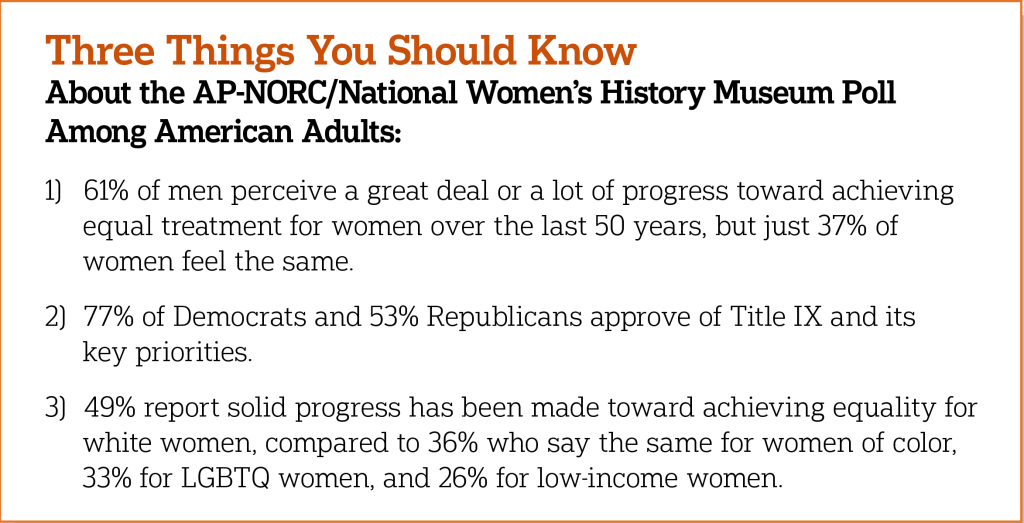 The nationwide poll was conducted by The Associated Press-NORC Center for Public Affairs Research and the National Women's History Museum from May 12 to May 16, 2022, using AmeriSpeak®, the probability-based panel of NORC at the University of Chicago. Online and telephone interviews using landlines and cell phones were conducted with 1,001 adults. The margin of sampling error is +/- 4.0 percentage points.
Suggested Citation: AP-NORC Center for Public Affairs Research. (June 2022). "Fifty Years of Title IX: Where Are We Now?" [https://apnorc.org/projects/fifty-years-of-title-ix-where-are-we-now]