Most Americans disapprove of how President Donald Trump is handling foreign policy, and have mixed views about plans to withdraw troops from Syria and Afghanistan. The public has also become less positive about the U.S. relationships with countries like North Korea and Russia.
Partisanship has a significant impact on attitudes toward international relations. Overall, 35 percent of Americans approve of how Trump is handling foreign policy, and 63 percent disapprove. Among Republicans, 76 percent approve, while 89 percent of Democrats disapprove.
Americans are feeling less optimistic about the country's relationships with hostile nations such as North Korea and Russia than in June 2018 following Trump's meeting with North Korean leader Kim Jong Un. At that time, 40 percent thought U.S. relationships with such countries would improve, including 65 percent of Republicans and 23 percent of Democrats. Now, only 22 percent expect an improvement in U.S. relations with these countries over the next year, including 38 percent of Republicans and 12 percent of Democrats.
There hasn't been much change in Americans' expectations about relations with allies or the United States' overall standing in the world.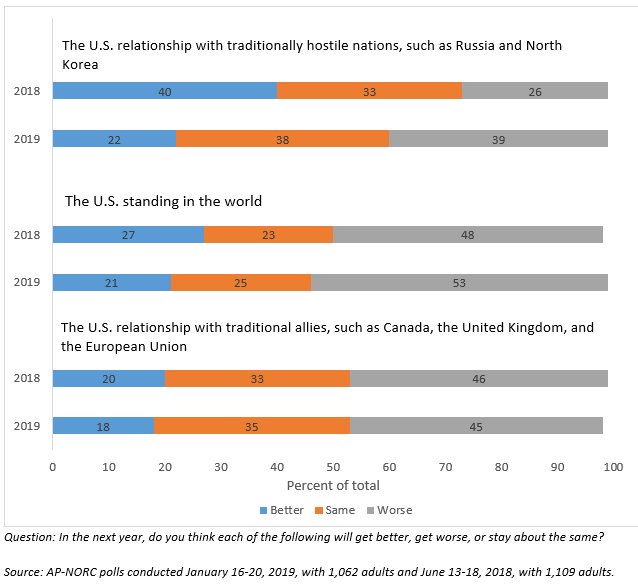 Only 30 percent of the public would like to see the United States take a bigger role in resolving problems around the world; most would prefer the United States be less active or maintain its current level of involvement. Forty-three percent of Democrats say the United States should take a more active role in solving the world's problems, compared with 13 percent of Republicans and 28 percent of independents.
While about 4 in 10 Americans approve of the plan to remove most of the U.S. troops from Afghanistan and Syria, there are large partisan differences.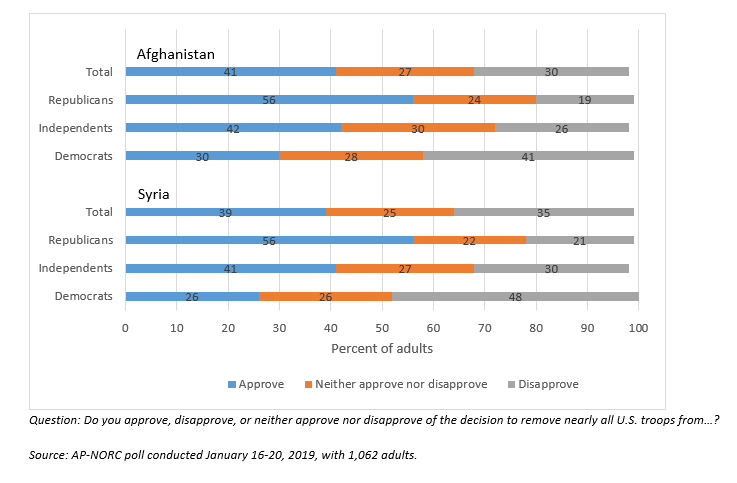 A majority of both Republicans and Democrats are concerned about the danger to the United States posed by extremist groups and Iran's nuclear program. However, Republicans are particularly worried about the threat of illegal immigration, while Democrats are very anxious about how climate change and Russia's influence globally could imperil the United States.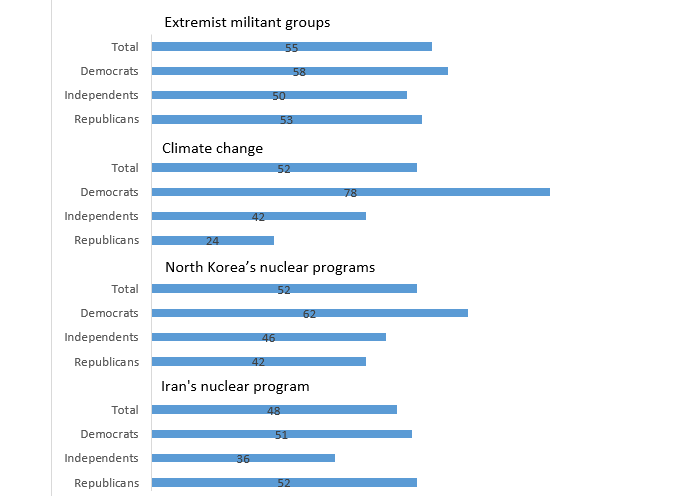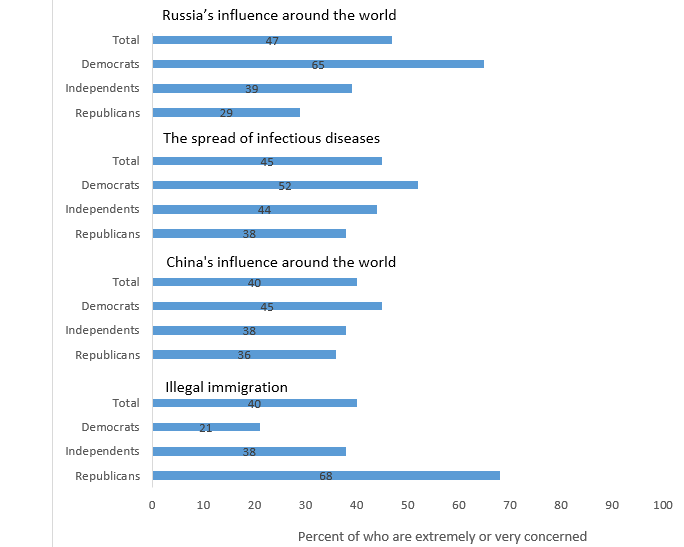 Question: How personally concerned are you that each of the following poses a direct threat to the United States?
Source: AP-NORC poll conducted January 16-20, 2019, with 1,062 adults.
The nationwide poll was conducted January 16-20, 2019, using the AmeriSpeak® Panel, the probability-based panel of NORC at the University of Chicago. Online and telephone interviews using landlines and cell phones were conducted with 1,062 adults. The margin of sampling error is plus or minus 4.1 percentage points.