Nearly 7 in 10 Americans support stricter gun laws in the United States, but many question whether tighter regulations can reduce some forms of gun violence. Few people think various public spaces are safer these days than they were 20 years ago.
Sixty-seven percent of Americans think the country's gun laws should be stricter, while 22 percent say they should remain as is, and 10 percent would like to see gun laws relaxed.
The survey was conducted March 14–18, 2019. On March 15, meanwhile, 50 people were killed by a gunman at two mosques in Christchurch, New Zealand. The public's views on gun legislation do not differ very much whether they were surveyed before or after the shootings in Christchurch.
About 6 in 10 Americans say schools, places of worship, and colleges have been become less safe in the past 20 years. Few Americans think these places where people congregate are safer now than 20 years ago.
There was a small increase in the public's lack of confidence in the security of places of worship in the aftermath of the shootings at the mosques. Sixty-four percent of those interviewed after the shootings say churches, synagogues, mosques and other places of worship have become less safe in the past 20 years; before the shooting, 57 percent considered places of worship less safe.
Most Americans think schools, colleges, and places of worship are less safe these days.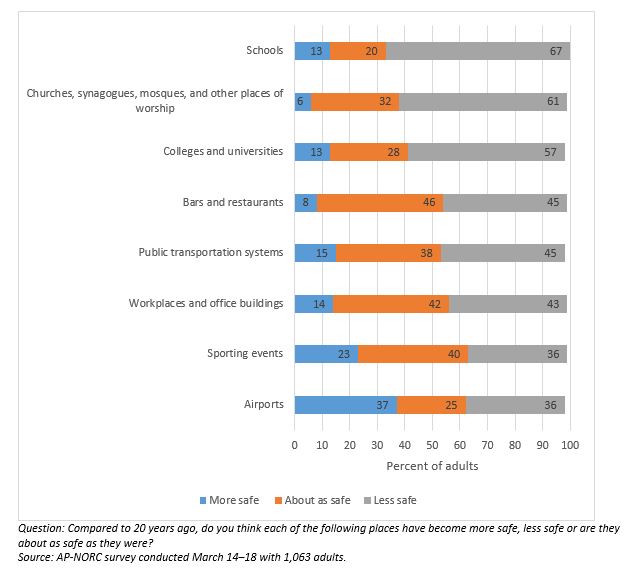 Gun owners are more inclined to oppose stricter gun laws than people who don't have any firearms in their home. Only 47 percent of personal gun owners and 53 percent of those with guns in their household favor stricter gun laws, while 77 percent of Americans with no guns in their household would like to see gun laws made tougher.
More than 80 percent of both gun owners and non-owners agree that the mentally ill should not be permitted to purchase guns. On the other hand, while most non-owners approve of banning semi-automatic weapons, few gun owners agree.
Gun owners and non-owners disagree on most gun issues.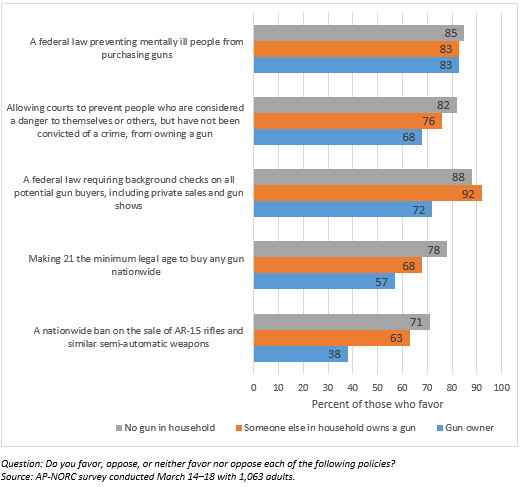 Fifty-eight percent think stricter gun regulations will reduce the number of mass shootings, and 54 percent say there would be fewer murders. Fewer say more restrictions on gun ownership would result in a decrease in suicides (45 percent) or robberies (44 percent).
The nationwide poll was conducted March 14–18, 2019 using the AmeriSpeak® Panel, the probability-based panel of NORC at the University of Chicago. Online and telephone interviews using landlines and cell phones were conducted with 1,063 adults. The margin of sampling error is plus or minus 4.1 percentage points.