May 20, 2022
Americans are increasingly negative about the direction of the country and the condition of the national economy. President Joe Biden's approval rating dropped slightly over the past month to the lowest point of his presidency so far, with 39% approving now compared with 45% in the AP-NORC poll conducted in April.
Twenty-two percent describe the national economy as good, also the lowest of Biden's presidency. Worries about inflation, already high in March, have increased.
Most Americans, 78%, agree the county is moving in the wrong direction. That's up from 70% in the April AP-NORC poll. The increase in the dire outlook was driven mainly by Democrats. Since Biden's inauguration, few Republicans have been positive about the direction of the country.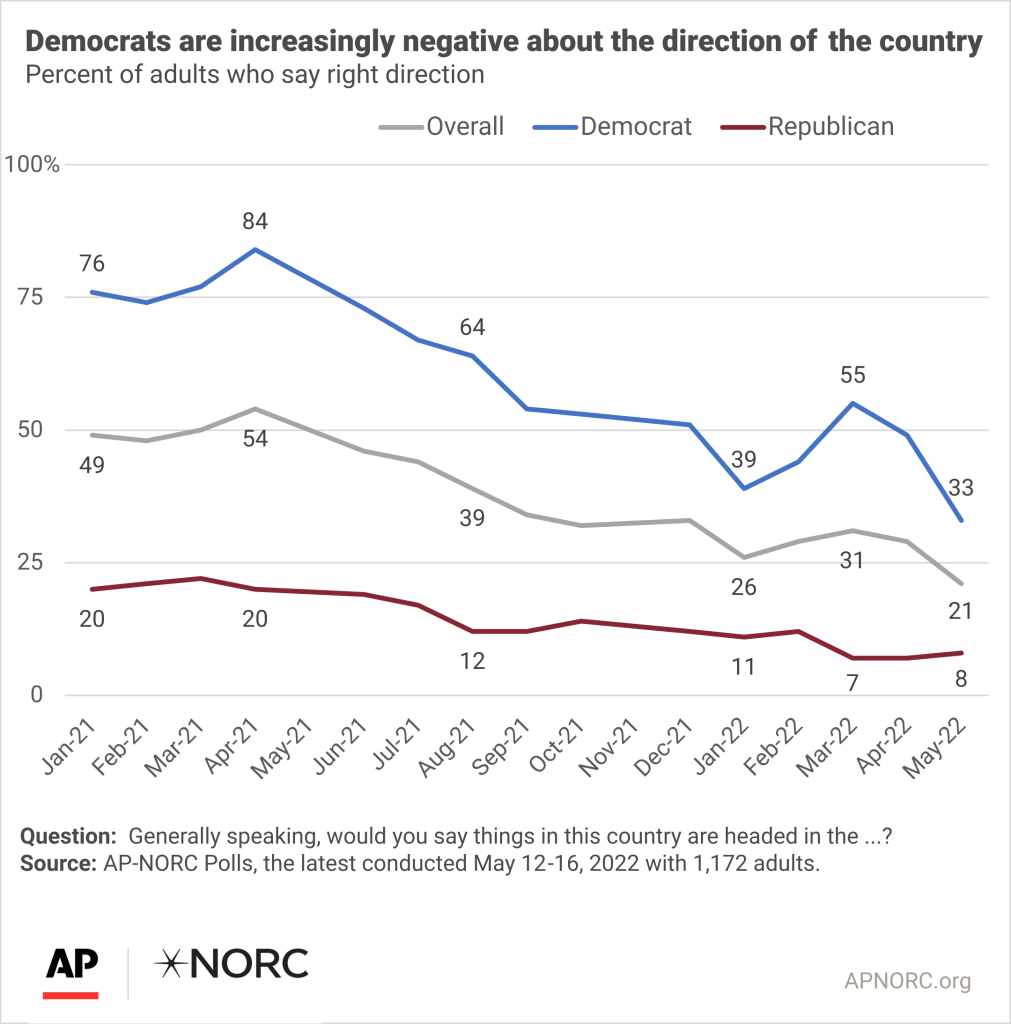 Seventy-eight percent of adults consider the national economy to be in poor condition, up from 70% last month. Again, the increase in negative perceptions of the economy has come from Democrats. In April, 47% of Democrats and only 10% of Republicans described the national economy as good. In the latest survey, 35% of Democrats say national is good. Republicans also decreased slightly, to 7%.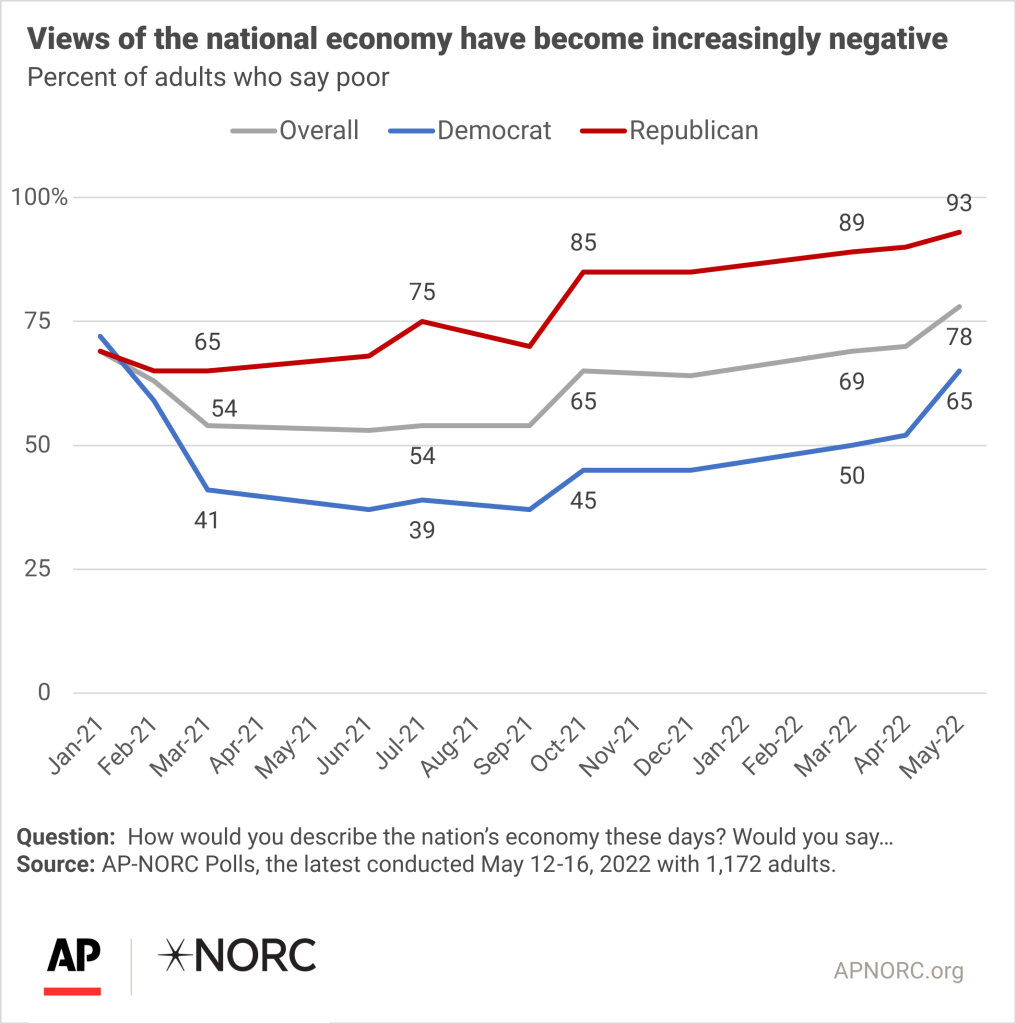 More Americans continue to disapprove than approve of President Biden's job overall, his handling of the economy, the U.S. relationship with Russia, and immigration.
Slightly more still approve than disapprove of Biden's handling of the coronavirus pandemic. Management of the pandemic has long been Biden's strongest issue, though far fewer approve now compared to the early months of his presidency, when more than 7 in 10 approved.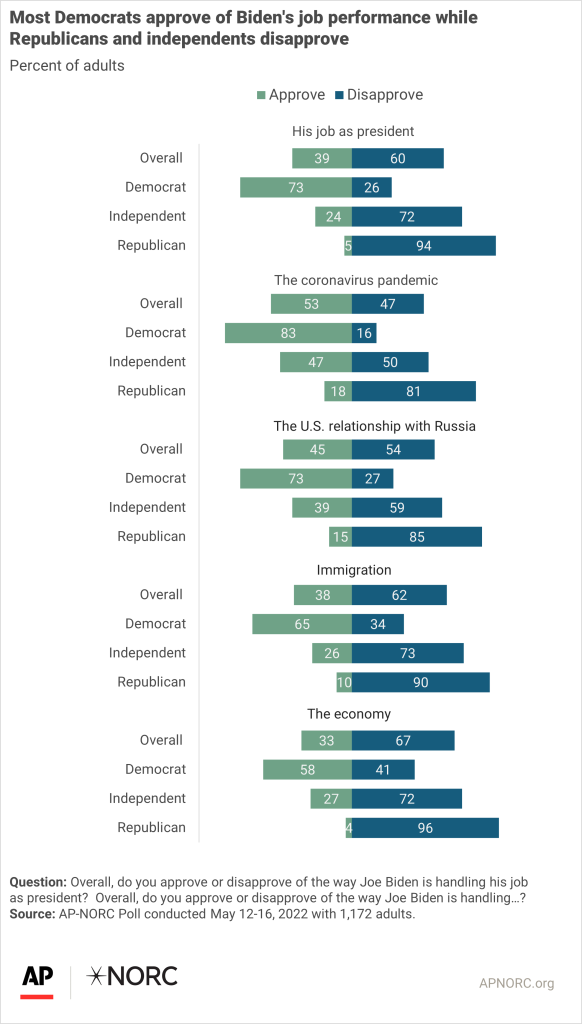 Overall, two-thirds of Americans disapprove of Biden's handling of the economy, which is largely unchanged over the last few months. But fewer Americans are giving Biden the benefit of the doubt. Just 18% of Americans say Biden's policies have done more to help than hurt the economy, down slightly from 24% in March.
The public is increasingly concerned about inflation and rising prices on everything from groceries to housing. Like March, 56% say the increase in gas prices is beyond the president's control.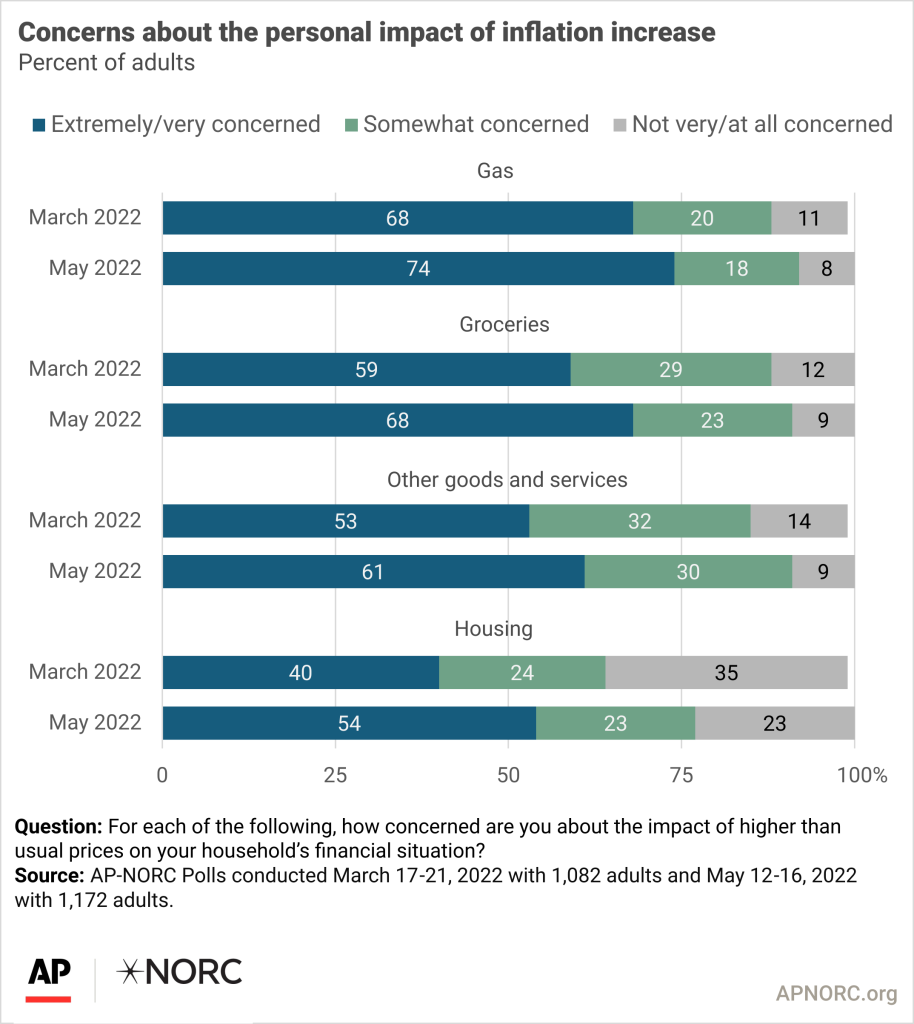 As the conflict in Ukraine continues, just 21% have a great deal of confidence in Biden's ability to handle the situation. Republicans are particularly negative. Eighty-five percent disapprove of how Biden is handling the country's relationship with Russia and 76% have little confidence in his ability to deal with the events in Ukraine.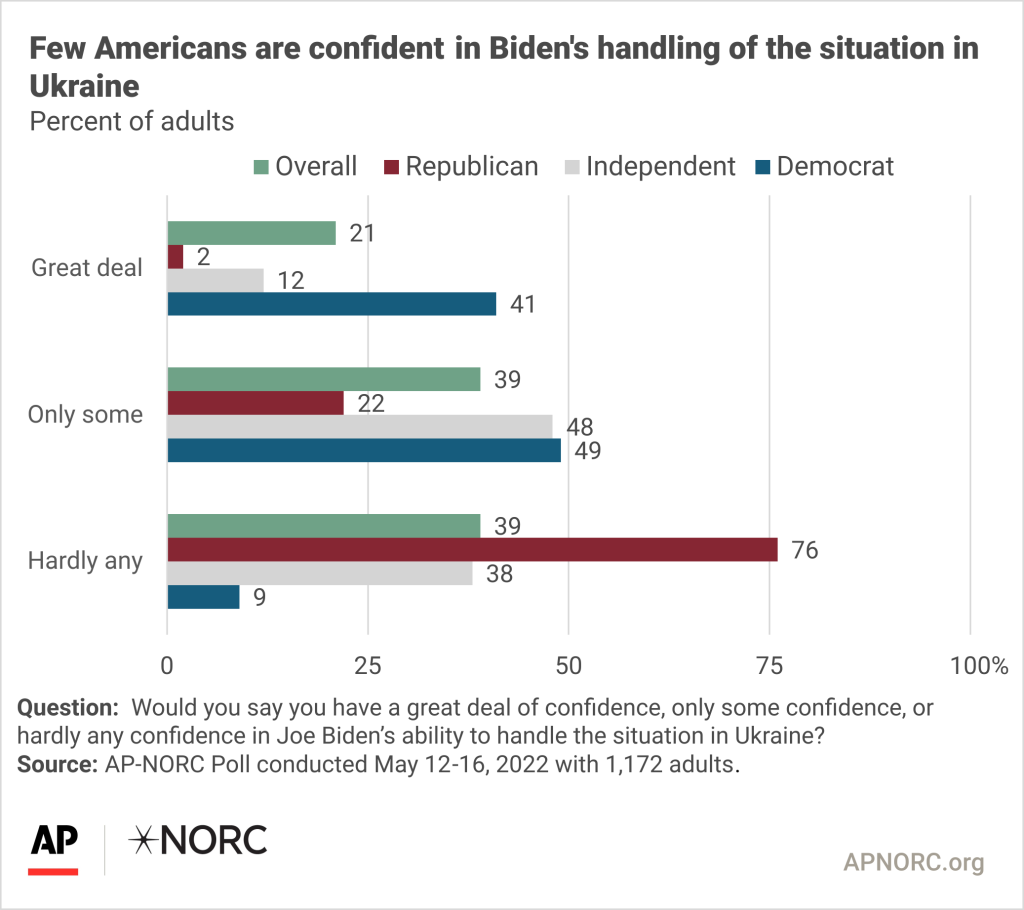 The nationwide poll was conducted May 12-16, 2022 using the AmeriSpeak® Panel, the probability-based panel of NORC at the University of Chicago. Online and telephone interviews using landlines and cell phones were conducted with 1,172 adults. The margin of sampling error is +/- 4.0 percentage points.
Suggested Citation: AP-NORC Center for Public Affairs Research. (May 2022)." Increasingly negative views on national outlook and economy" [https://apnorc.org/projects/increasingly-negative-views-on-national-outlook-and-economy/]