November 14, 2023
A new AAPI Data/AP-NORC poll finds that 86% of people from Asian American, Native Hawaiian and Pacific Islander (AAPI) communities say that racism is a serious problem in the United States. Roughly half have faced discrimination based on their race or ethnicity, and 16% report being a victim of a hate crime including experiencing physical assault, property damage, or threats of assault or property damage because of their race or ethnic background in the last year.
About a third (34%) of AAPI adults report experiencing some sort of hate incident, including verbal harassment (23%), being called racial slurs (22%), or threats of physical assault (11%) in the same period. The findings echo research documenting the rise of attacks against AAPI communities since the start of the COVID-19 pandemic.[1]
While most AAPI adults express satisfaction with their mental health, seven in ten say they have experienced at least one stressor such as feeling irritable (50%), worrying too much (49%), or having trouble relaxing (46%) in the last two weeks. These are items on the General Anxiety Disorder scale, a seven-item screening tool measuring levels of anxiety, worry, and nervousness.[2] Those with an overall score of 10 or above face a higher risk of an anxiety disorder. The survey reveals that 12% of individuals within AAPI communities meet this threshold, indicating an increased vulnerability to anxiety.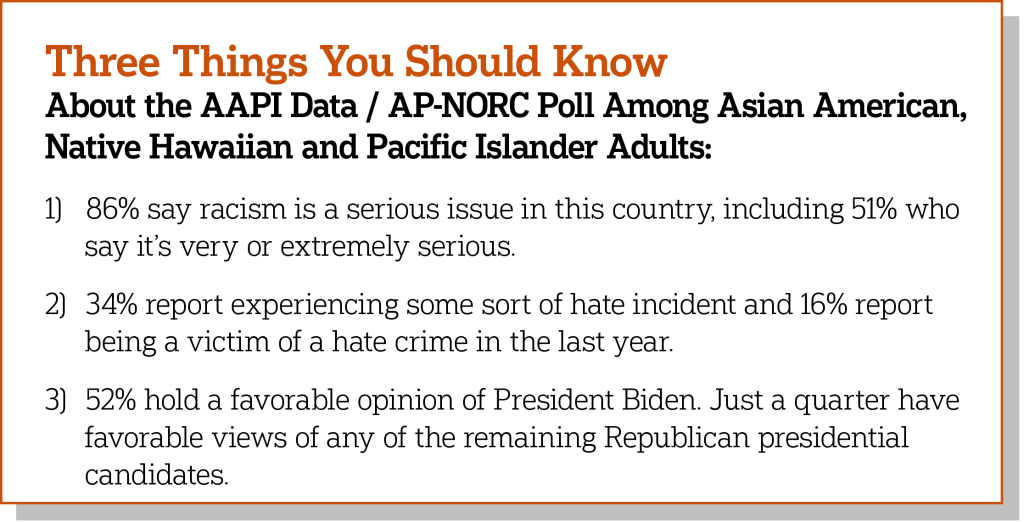 The survey also unpacks the political leanings of AAPI communities, with about half identifying as Democrats, just over a quarter identifying as Republican, and about one in five identifying as independent or having no party attachment. Both Joe Biden and Kamala Harris are viewed more favorably than unfavorably, while majorities of AAPI adults view Donald Trump and Ron DeSantis unfavorably. In addition, while more AAPI adults have unfavorable views of Nikki Haley, Vivek Ramaswamy than favorable views, a large proportion say that they don't know enough about the two candidates (40% and 46%, respectively) to form an opinion.
The nationwide study was conducted by The AP-NORC Center for Public Affairs Research and AAPI Data from October 10–20, 2023, using the Amplify AAPI Monthly survey drawing from NORC's Amplify AAPI® Panel designed to be representative of the U.S. Asian American, Native Hawaiian and Pacific Islander household population. Online and telephone interviews were offered in English, the Chinese dialects of Mandarin and Cantonese, Vietnamese, and Korean with 1,178 Asian American, Native Hawaiian and Pacific Islanders aged 18 and older living in the United States. The margin of sampling error is +/- 4.2 percentage points.
---
[1] Department of Justice. (2022). Raising Awareness of Hate Crimes and Hate Incidents During the COVID-19 Pandemic.
[2] The Generalized Anxiety Disorder 7-item (GAD-7) is an initial screening tool used to identify probable cases of generalized anxiety disorder. Source: Spitzer, R. L., Kroenke, K., Williams, J. B., & Löwe, B. (2006). A brief measure for assessing generalized anxiety disorder: the GAD-7. Archives of internal medicine, 166(10), 1092-1097. <https://pubmed.ncbi.nlm.nih.gov/16717171/>