April 28, 2022
As the war in Ukraine enters its third month, most Americans agree that the spread of misinformation about the Russian invasion is a problem. Sixty-one percent, including 63% of Democrats and 59% of Republicans, say it is a major issue. Only 7% say it is not a problem at all.  
Older Americans are more likely than younger Americans to view the spread of misinformation as an issue, with 68% of those age 60 and older saying it is a major problem compared to 44% of those age 18-29.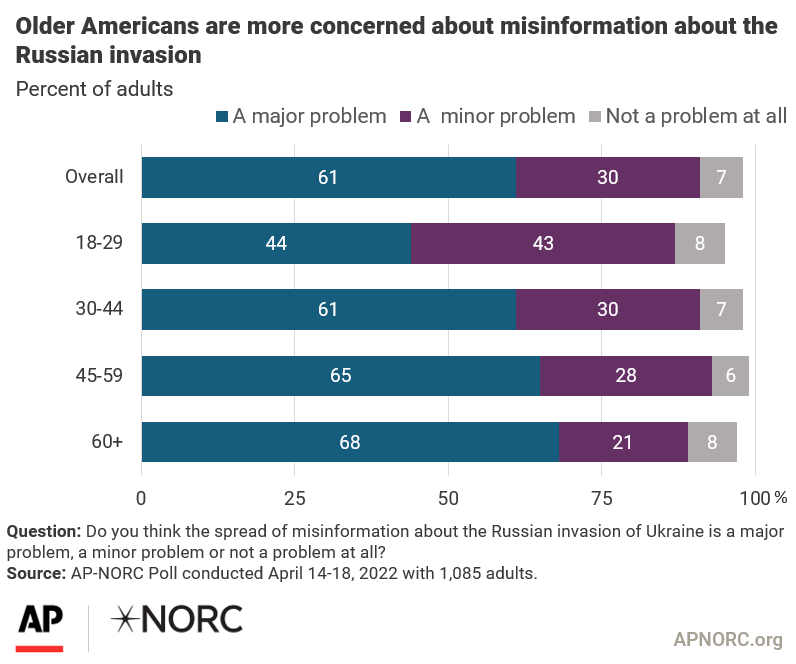 When it comes to responsibility for the spread of misinformation about the Russian invasion of Ukraine, nearly three-quarters say that the Russian government is at least quite a bit responsible, while less than a quarter say the same about the Ukrainian government. And while there are no significant partisan differences regarding Russia's responsibility, Republicans are twice as likely as Democrats to say the Ukrainian government bears a high degree of responsibility.
Most Americans also think that social media users and social media companies also bear a large responsibility for the spread of misinformation, including majorities of both Democrats and Republicans. However, Republicans are more likely than Democrats think the U.S. government, politicians in the U.S., and the news media have at least quite a bit of responsibility.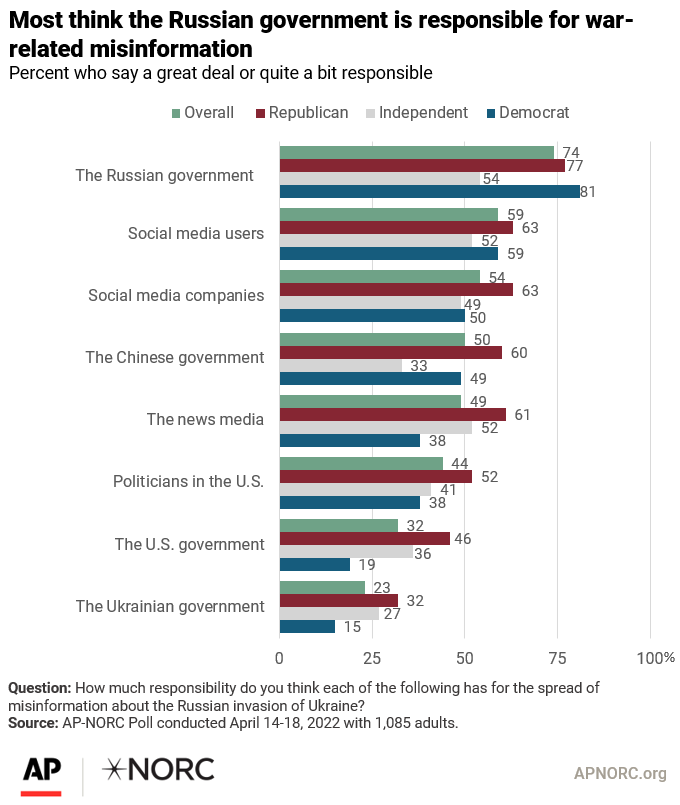 Fifty-seven percent, including 55% of Republicans and 70% of Democrats, think Putin has directed Russian troops to commit war crimes. About a quarter of Democrats and a third of Republicans acknowledge they don't know enough to say.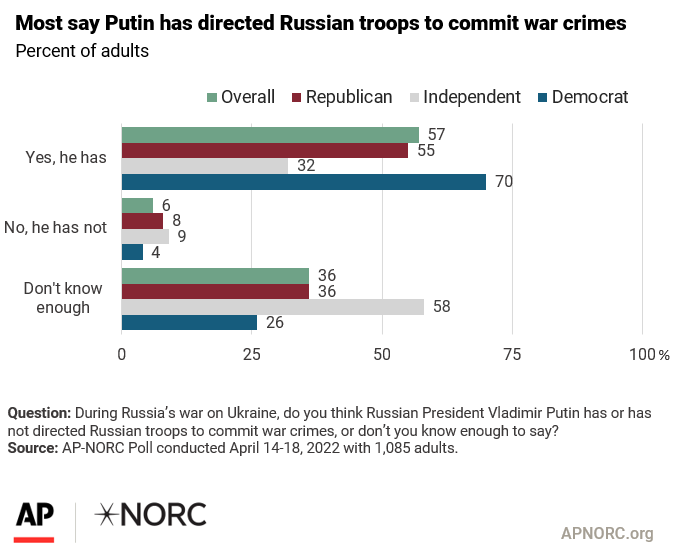 The nationwide poll was conducted April 14-18, 2022 using the AmeriSpeak® Panel, the probability-based panel of NORC at the University of Chicago. Online and telephone interviews using landlines and cell phones were conducted with 1,085 adults. The margin of sampling error is +/- 3.9 percentage points.
Suggested Citation: AP-NORC Center for Public Affairs Research.  (April 2022)."Misinformation about the invasion of Ukraine viewed as a major problem" [apnorc.org/projects/misinformation-about-the-invasion-of-ukraine-viewed-as-a-major-problem]