April 21, 2023
Most adults do not want President Biden to run for a second term. Nearly 3 in 4 do not want him to run again. Among Democrats, 47% would like to see the president run in 2024, up somewhat from 37% who felt the same in a January AP-NORC poll.
However, if Biden does secure the Democratic nomination next year, 41% of Democrats say they will definitely support him and another 40% would probably support him. Only 19% of Democrats say they would not support Biden if their party nominates him for president in 2024.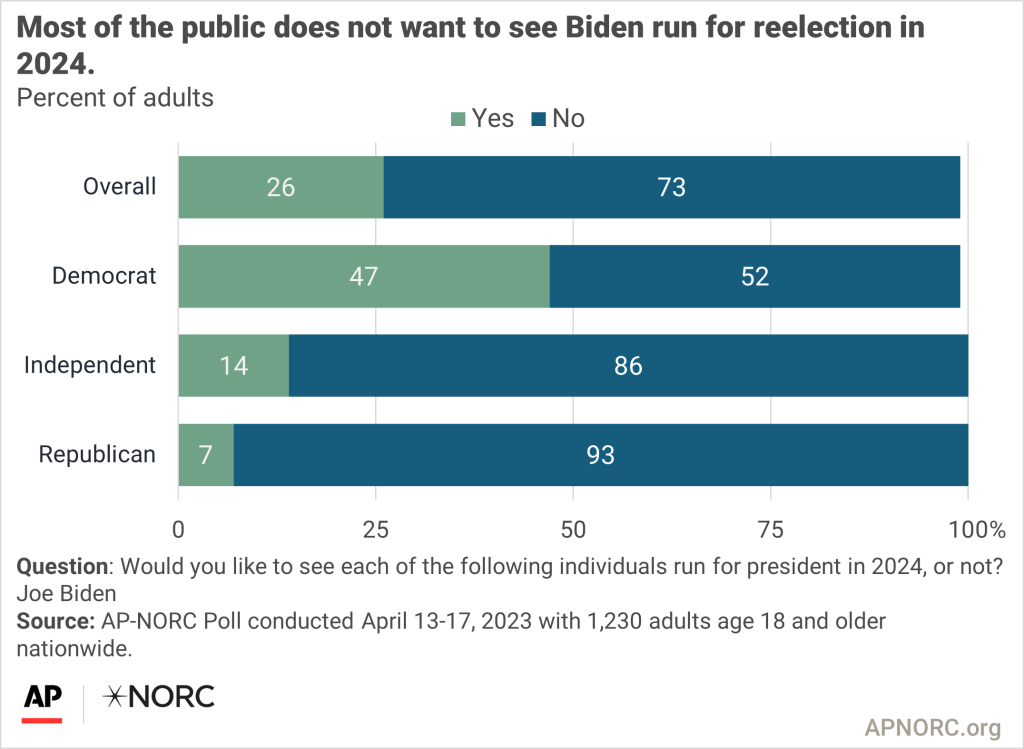 Similarly, 70% of the public do not want to see Donald Trump run for president in 2024. Fifty-five percent of Republicans would like to see him run for reelection. Forty-nine percent of Republicans say they would definitely support Trump is he were their party's nominee, 22% would probably support him, and 29% would not support him.
Overall, 42% of the public approve of how Biden is handling his job as president, a slight improvement from 38% in March. His support among Democrats remains strong.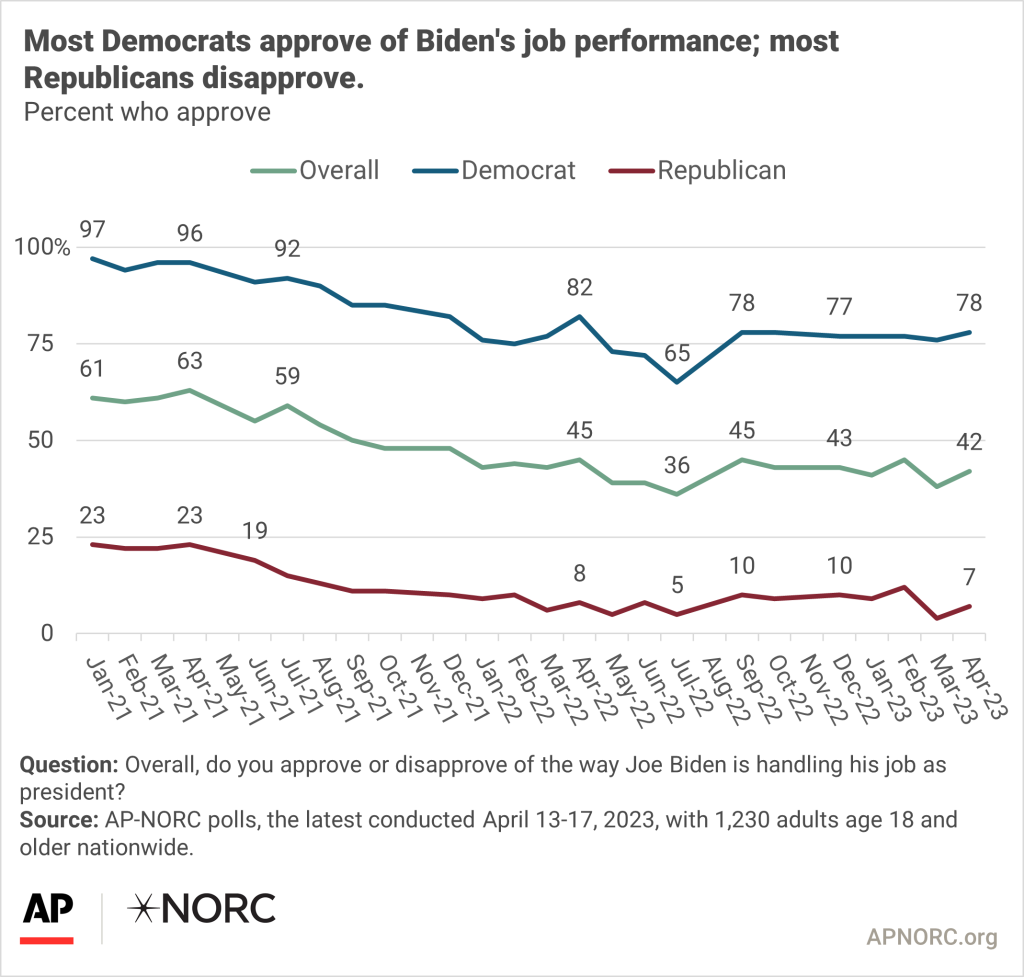 Younger Democrats are less enthusiastic about the president than Democrats age 45 and older.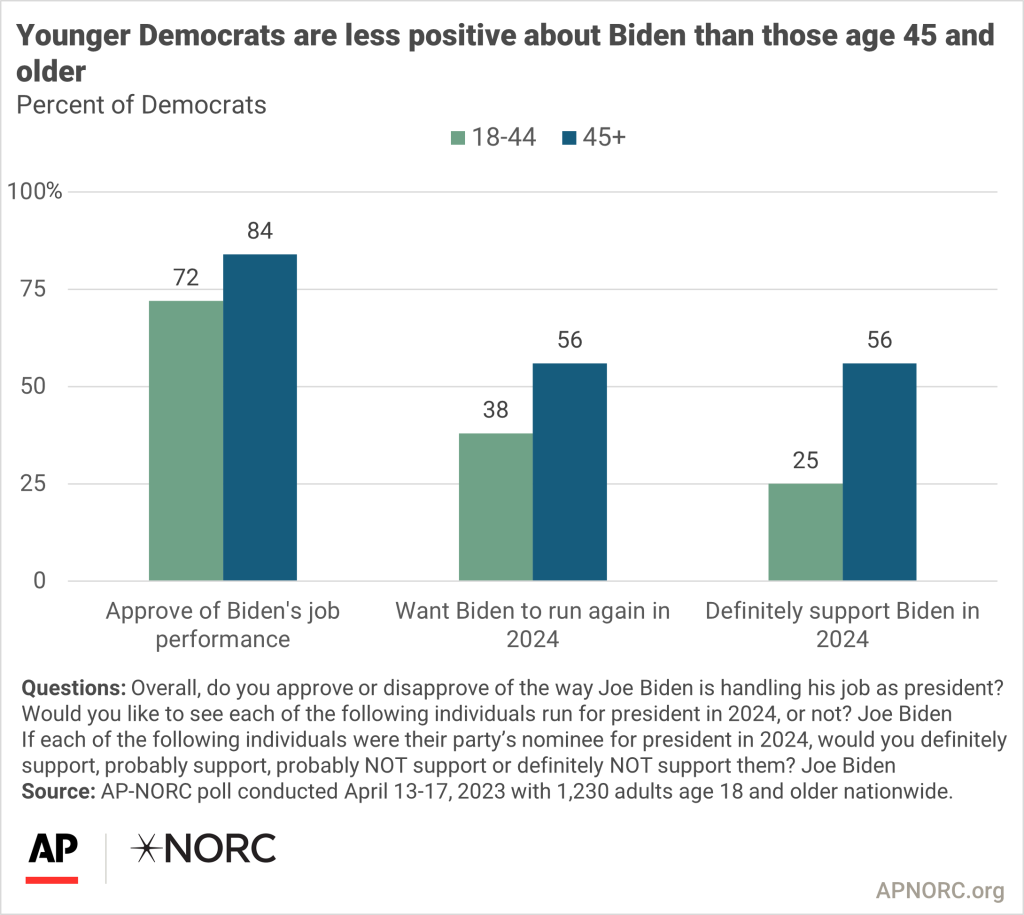 Only 30% of adults describe the national economy as good, but that is up from 25% in the March poll which was conducted after a pair of bank failures shook confidence in the nation's financial systems.
The public continues to have a negative view about the direction of the country. Twenty-five percent say the country is headed in the right direction, and 74% think it is going in the wrong direction, similar to views in March.
The nationwide poll was conducted April 13-17, 2023 using the AmeriSpeak® Panel, the probability-based panel of NORC at the University of Chicago. Online and telephone interviews using landlines and cell phones were conducted with 1,230 adults. The margin of sampling error is +/- 3.9 percentage points.