May 30, 2023
The U.S. Supreme Court is hearing two cases involving the University of North Carolina and Harvard University on whether the schools discriminate against white and Asian American applicants.
Two-thirds of U.S. adults think the Supreme Court should permit the consideration of race and ethnicity of applicants in the admissions process. This includes a majority of both Democrats (65%) and Republicans (60%). There is no significant difference based on race or ethnicity either. Sixty-two percent of white adults, along with 62% of Black adults and 65% of Hispanic adults think consideration of race and ethnicity should be permitted by colleges. College educated adults are more likely to say colleges and universities should be able to consider race and ethnicity compared to those without college degrees.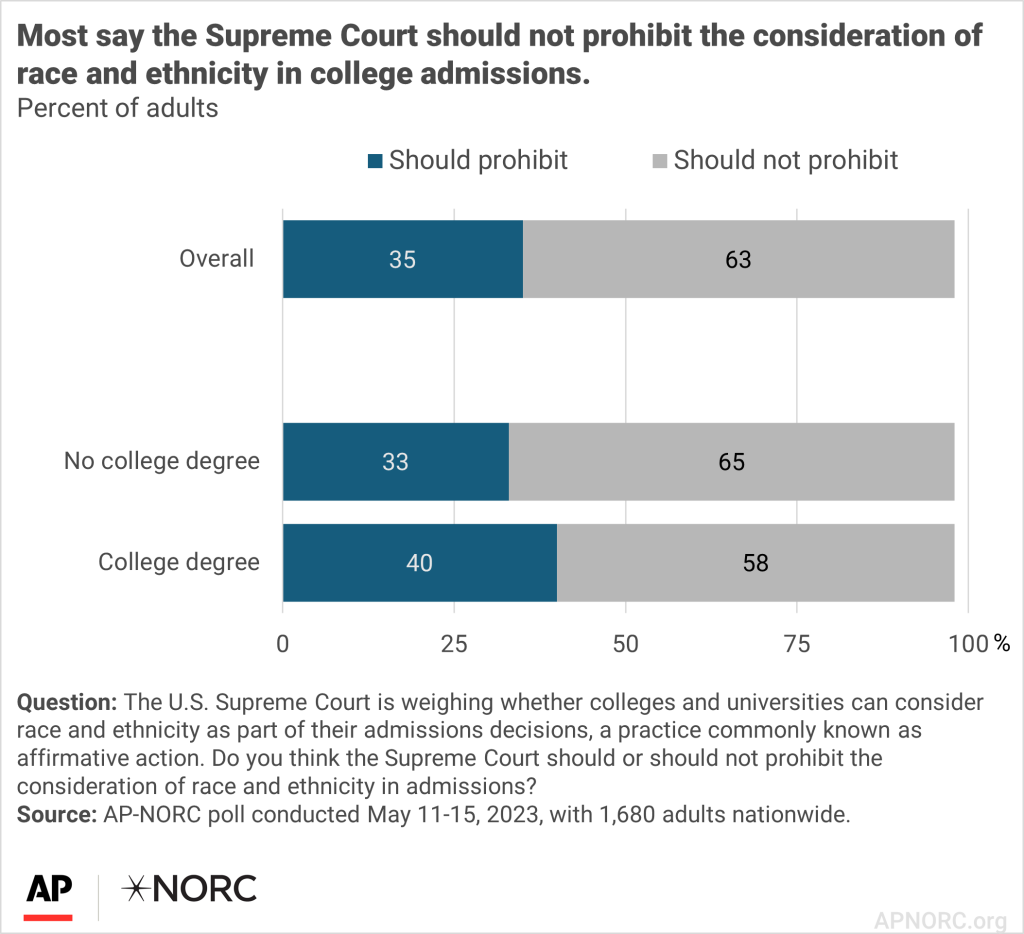 But race and ethnicity is far from the top factor that people think colleges should be weighing in their admissions decisions. About two thirds of adults say high school grades should be either extremely or very important when colleges and universities make decisions about admitting students. Just under half say the same for scores on standardized tests. The public generally considers athletic ability, race and ethnicity, gender, legacy status, and donations to the school as not too important or not important at all. The public is divided on whether the ability to afford tuition should be important to college and university admissions.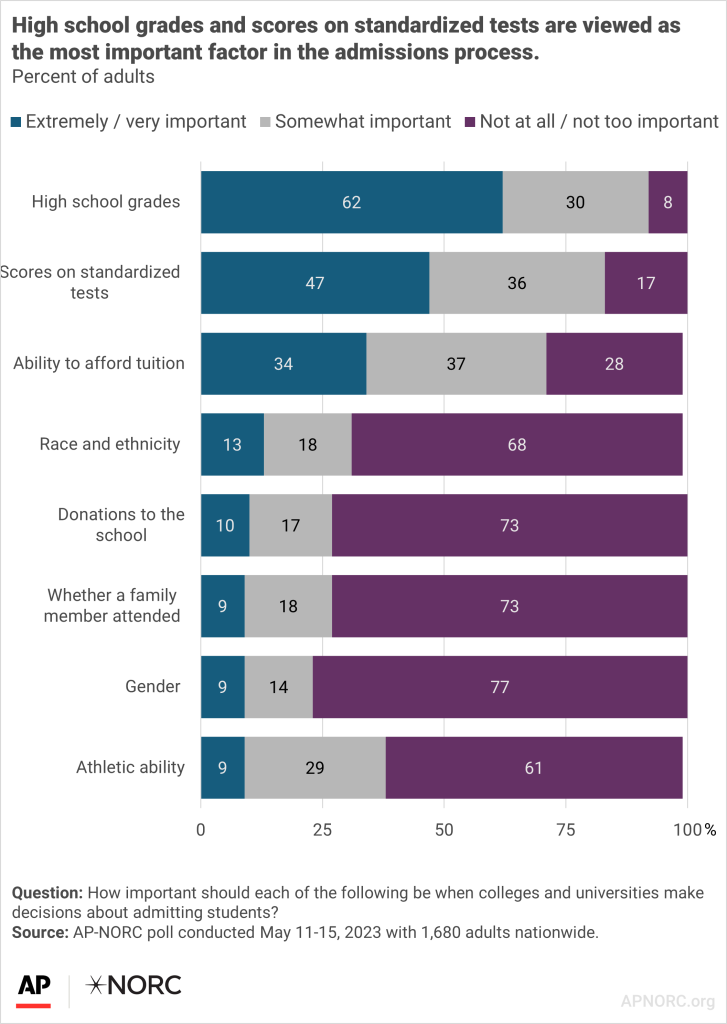 There are differences in how important people think race and ethnicity should be in college admissions. Black and Hispanic adults are more likely to say race and ethnicity should be an important factor in determining college admission, as are Democrats.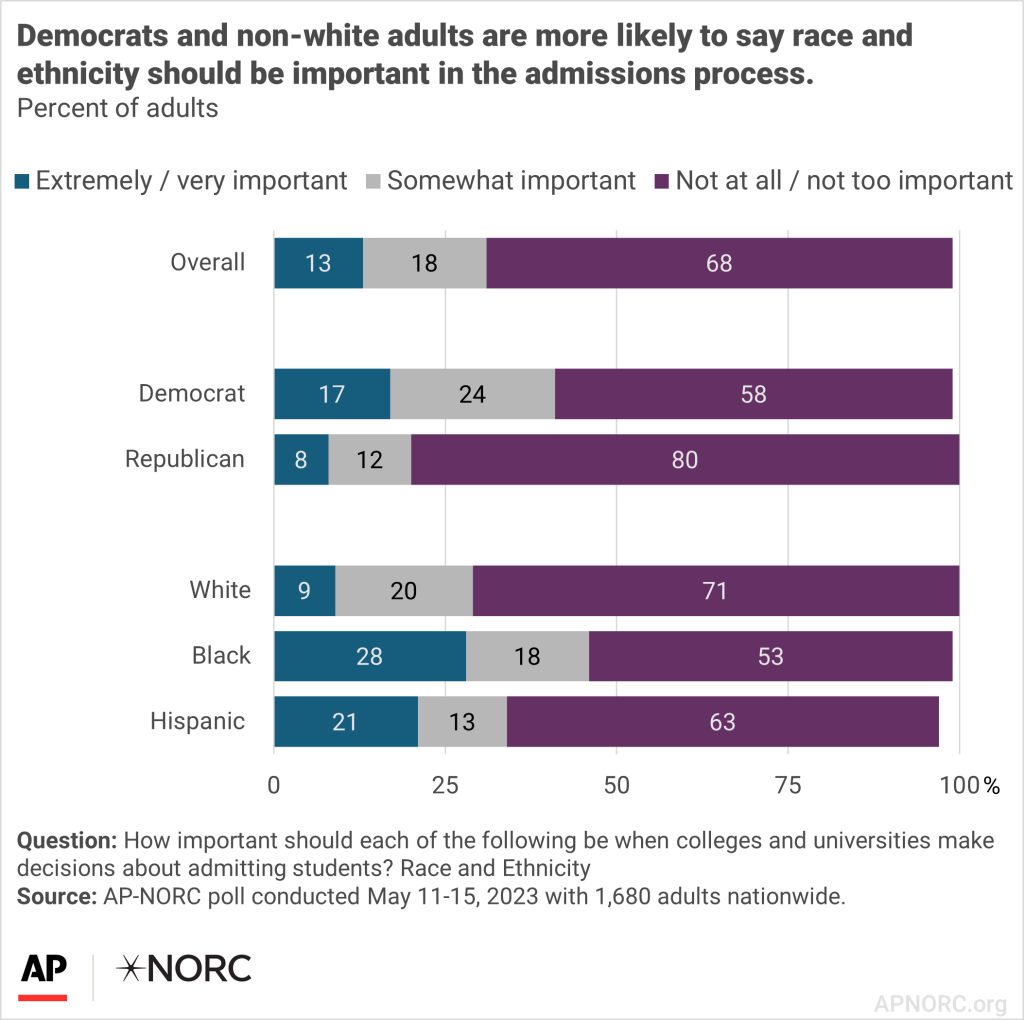 Americans' confidence in the U.S. Supreme Court has been steadily declining since 2016 and has reached an all-time low. Only 12% of adults have a great deal of confidence in the Supreme Court, down from 28% in February 2020.
While also low, Republicans are three times more likely to have a great deal of confidence in the Supreme Court than Democrats.
The nationwide poll was conducted May 11-15, 2023 using the AmeriSpeak® Panel, the probability-based panel of NORC at the University of Chicago. Online and telephone interviews using landlines and cell phones were conducted with 1,680 adults. The margin of sampling error is +/- 3.4 percentage points.