March 5, 2021
Just over a month into his administration, President Joe Biden continues to get high marks from most Americans for his overall job performance, and specifically how he has been dealing with the pandemic, race relations, health care, and the economy. Both Democrats and independents still have positive views toward Biden, while Republicans remain negative.
Seventy percent of Americans approve of Biden's handling of the coronavirus pandemic – the issue for which he receives the highest marks. Forty-four percent of Republicans support his handling of the pandemic, more than any other issue.
Fewer Americans, 55%, have a positive view of his handling of the economy. Biden's relative weakness on the economy is a reversal compared with former President Donald Trump, for whom the economy was long his strongest issue. Still, Trump's highest rating for handling of the economy was 56% in AP-NORC polls, and his overall approval rating never exceeded 43%.
Americans continue to be less negative about the direction of the country than they were during the Trump Administration. Forty-eight percent say the country is heading in the right direction and 51% think it is heading in the wrong direction. But the public still has a negative view of the national economy: 37% describe it as good, but 63% say it is poor.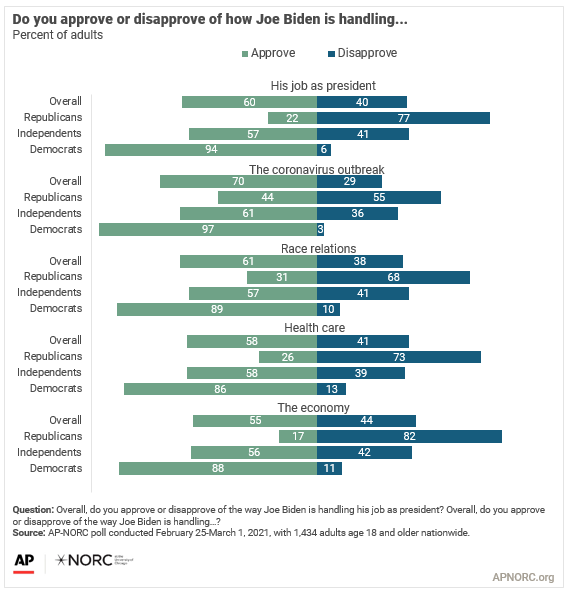 Forty-three percent think things in the country will improve over the next year, 34% say they will worsen, and 23% do not expect things to change. Similarly, 44% expect the economy to improve over the next year, while 32% think it will deteriorate, and 23% expect it to stay about the same.
With the exception of the direction of the country, overall, these numbers have not changed much over the past several months. However, there have been have been large partisan swings since the election.
In an AP-NORC survey taken ahead of the election in September 2020, Republicans were much more positive about the state of the country and the economy and more optimistic about how both would fare in the coming year than Democrats. Now Democrats are more inclined to see the country as heading in the right direction and expect both the country and the economy to improve in the next year.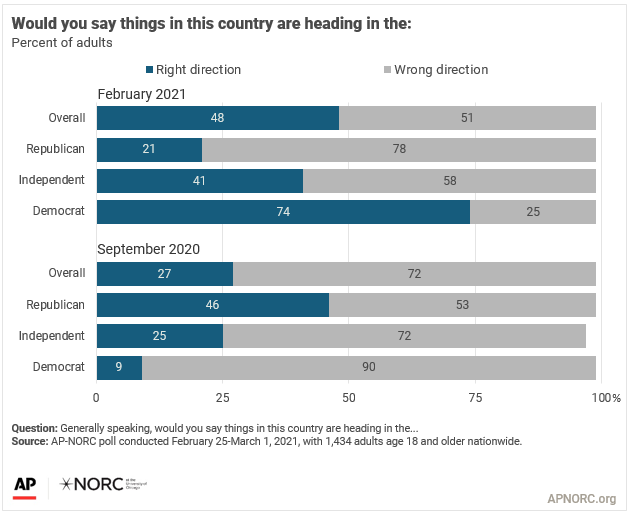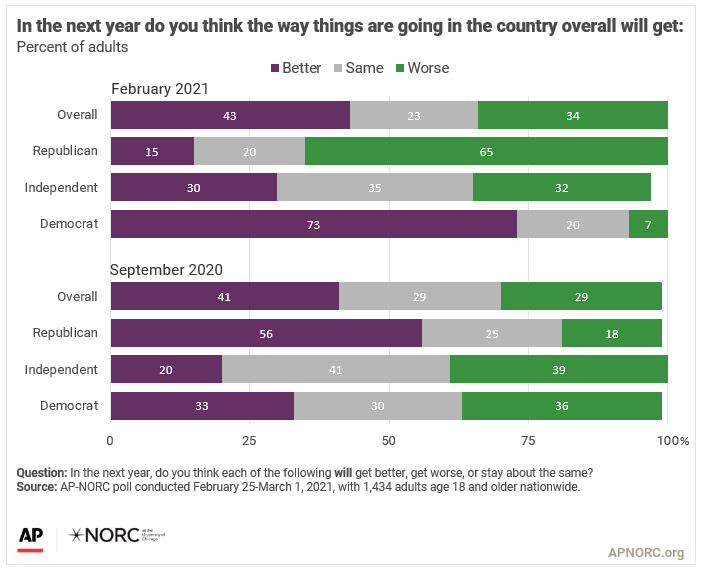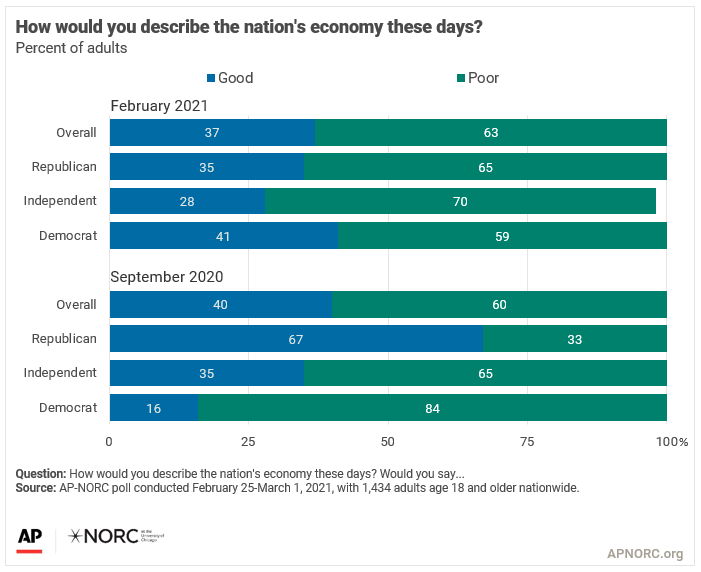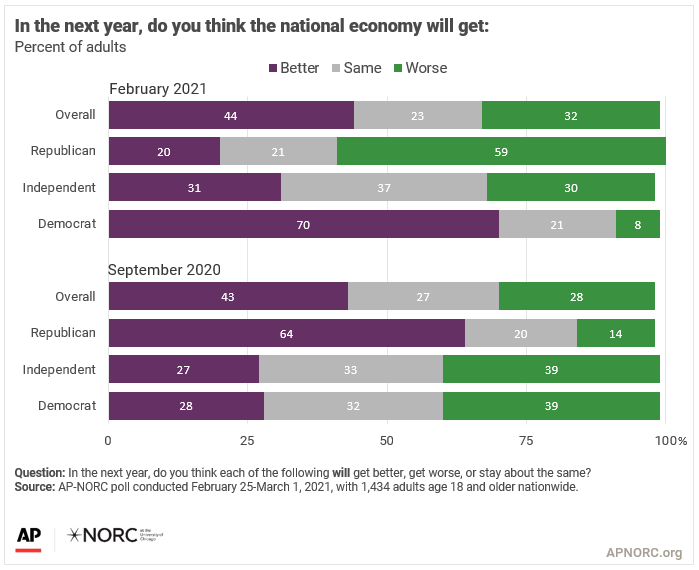 The nationwide poll was conducted February 25-March 1, 2021 using the AmeriSpeak® Panel, the probability-based panel of NORC at the University of Chicago. Online and telephone interviews using landlines and cell phones were conducted with 1,434 adults. The margin of sampling error is +/- 3.4 percentage points.
• Suggested Citation: AP-NORC Center for Public Affairs Research. (March 5, 2021). "President Biden's Honeymoon Continues." [https://apnorc.org/projects/president-bidens-honeymoon-continues]