December 15, 2021
Use of telehealth has been common during the pandemic among adults age 50 and older, according to a survey of adults age 50 and older by The Associated Press-NORC Center for Public Affairs Research. Perceptions about its advantages and disadvantages highlight some ways that telehealth may exacerbate equity issues in the health care system and other ways it may reduce disparities.
With the outbreak of COVID-19 in March 2020, many health care providers began providing medical care remotely—often called telehealth—using a variety of methods, including live video, talking over the telephone, and by email and text message. Sixty-two percent of adults age 50 and older have used some form of telehealth since the beginning of the pandemic, with use for non-urgent health concerns and prescription consultations especially common. Those who have received care through telehealth are generally comfortable receiving care that way, and nearly two-thirds are at least somewhat likely to seek care through telehealth after the pandemic ends.
The convenience of finding an appointment, meeting with a specific provider, and getting an immediate response are the top reasons for choosing telehealth over in-person care. On the other hand, about two-thirds of respondents worry that the care they receive through telehealth wouldn't be as effective as care they receive in person.
Having a personal relationship with the doctor is a top concern among older adults when it comes to both telehealth and in-person care, but more worry about it when it comes to telehealth. Sixty-nine percent think it would be very helpful to have a prior relationship with their provider when using telehealth. Older adults also cite the option to exchange emails or direct messages and more information on insurance coverage as being helpful in accessing telehealth.
But while access to telehealth is similar based on age, education, income, and race and ethnicity, differences emerge in the reasons for using—and not using—telehealth.
Those ages 50-64 are more likely than those 65 and older to cite the ease of scheduling an appointment at a convenient time and the lower cost of telehealth versus in-person care as reasons to use telehealth. Those age 65 and older express greater concerns about comfort using technology, being on video, and having the necessary devices or programs to access telehealth.
Technological barriers are particularly salient for those without a college degree, as they are more likely than those with a college degree to seek in-person care because they don't have the necessary device or programs, their internet is too slow, or they don't feel comfortable using technology. They are also more concerned about a lack of privacy in their home and their provider not understanding their cultural preferences.
Those in households earning incomes below $50,000 are more likely than those earning more to choose telehealth over in-person visits because they lack transportation, they believe it is cheaper, and they think it would be easier in terms of having a support person with them. On the other hand, they are more likely to report concerns about technology and to think help using technology and accessing the necessary devices would be beneficial.
Turning to race and ethnicity, 64% of nonwhite adults age 50 and older have used telehealth since the start of the pandemic, and they are particularly likely compared to their white counterparts to cite the benefit of avoiding COVID-19 exposure. But at the same time, 63% are at least somewhat concerned about receiving lower-quality care when using telehealth, compared to in-person visits.
More differences between nonwhite and white respondents emerge when it comes to concerns about in-person care than telehealth. Nonwhite respondents report greater concern than white respondents about receiving low-quality care, the security of their health information, lacking privacy, health care coverage or reimbursement, and not having a personal relationship with their doctor for in-person care.
Nonwhite respondents are more likely than white respondents to cite concerns about doctors not understanding their cultural preferences, and this is true for both telehealth and in-person care.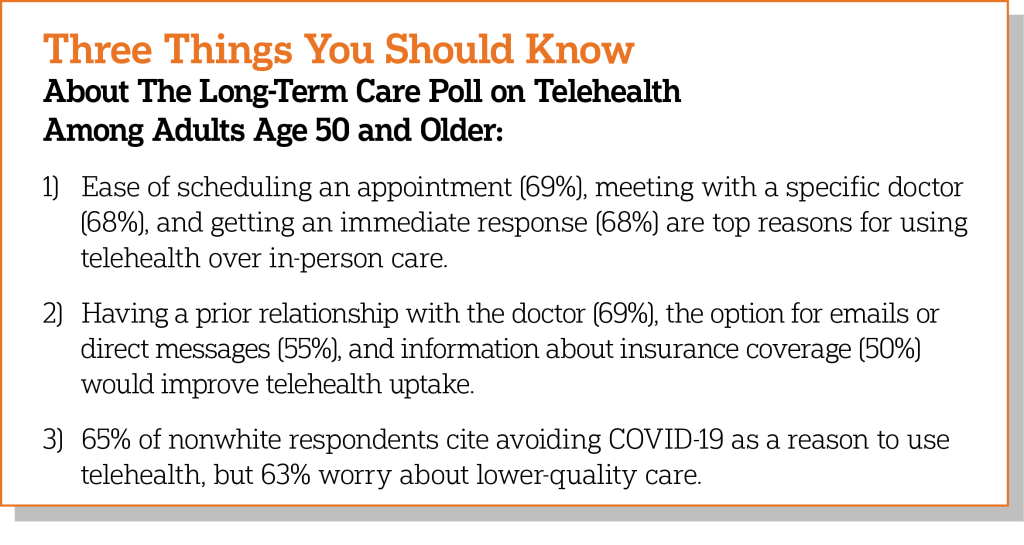 The AP-NORC Center conducted this study with funding from The SCAN Foundation. The survey includes 1,000 interviews with a nationally representative sample of adults age 50 and older living in America using the Foresight 50+ Panel, the probability-based panel of adults age 50 and older of NORC at the University of Chicago. Interviews were conducted between November 12 and 15, 2021, online and by phone in English. The margin of sampling error is +/- 4.3 percentage points.
Suggested Citation: The AP-NORC Center for Public Affairs Research. (December, 2021). "Telehealth and Equity" [www.apnorc.org/projects/telehealth-and-equity/]