The public's view of the U.S. economic situation has taken a nosedive over the past two months as the coronavirus pandemic is taking its toll on the global economy. After more than 60% of the public described the national economy as good in January, a figure that had been holding steady for the past six months, now 60% say it is bad. But Americans continue to have a rosier view of their own finances, as more than 6 in 10 consider their personal finances to be in good shape.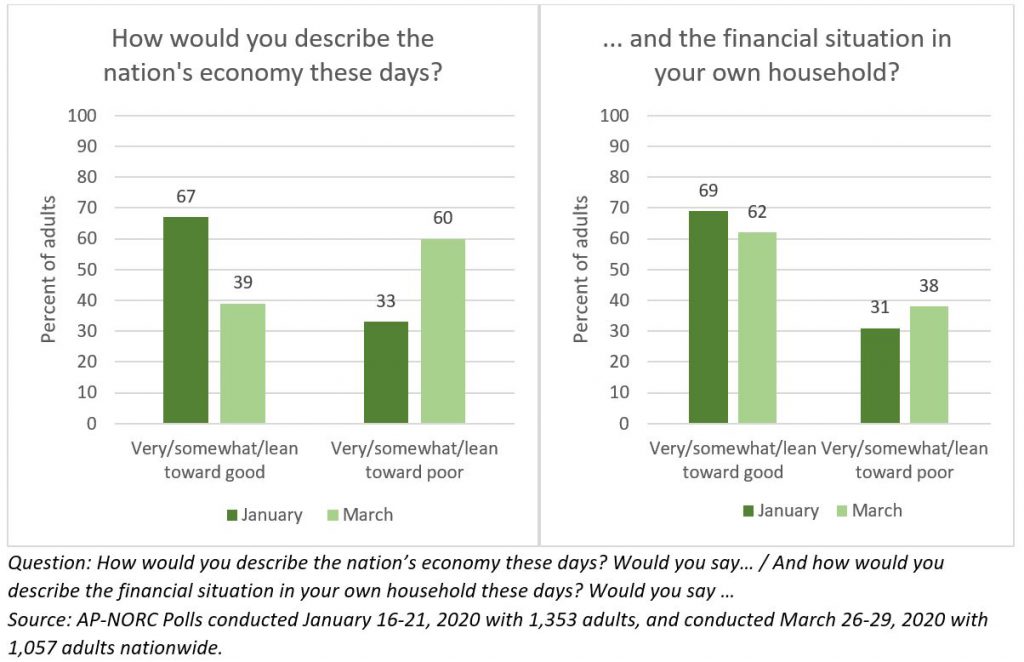 Republicans are more likely than Democrats to say that the national economy and their own personal finances are doing well. Sixty-five percent of Republicans describe the national economy as good, compared with 39% of independents and 19% of Democrats. Similarly, 76% of Republicans describe their own financial situation as good, while just 51% of independents and 54% of Democrats agree.
Forty percent do expect the national economy will improve over the next year, while 59% think it will stay the same or get worse. Republicans are more optimistic, with 62% saying it will improve, compared to 33% of independents and 25% of Democrats. Fifty-four percent of Democrats expect the economy will deteriorate in the next year.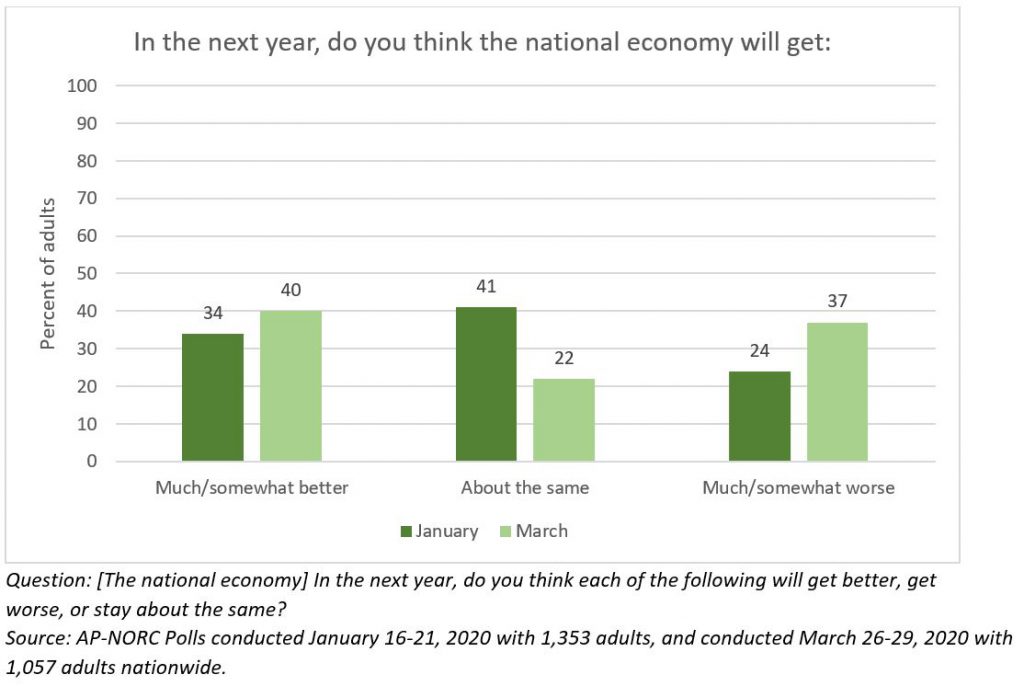 Fifty-six percent of the survey's respondents were employed prior to the coronavirus outbreak. Of them, 23% report that they or someone in their household has been laid off because of the pandemic. Among those who have not yet been laid off, 54% are at least somewhat concerned about a lay-off affecting their household.
Altogether, 53% of those employed adults say COVID-19 has affected their household's paychecks, whether by a layoff, reduced salary, or a cut in hours.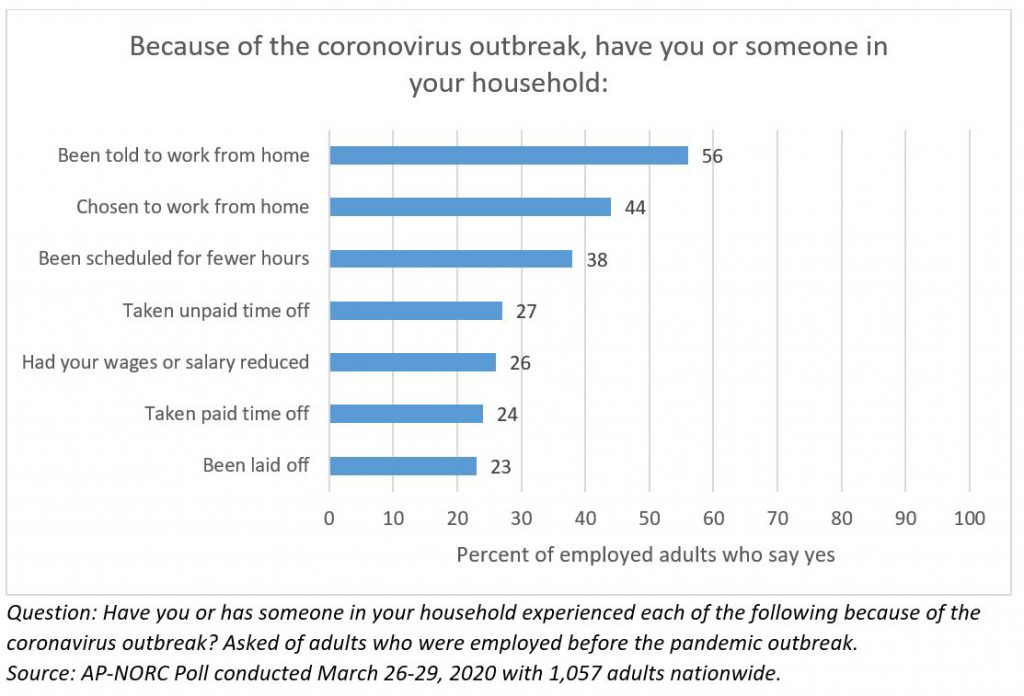 Americans are concerned about the harm the pandemic may inflict on small businesses, non-profit organizations, and the economy in general. They are less troubled about large corporations.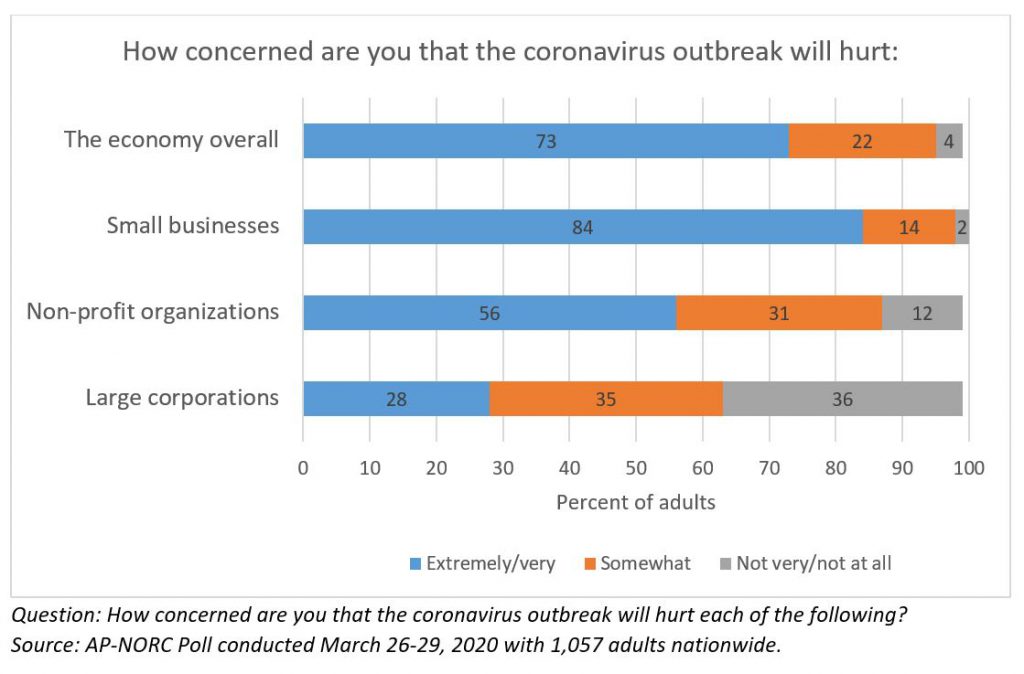 When asked about potential government policies responding to the coronavirus outbreak, there is strong support for the federal government to provide financial assistance to hospitals, small businesses, and the public. Americans are less supportive of aid to airlines or tourism industries.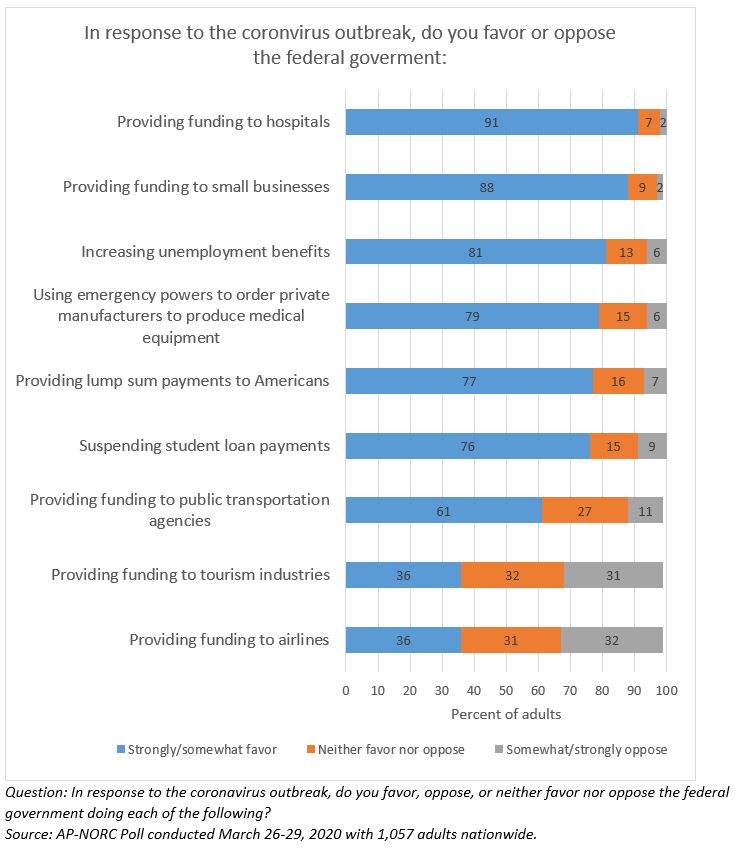 Forty-two percent of Americans say that the country is heading in the right direction, while 58% say it is heading in the wrong direction. Similarly, 43% of Americans approve of the way that Trump is handling his job as president, while 56% disapprove. This remains unchanged since February.
Trump gets his highest approval in his handling of the economy, with 56% saying they approve. Forty-four percent say they approve of his handling of the coronavirus outbreak, 42% his handling of health care, and 41% his foreign policy, with large splits among partisan lines.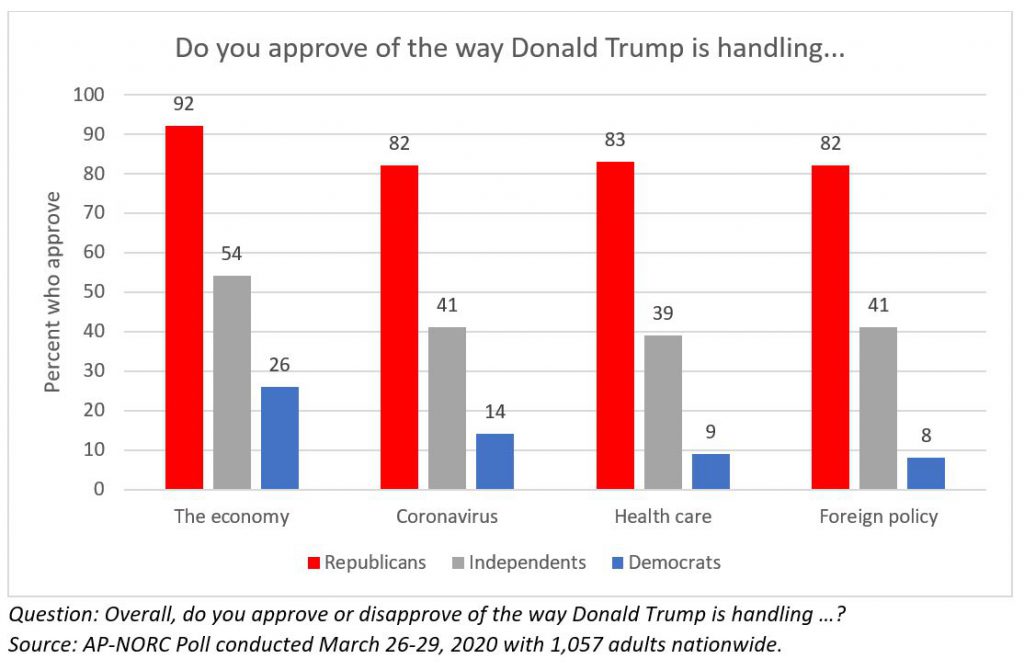 The nationwide poll was conducted March 26-29, 2020 using the AmeriSpeak® Panel, the probability-based panel of NORC at the University of Chicago. Online and telephone interviews using landlines and cell phones were conducted with 1,057 adults. The margin of sampling error is plus or minus 4.1 percentage points.