October 11, 2021
Most Americans are concerned about cyber-attacks on U.S. institutions, and many say the Chinese and Russian governments are a big threat to the nation's cybersecurity, according to a new Pearson Institute/AP-NORC Poll.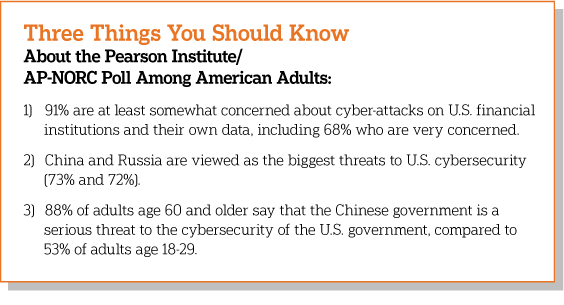 The survey finds that more Americans are concerned about attacks on financial institutions and national security than transportation networks and agricultural production. Older adults are more likely to be worried about cyber-attacks than younger adults, with concern increasing with age.
When it comes to potential sources of attacks, more Americans view the Chinese and Russian governments as a threat to U.S. cybersecurity than the Iranian government, other foreign governments, and non-governmental groups and individuals. Democrats are more likely than Republicans to say the Russian government is a big threat (79% vs. 70%).
The nationwide poll was conducted by Pearson Institute for the Study and Resolution of Global Conflicts at the University of Chicago and The Associated Press-NORC Center for Public Affairs Research from September 9-13, 2021, using AmeriSpeak®, the probability-based panel of NORC at the University of Chicago. Online and telephone interviews using landlines and cell phones were conducted with 1,071 adults. The margin of sampling error is +/- 3.9 percentage points. The poll is being released in conjunction with the 2021 Pearson Global Forum which will address these issues.