Although most young Americans ages 13-29 believe in the value and impact of higher education, nearly half say a high school diploma prepares people well for success in today's economy, according to a new study by The Associated Press-NORC Center for Public Affairs Research. A majority of young people also express concern about the affordability of higher education and must take on debt to finance it. Over three-quarters believe the problem of higher education affordability is extremely or very serious, and a majority on both sides of the aisle support forgiving student loan debt for less affluent Americans.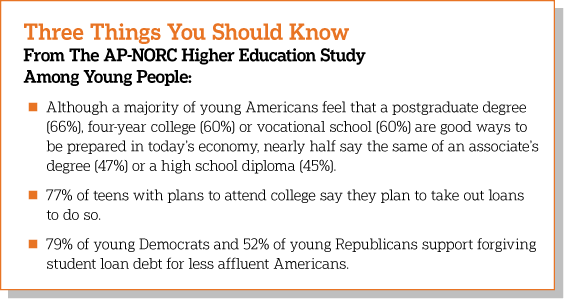 This study explores young Americans' views about the value and cost of higher education and how well they are being prepared for success both in and out of college. It also examines how teens and young adults view proposals to make higher education more affordable, and how well schools deal with the challenges facing students today. It paints a complex picture of how teens ages 13-17 and young adults ages 18-29 evaluate the costs and benefits of higher education, and shows generational differences in the expectations of teens and experiences of young adults.

The survey reveals that 61% of teens plan to attend and 42% of young adults have attended or are attending a four-year college. To do so, 77% of teens and 55% of young adults plan to or have already taken out loans. Many young people are concerned about student loan debt (47%), but even more are concerned about making enough money to earn a good living (62%). Still, on balance, only 22% think there are more disadvantages than advantages of attending a four-year college. Most say college offers more advantages or as many advantages as disadvantages (32% and 45%, respectively).

Both teens and young adults describe parents that prioritized education and helped them throughout their educational careers. Seventy-six percent of all young Americans say their parents placed a lot of emphasis on a good education, and 50% say they feel or felt pressure from their parents to attend a college or university. More than half report getting help from their parents in researching college options (57%) and filling out college applications (57%). Among teens, 70% say their parents have indicated they will help pay for college tuition. But among young adults, just 52% report getting this help.

This nationwide poll was conducted by The AP-NORC Center from August 7 to September 9, 2019, using TrueNorth®, which combines a sample from AmeriSpeak, the probability-based panel of NORC at the University of Chicago, with a non-probability panel sample. Online and telephone interviews using landlines and cell phones were conducted with 2,573 young Americans, including 769 teens ages 13-17 and 1,804 young adults ages 18-29. The margin of sampling error is +/- 3.7 percentage points.