December 16, 2021
Americans ages 13-24 ­– often referred to as Gen Z – are more progressive than Gen X (ages 41-56) and even Millennials (ages 25-40) along many social and political measures. But divisions along race and ethnicity, age, gender, and ideology seen in other generations are present even within this younger generation.
Gen Z shows measured optimism in evaluating the state of the world and their role in it. Two-thirds feel that their generation is motivated to make positive change in the country, but only 14% think they can make a lot of impact on what the government does. About half think their standard of living is better than their parents', but about half also think that the world their generation is facing is worse than what most others have. These views are similar to those of Millennials, with Gen X responding more pessimistically.
Socially, Gen Z and Millennials are more accepting than Gen X of depictions of same-sex couples in media and hold more positive views of gay, lesbian, and transgender people. They also place greater importance on their employer having a strong diversity and inclusion policy.
Politically, Gen Z and Millennials are more supportive than Gen X of policies like barring workplace discrimination based on gender identity, a universal basic income, and reducing funding for the police, and more opposed to increasing security on the U.S. border with Mexico.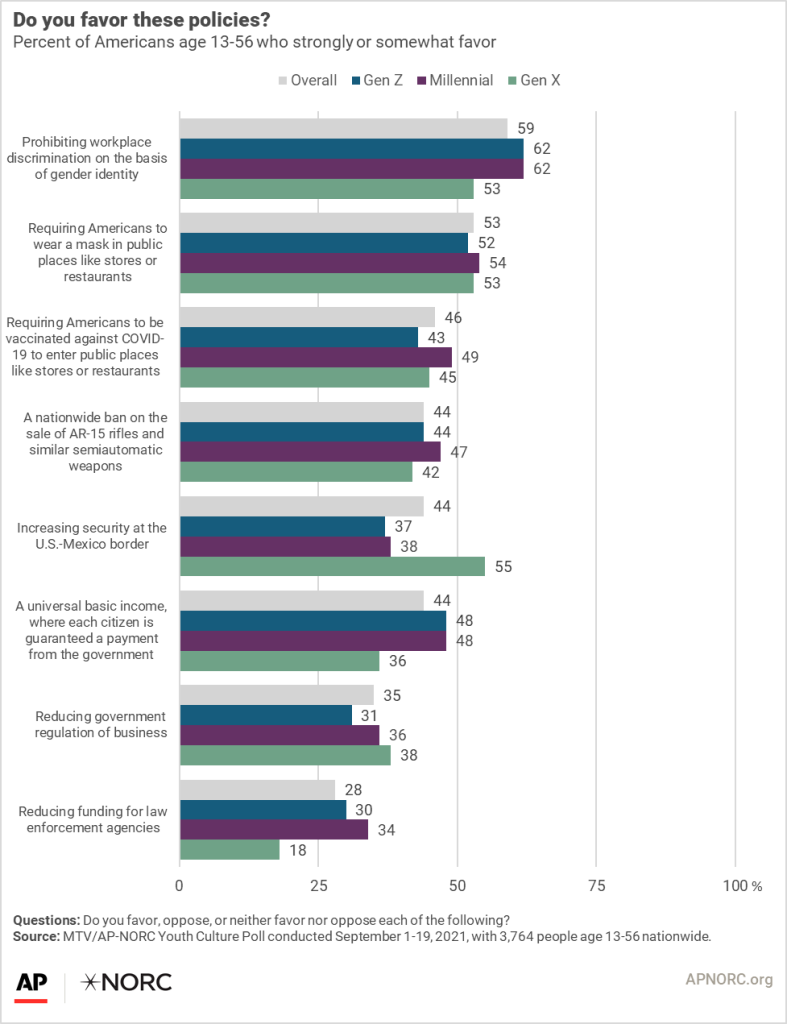 But, there is still quite a bit of diversity in opinion within Gen Z—especially by race and ethnicity, gender, age, and ideology.
Race and ethnicity and gender are particularly salient. Overall, about 4 in 10 Gen Zers cite their race or ethnicity as important to their identity, and this is driven largely by people of color: 7 in 10 Black Gen Zers and half of Hispanic Gen Zers cite identity as important, compared to just a quarter of whites. Similarly, gender is more important to Gen Z women than men. More female Gen Zers also experience stress about their body image compared to male Gen Zers. Older Gen Zers ages 18-24 are also more likely than younger Gen Zers to cite body image as a major source of stress.
Sharp ideological divides emerge within Gen Z—just like older generations—with issues of race being a touch point. Gen Z liberals are more accepting of all-Black executive teams and casts on TV shows and movies than conservatives, while conservatives are more accepting than liberals of all-white executive teams.
Additionally, Gen Z liberals favor policies like a universal basic income, barring workplace discrimination based on gender identity, and reducing funding for law enforcement, while Gen Z conservatives favor increased border security and deregulation of business.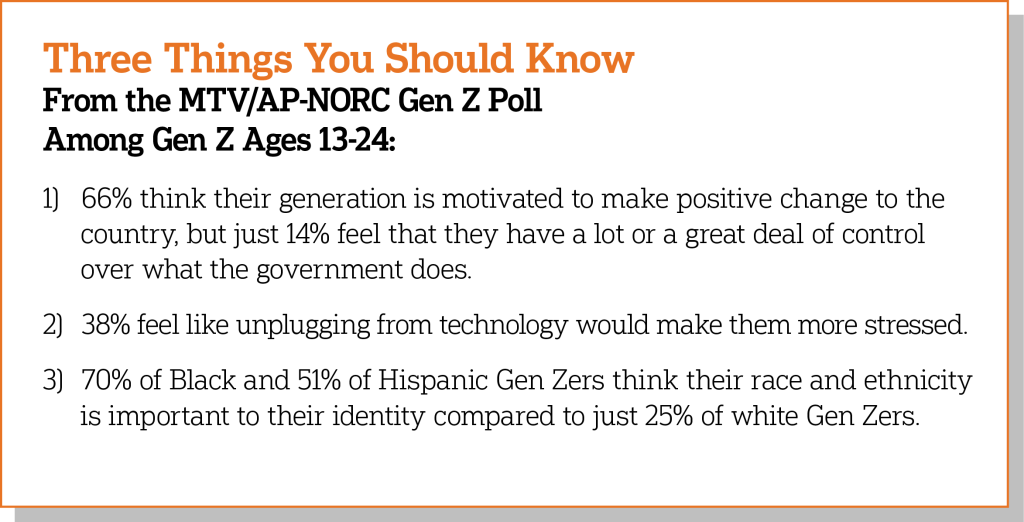 This nationwide poll was conducted by MTV and The AP-NORC Center from September 1 to 19, 2021, using TrueNorth®, which combines a sample from AmeriSpeak®, the probability-based panel of NORC at the University of Chicago, with a non-probability panel sample. Online and telephone interviews using landlines and cell phones were conducted with 3,764 people ages 13-56 living in the United States, including 2,683 members of Gen Z ages 13-24, 668 Millennials ages 25-40, and 413 members of Gen X ages 41-56. The margin of sampling error is +/- 3.3 percentage points.
Suggested Citation: AP-NORC Center for Public Affairs Research. (December 2021). "Younger Generations Stand Out on Identity, Acceptance, and Progressive Policies." https://apnorc.org/projects/younger-generations-stand-out-on-identity-acceptance-and-progressive-policies/