On April 19, 2018, teachers in Arizona voted to walk off the job to demand increased school funding, joining the movement for higher teacher pay that began in February in West Virginia and has spread to Kentucky, Oklahoma, and Colorado. In a recent survey conducted by The Associated Press-NORC Center for Public Affairs Research, 78 percent of Americans say teachers in this country are underpaid, but fewer approve of walkouts by teachers to demand pay raises and increased school funding.
Fifty-two percent approve of teachers striking to protest low teacher pay and school funding cuts, while 25 percent disapprove and 22 percent neither approve nor disapprove. But who is to blame when teacher labor unrest disrupts students' education? Americans say there is plenty of blame to go around.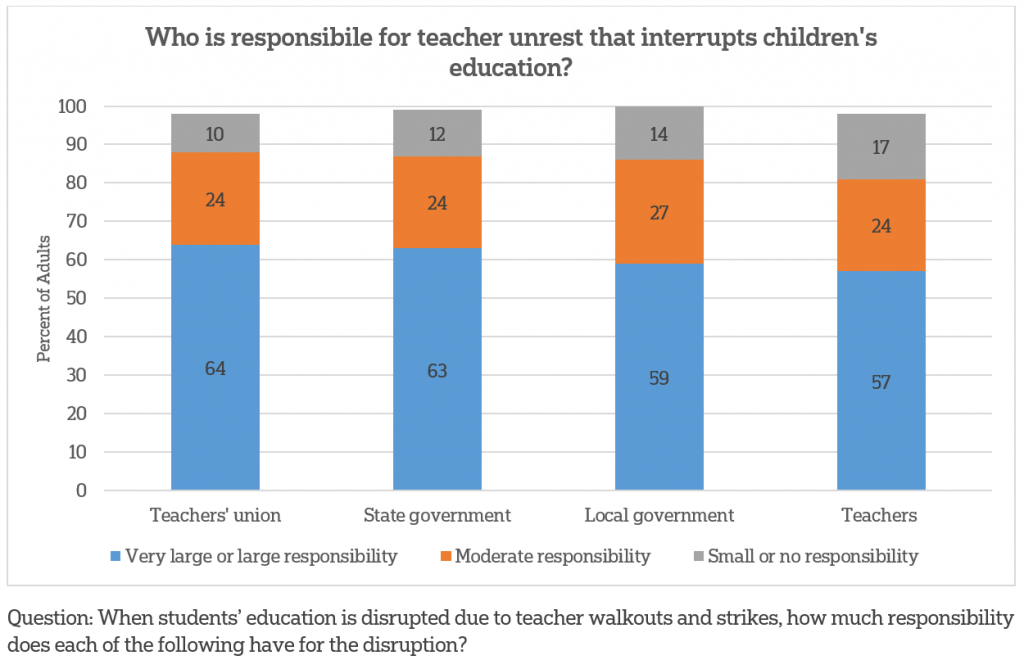 Seventy-eight percent of adults say public school teachers get paid too little for the work that they do, 6 percent say they get paid too much, and 15 percent say they get paid the right amount. Still, only 50 percent would support a plan to increase their taxes in order to increase teacher compensation and funding for their local public schools, while 26 percent would oppose such a plan, and 23 percent neither favor nor oppose. Democrats are nearly twice as likely as Republicans to support a tax increase to pay for increased school funding (69 percent vs. 38 percent). Parents with children in public schools are not more inclined than other Americans to support a tax hike earmarked for public schools.
Most Americans think the amount of training and advanced degrees that a teacher has obtained should be paramount in determining his or her salary. About half say the number of years of experience should be an important factor in a teacher's pay.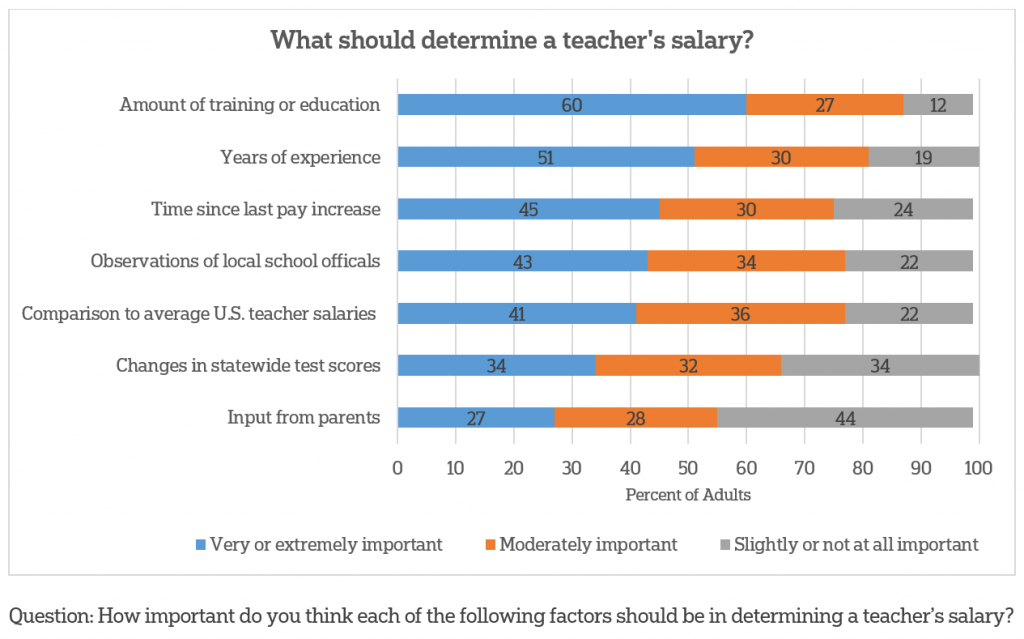 The nationwide poll was conducted April 11-16, 2018 using the AmeriSpeak® Panel, the probability-based panel of NORC at the University of Chicago. Online and telephone interviews using landlines and cell phones were conducted with 1,140 adults. The margin of sampling error is plus or minus 4.0 percentage points for all respondents.