Americans express little confidence that the United States' relations with China, Russia, and North Korea will improve in the next year, according to new findings from The AP-NORC Center for Public Affairs Research.
Twenty percent believe that the U.S. relationship with North Korea will get better in the next year, 47 percent say it will get worse, and 31 percent anticipate no change. Similarly, only 17 percent think the U.S. relationship with China will improve, 48 percent believe it will get worse, and 33 percent believe it will be about the same over the next year. When it comes to the U.S. relationship with Russia, 13 percent believe it will improve, while a majority (56 percent) believe relations will deteriorate. Thirty percent anticipate no change in U.S.-Russia relations.
Partisanship has a significant impact on attitudes toward the U.S. relationship with these foreign powers, though optimism that things will improve is low for members of both parties. The widest gap in optimism between Democrats and Republicans is on attitudes toward U.S.-North Korea relations. Seven percent of Democrats see this relationship improving over the coming year, while 40 percent of Republicans say the same.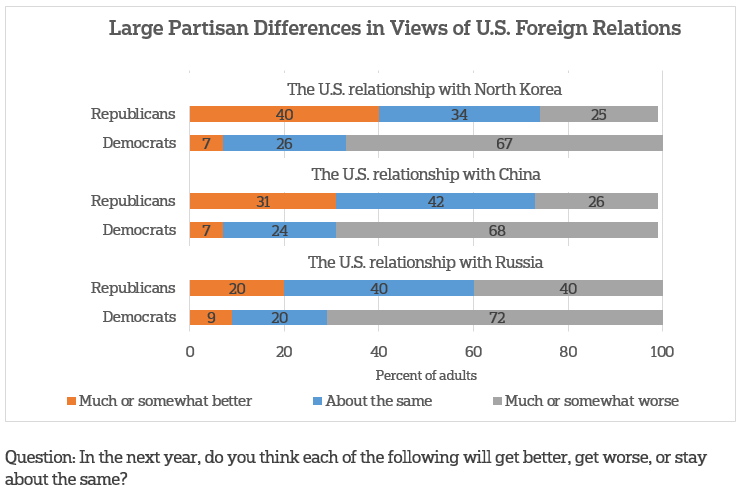 President Trump's overall approval remains essentially unchanged from March 2018. Forty percent approve of the way he is handling his job as president while 59 percent disapprove. There are also no significant changes in Americans' expectations for the next year when it comes to the way things are going in the country overall, the national economy, and their own personal finances.
The nationwide poll was conducted April 11-16, 2018 using the AmeriSpeak® Panel, the probability-based panel of NORC at the University of Chicago. Online and telephone interviews using landlines and cell phones were conducted with 1,140 adults. The margin of sampling error is plus or minus 4.0 percentage points for all respondents.