October 2, 2020
A new UChicago Harris/AP-NORC Poll being released in conjunction with the 2020 Pearson Global Forum shows Americans are significantly more likely to disapprove than approve of how President Donald Trump is handling Russia, and a majority of Americans say ties should be weakened with Russia.
Results from the poll show that 26% approve of Trump's handling of Russia while 46% disapprove. Another 27% neither approve nor disapprove. Moreover, 58% of Americans say ties with Russia should be weakened while 39% want them strengthened.
Most Americans (69%) say that Russia tried to influence the 2016 elections, and more than half similarly report concerns about foreign governments impacting the 2020 elections.
Americans express some concerns about foreign governments interfering in the upcoming presidential election whether by influencing what Americans think, stealing information from political candidates, tampering with voting systems or results, or influencing political candidates.
A majority of Americans (59%) are extremely or very concerned about foreign governments interfering in the upcoming presidential election in at least one of these ways.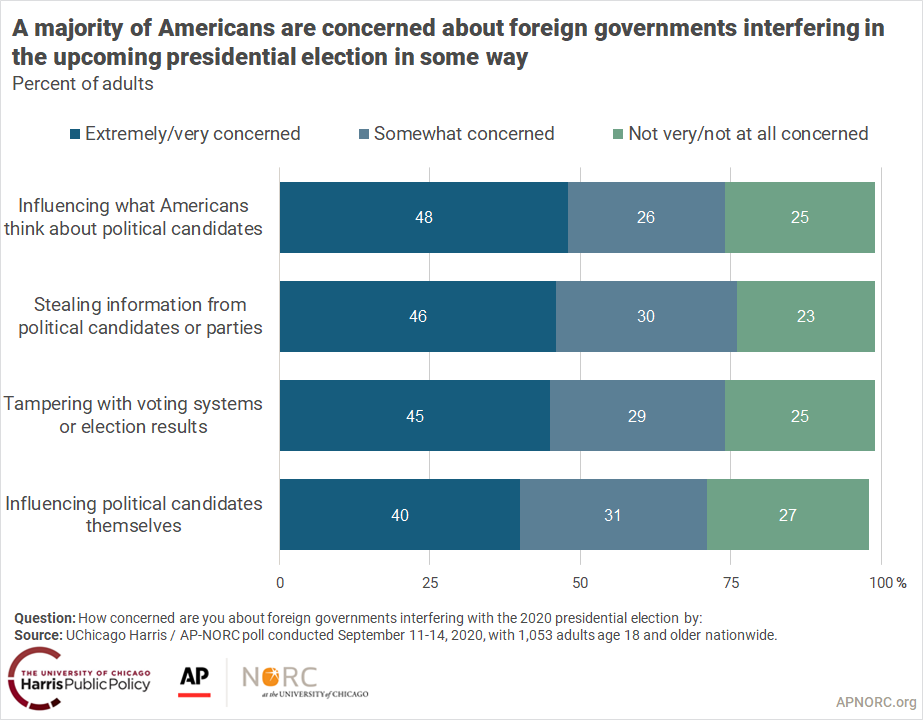 There are strong partisan differences about attitudes towards Russia and potential foreign government election interference.
When looking back at the 2016 presidential election, more than half of Americans (69%) agree that Russia tried to influence the results—a nearly universal opinion among Democrats (90%) and just under half of Republicans (48%).
Democrats are also more likely to be concerned about the upcoming presidential elections. For example, they are more than twice as likely as Republicans to be concerned about foreign governments tampering with voting systems or election results (66% vs. 28%) and influencing political candidates (56% vs. 26%).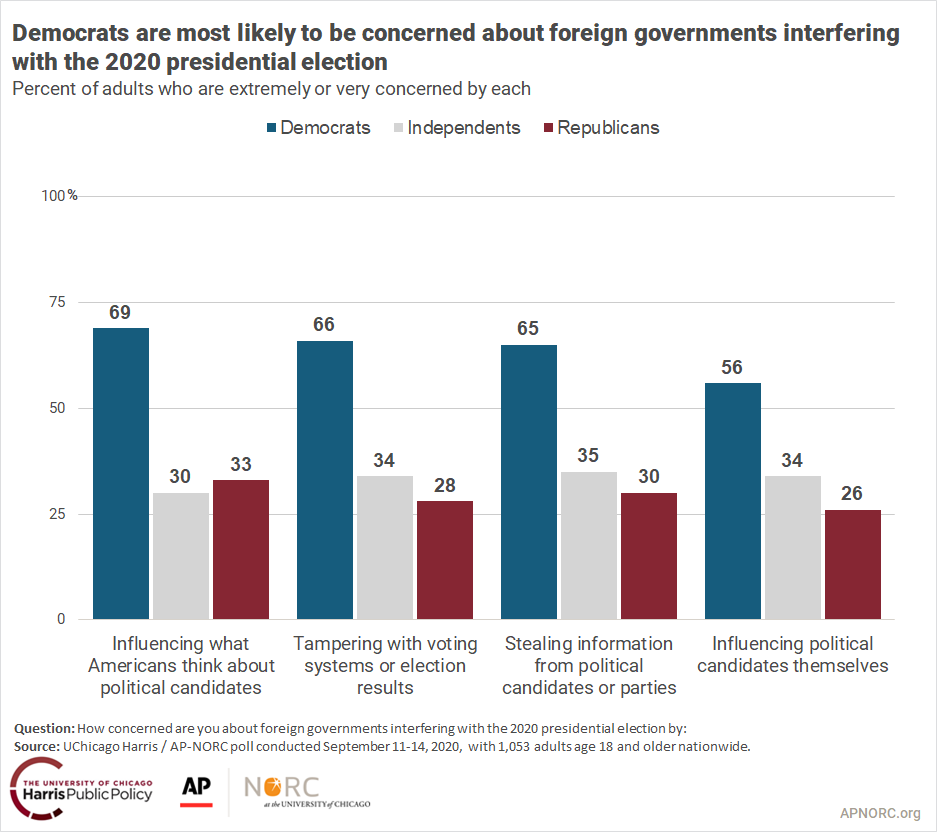 The nationwide survey was conducted by the University of Chicago Harris School of Public Policy and The Associated Press-NORC Center for Public Affairs Research. The survey was conducted between September 11 and 14, 2020, using AmeriSpeak®, the probability-based panel of NORC at the University of Chicago. Online and telephone interviews using landlines and cell phones were conducted with 1,053 adults. The margin of sampling error is +/- 4.1 percentage points.
Suggested Citation: AP-NORC Center for Public Affairs Research. (October, 2020). "Americans Split on Relationship with Russia." [https://apnorc.org/projects/americans-split-on-relationship-with-russia/]