Support for changes to the U.S. system of government are related to people's assessment of the government's performance in solving problems rather than to how well they feel it represents people like them, according to the UChicago Harris/AP-NORC Poll.
This study explores Americans' views about how well the government is handling various issues and how well it is representing people like them. It then examines how such concerns about both government performance and representation connect to overall attitudes toward American democracy.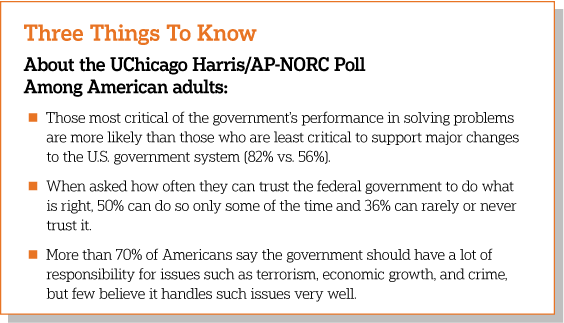 The poll shows most adults believe the government should be responsible for issues such as ensuring access to health care for all Americans and reducing crime, but a majority believe the government is handling those issues poorly.
Americans who are most critical of government performance are most likely to believe major changes are needed to the government system. They are also more likely to lack trust in government. For example, those most critical of government performance are more likely than those least critical to say they rarely or never trust the government (53% vs. 24%) and to support major changes to the system (82% vs. 56%).
In contrast, those who are most dissatisfied with how much influence people like them have in government are not significantly more likely to support a major overhaul of the government. However, 70% feel that people like them have too little power, and beliefs about that representation are connected to trust in government.
The nationwide poll was conducted by the University of Chicago Harris School of Public Policy and The Associated Press-NORC Center for Public Affairs Research from March 14 to 18, 2019, using AmeriSpeak®, the probability-based panel of NORC at the University of Chicago. Online and telephone interviews using landlines and cell phones were conducted with 1,003 adults. The margin of sampling error is +/- 4.2 percentage points.