America's suburbs have been competitive battlegrounds in recent elections. But a new UChicago Harris/AP-NORC Poll finds that, contrary to popular perceptions of suburbanites as swing voters, there are actually fewer true independents in the suburbs compared to urban and rural areas of the country.
While the average overall opinions of suburbanites appear moderate, the survey shows that this is because the suburbs include a mix of individuals who strongly identify with the two main political parties. Indeed, fewer suburbanites identify as political independents than either urban or rural residents (15 percent vs. 25 percent and 30 percent, respectively).
The suburbs have more partisans than urban and rural areas.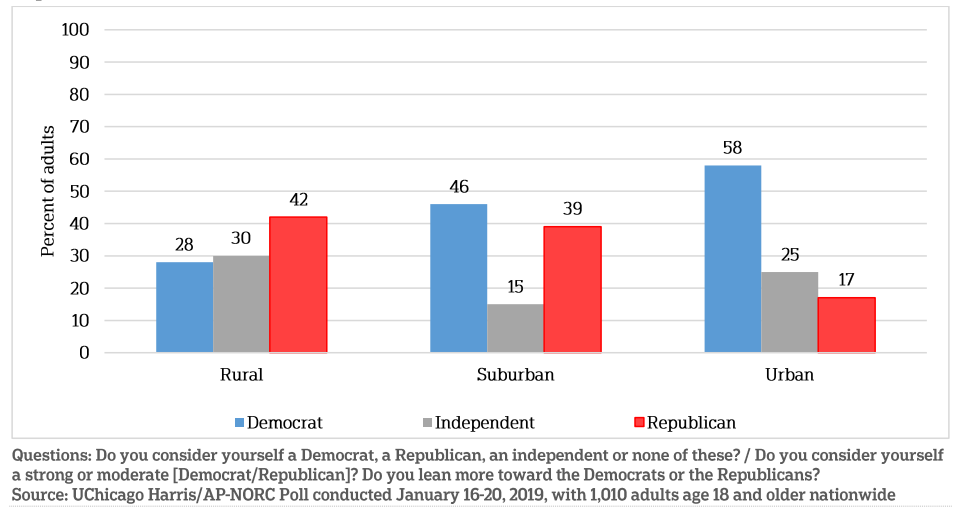 Moreover, the poll finds that the ideological divisions among suburbanites are closely linked to the types of communities they have lived in before. In particular, suburbanites who have lived in urban areas previously are significantly more liberal in their political attitudes and voting behavior than those who have spent their entire lives in either suburban or rural communities.
For example, 58 percent of suburbanites who have previously lived in urban communities report they voted for a Democratic candidate for Congress in the 2018 midterm elections compared with 34 percent of suburbanites who have never lived in urban communities.
This split within suburbia parallels the broader political differences between Americans who live in rural communities and those living in urban communities. The poll illustrates the urban and rural divide in political beliefs across a range of issues such as immigration, climate change, and views about the direction of the country.
The nationwide poll was conducted by the University of Chicago Harris School of Public Policy and The Associated Press-NORC Center for Public Affairs Research from January 16 to 20, 2019, using AmeriSpeak®, the probability-based panel of NORC at the University of Chicago. Online and telephone interviews using landlines and cell phones were conducted with 1,010 adults. The margin of sampling error is +/- 4.3 percentage points.