February 23, 2023
Forty-five percent of the public approve of how Joe Biden is handling his job as president, slightly higher than the 41% who said the same last month. Views of Biden's handling of foreign policy are about the same as his overall approval rating.
The survey was conducted February 16-20, 2023 finishing just as the president was making his surprise visit to Ukraine. Earlier this month, the U.S. military shot down a suspected Chinese spy balloon off the Carolina coast after it traversed sensitive military sites across North America. Forty percent of the public approve of how Biden is handling relations with China, while 58% disapprove.
In general, 45% approve of how Biden is handling foreign policy, up slightly from 41% last month. Among Democrats, 74% approve in both the latest poll and in January. Approval among Republicans is at 18%, up from 12% last month.
Sixty-one percent of the public are concerned about China's influence around the world, about the same as last year. But although the war in Ukraine is now entering its second year, fewer people are worried about Russia's influence. Fifty-three percent of the public are concerned about Russia's influence around the world, down from 64% last March. Republicans are more concerned about China's influence than Democrats, a difference that has remained consistent since March 2022. When it comes to Russia, both Democrats and Republicans are less concerned today than they were a year ago.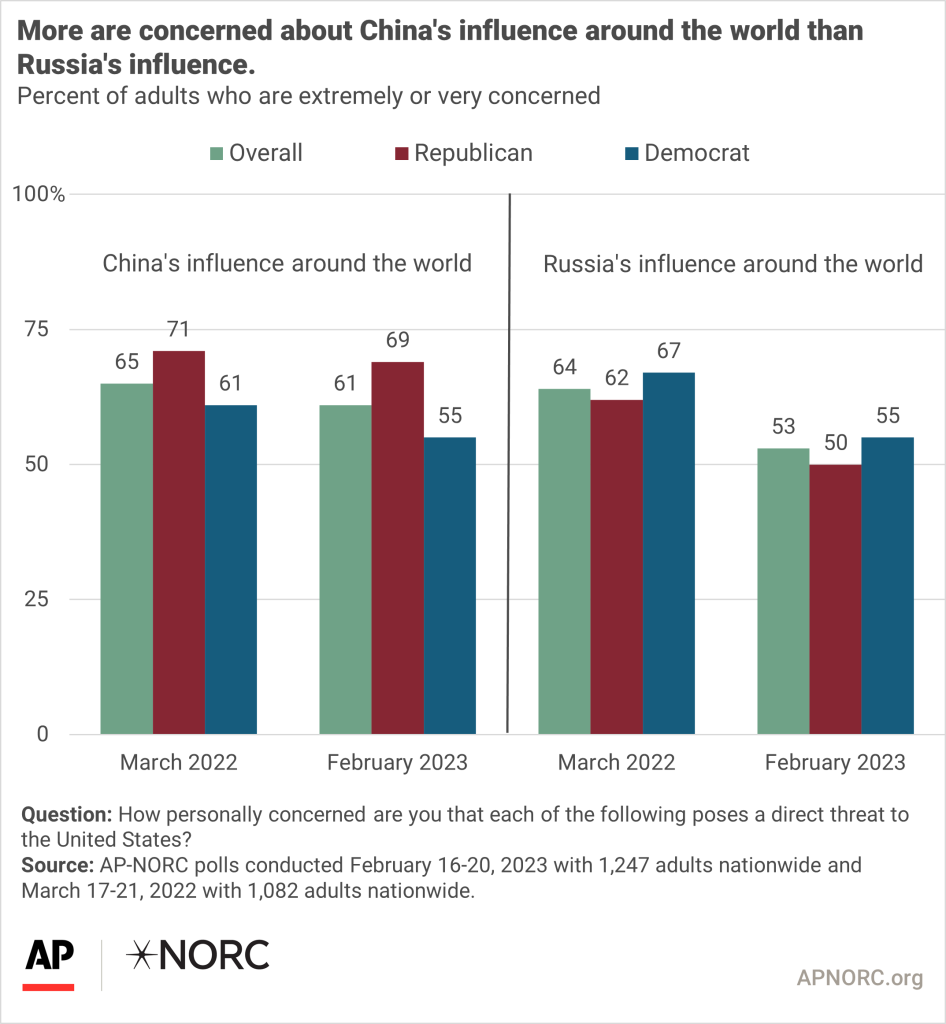 Overall, 32% now say the national economy is in good shape, a slight improvement from last month. Still, most people think the economy is not doing well, and most of the public do not approve of how president is handling it.
Democrats are beginning to have more positive views of the economy. About half (51%) of Democrats say the economy is good, up from 31% last June. Republicans remain very negative.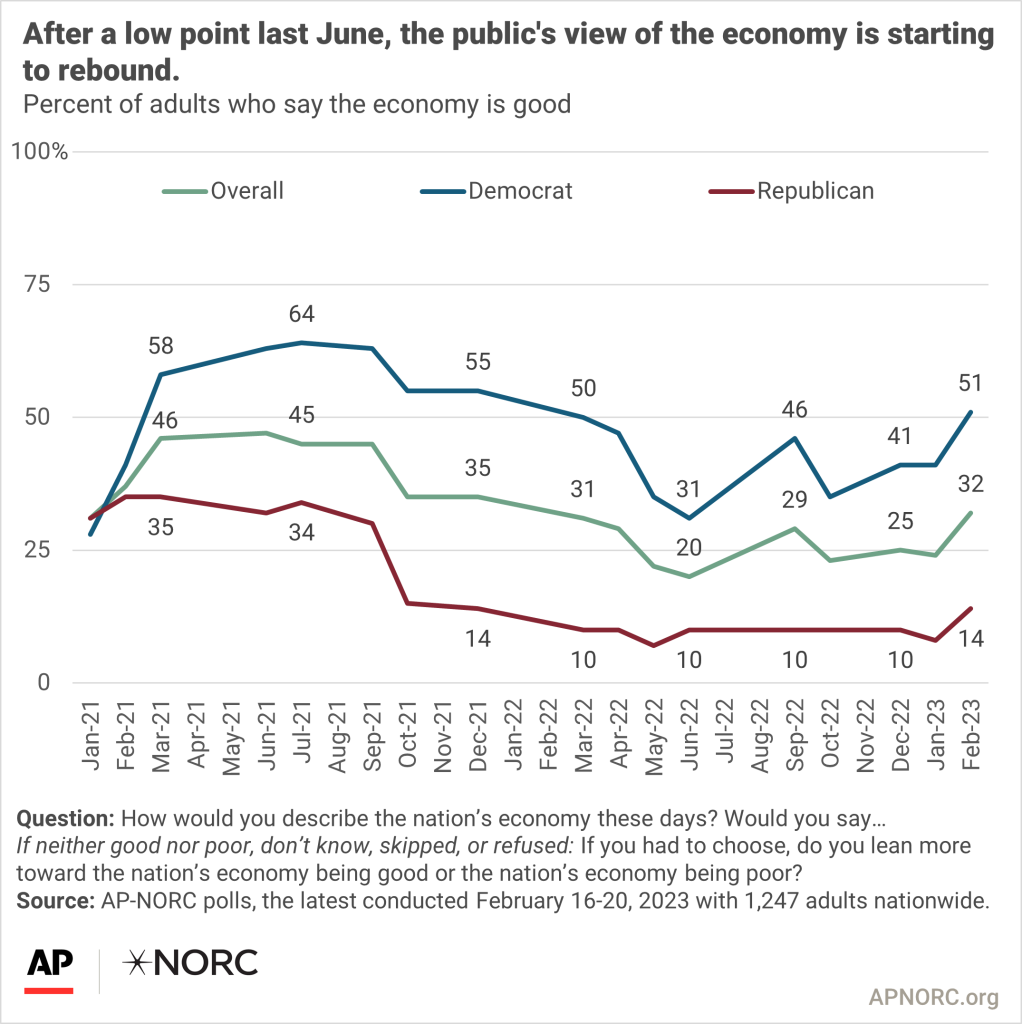 Assessments of the president's job performance remain strongly partisan. Large majorities of Democrats continue to have a positive view, while Republicans have consistently negative impressions of how Biden is doing his job.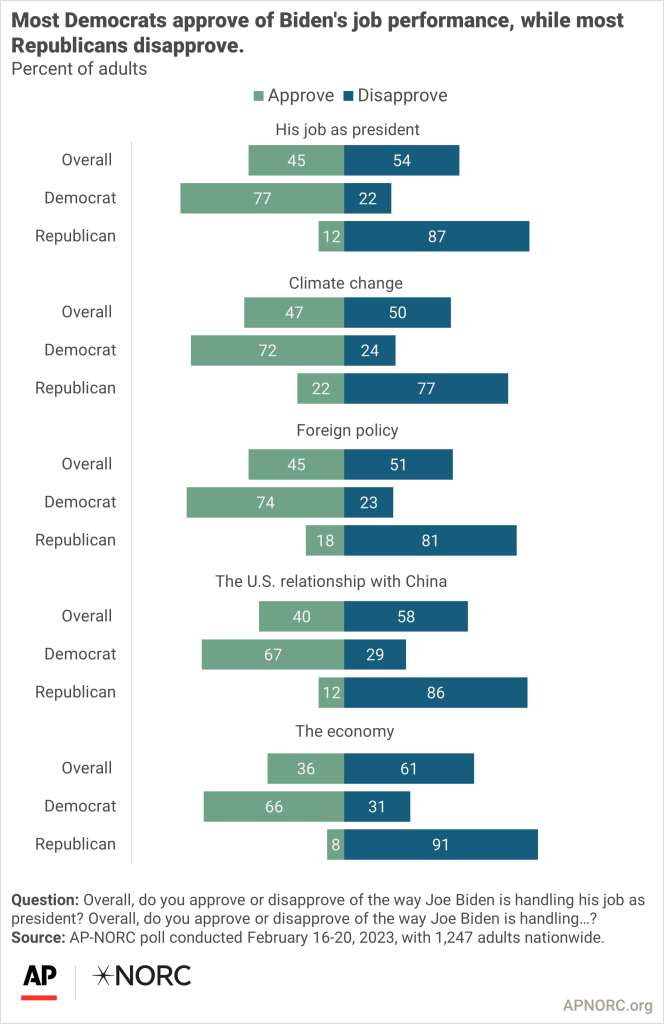 The public continues to have a negative view of the country's direction as well. Only 28% say it is headed in the right direction, while 71% think it is going in the wrong direction.
Republicans have had a dim view of the direction of the country since Biden's inauguration. Democrats' optimism rebounded to 47% this fall from its low point of 21% last June.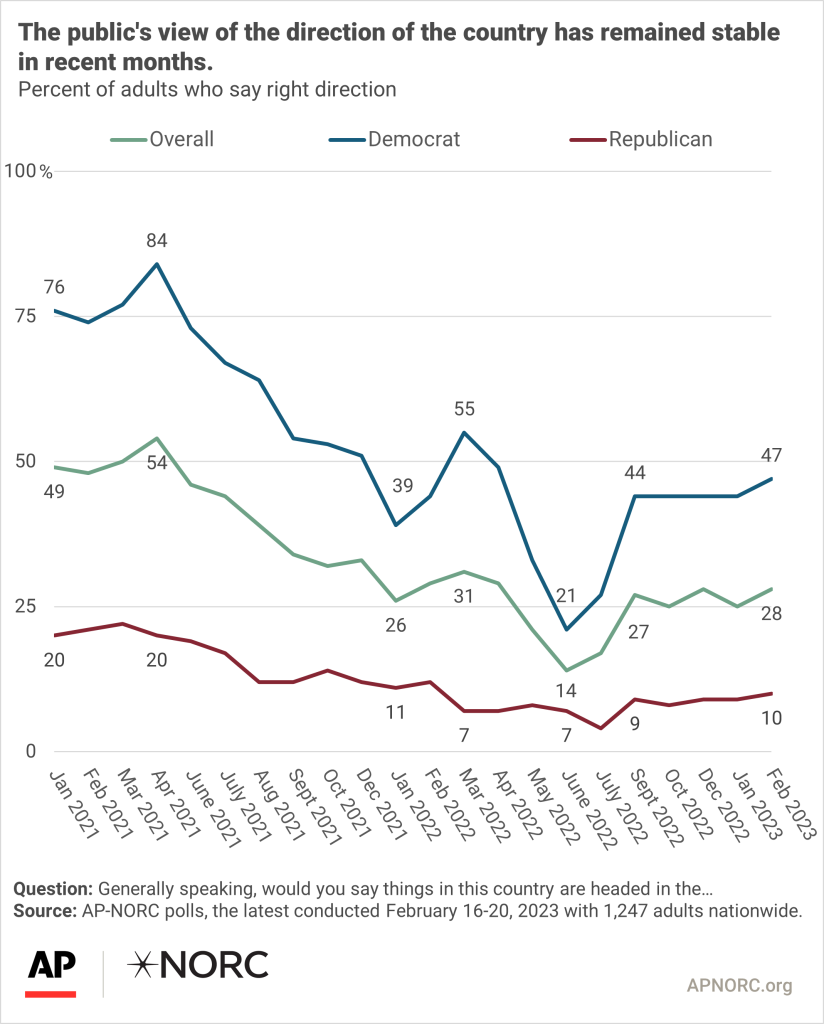 The nationwide poll was conducted February 16-20, 2023 using the AmeriSpeak® Panel, the probability-based panel of NORC at the University of Chicago. Online and telephone interviews using landlines and cell phones were conducted with 1,247 adults. The margin of sampling error is +/- 3.7 percentage points.