Just under half of all Americans say race relations in the United States are worse than they were a year ago, and few are optimistic race relations will improve in the year ahead, according to findings from the February AP-NORC Poll.
Forty-nine percent of Americans say race relations are worse now than they were a year ago, 12 percent say they are better, and 37 percent say they are about the same. Equal numbers of Americans expect race relations will get worse as say there will be no change (41 percent). Seventeen percent say race relations will improve.
African Americans express more pessimistic views when it comes to race relations: 65 percent say race relations are now worse than they were a year ago compared with 45 percent of whites, and 53 percent say race relations will deteriorate over the coming year compared with 37 percent of whites.
Half of Americans believe that African Americans have a disadvantage when it comes to getting ahead in the United States while 60 percent think whites have an advantage.
Two-thirds of Americans are unhappy with the way Trump is handling race relations, including 59 percent of whites and 91 percent of African Americans. Forty-seven percent of adults say the things that Donald Trump is doing as President have been bad for African Americans. African Americans are twice as likely as whites to hold this view. Fifty-seven percent of all Americans say they believe President Trump is a racist.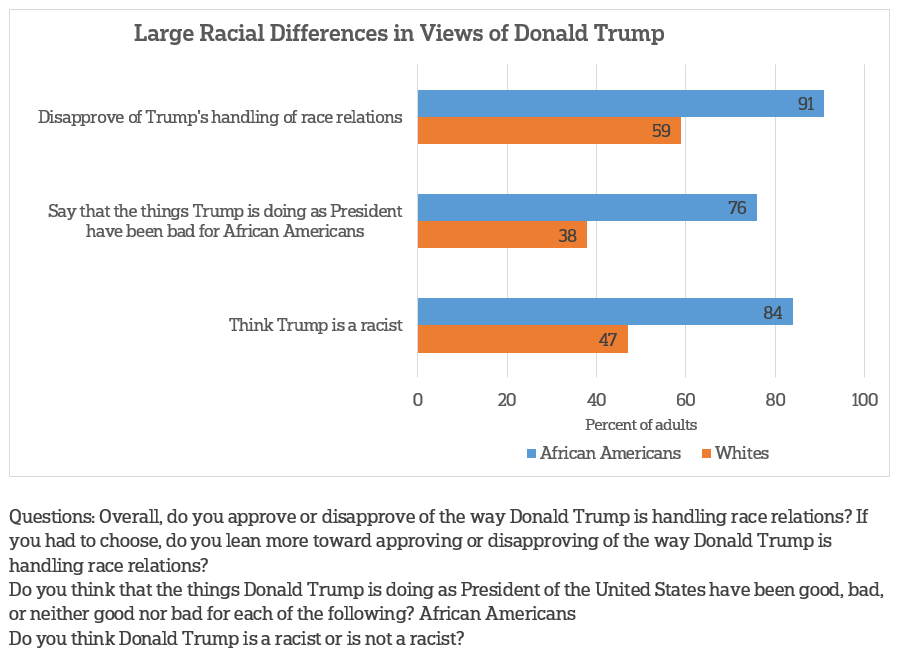 The nationwide poll was conducted February 15-19, 2018 using the AmeriSpeak® Panel, the probability-based panel of NORC at the University of Chicago. Online and telephone interviews using landlines and cell phones were conducted with 1,337 adults, including an oversample of 388 African Americans. The margin of sampling error is plus or minus 3.9 percentage points for all respondents.