In the wake of the school shooting in Parkland, FL in February, 7 in 10 Americans want stricter gun laws and large majorities support policies like universal background checks, increased funding for mental health, laws preventing mentally ill people from buying guns, and allowing courts to issue so-called gun violence restraining orders, according to findings from the March AP-NORC Poll.
Overall, 69 percent say gun laws in the United States should be made stricter, while 9 percent say they should be less strict and 22 percent say they should be left as they are. The number saying they should be made stricter represents an increase since October when 61 percent said the same.
More than eight in 10 Americans support a federal law preventing mentally ill people from purchasing guns, increased funding for mental health screening and treatment, and a federal law requiring universal background checks. Seventy-eight percent say courts should be allowed to prevent people who are considered a danger to themselves or others, but have not been convicted of a crime, from owning a gun – what has been referred to as a gun violence restraining order.
Seventy percent support a ban on bump stocks, the devices that allow semi-automatic guns to function as automatic weapons, and 58 percent favor a nationwide ban on AR-15 rifles and similar semiautomatic weapons. Only 38 percent favor a law in their state allowing trained teachers and administrators to be armed in schools.
Gun owners and non-owners express similar levels of support for many of these policies. However, Americans who do not own guns strongly favor a ban on bump stocks and semiautomatic weapons, while gun owners are less supportive. Most gun owners back state laws allowing teachers and administrators to carry guns in schools, while most non-owners oppose that idea.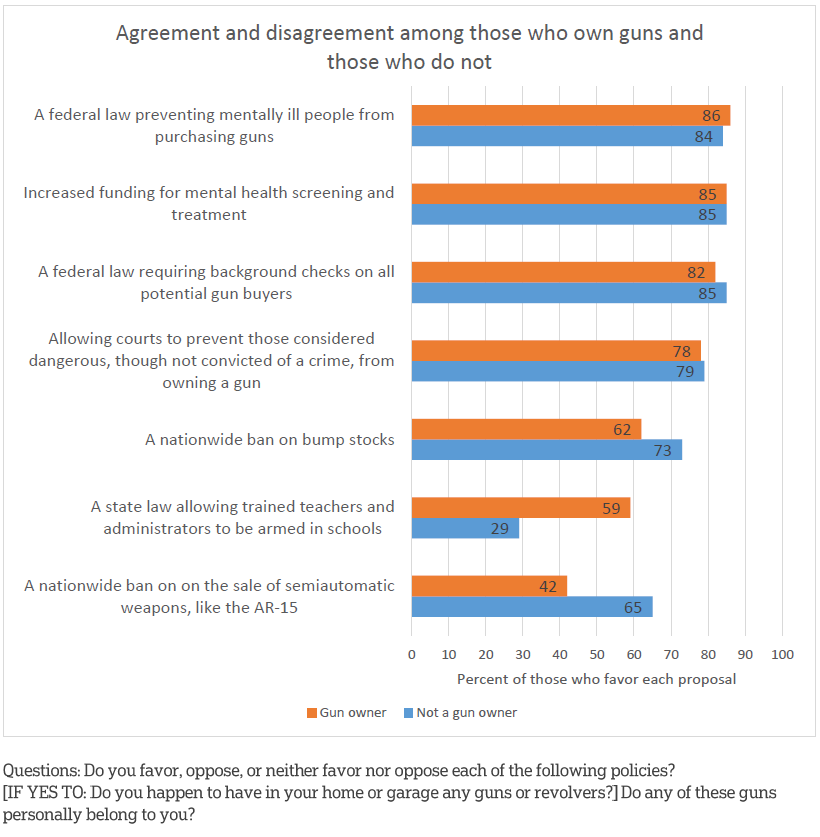 Despite high levels of support for many policies, only 51 percent anticipate that something will be done to make gun legislation stricter in the next year; 42 percent of Americans expect no change to gun laws.
More than half of Americans say making it harder for people to legally obtain guns would reduce the number of mass shootings, homicides, and accidental shootings, though more than three in 10 say such restrictions would make no difference. Forty-five percent say restrictions would decrease suicides, while 47 percent say it would make no difference.
Though many think stricter gun laws would lead to less gun violence, more Americans say owning a gun does more to protect a person from being a victim of a crime than say it puts their safety at risk. Gun owners are especially likely to say a gun protects them versus puts them at risk.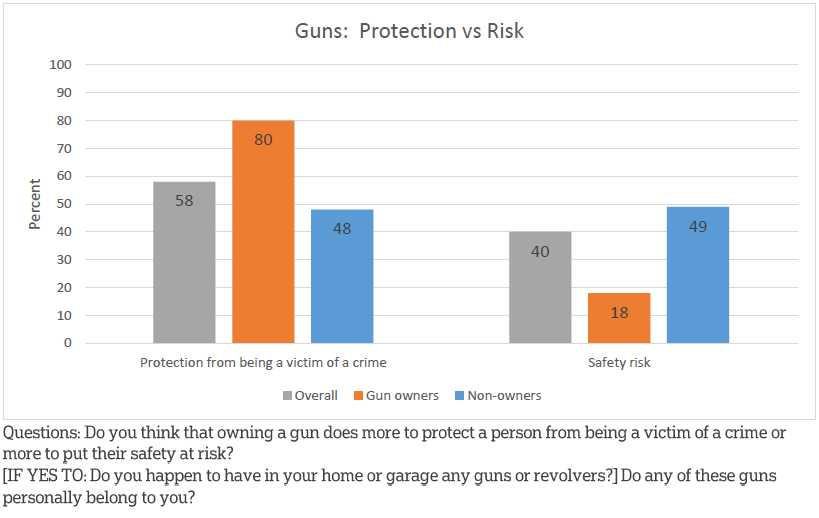 Thirty-nine percent of Americans approve of the way President Trump is handling the issue of gun control and 59 percent disapprove. These ratings have not substantially changed since October 2017.
The nationwide poll was conducted March 14-19, 2018 using the AmeriSpeak® Panel, the probability-based panel of NORC at the University of Chicago. Online and telephone interviews using landlines and cell phones were conducted with 1,122 adults. The margin of sampling error is plus or minus 4.2 percentage points for all respondents.