Earlier this month, President Trump authorized steep tariffs on imported steel and aluminum. Thirty-eight percent of Americans favor the new tariffs, while 29 percent oppose and 32 percent neither favor nor oppose, according to the March 2018 AP-NORC Poll.
The survey also finds that 32 percent think the tariff on steel and aluminum will lead to an increase in jobs, while 36 percent expect a decrease in jobs, and 31 percent say it will have no effect.
Additionally, 40 percent think it will lead to an increase in the price of consumer goods, 39 percent expect a decrease in prices, and 19 percent say it will have no effect.
Americans think the most important criteria to consider in negotiating trade deals with other countries should be the effect on jobs in the United States. More than half also think it is important to consider American competitiveness with other countries, the environmental impact, the effect on troubled U.S. industries, and keeping consumer prices low.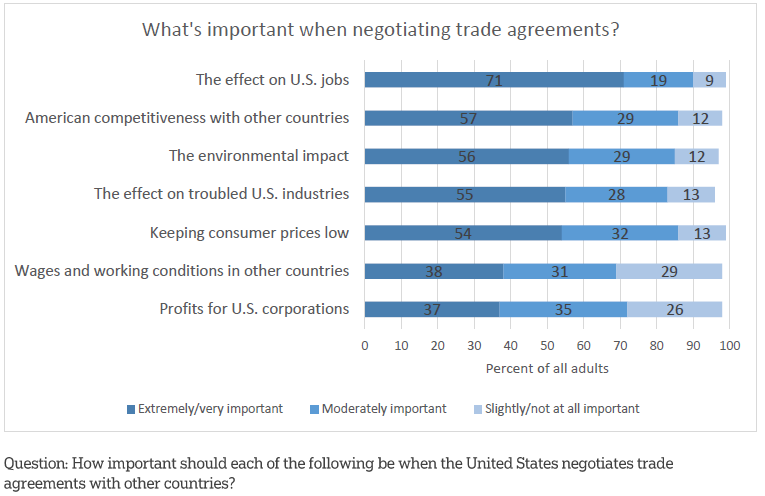 In December, Congress passed the most sweeping tax overhaul in decades. Many Americans are starting to see the impact of the new tax law on their paychecks. Among those familiar with the law and who get a paycheck, 46 percent say their take-home pay has increased, while 13 percent say it has decreased and 40 percent say it has stayed the same.
Most Americans, though, expect the tax law will have a negative impact on the federal budget deficit. Fifty-nine percent of those familiar with the tax law say it will increase the deficit, 17 percent say it will decrease the deficit, and 22 percent say it will have no effect.
More than 7 in 10 Americans familiar with the law expect it to help large corporations and the wealthy, while fewer than half say the same about themselves or middle- and lower-income individuals and families.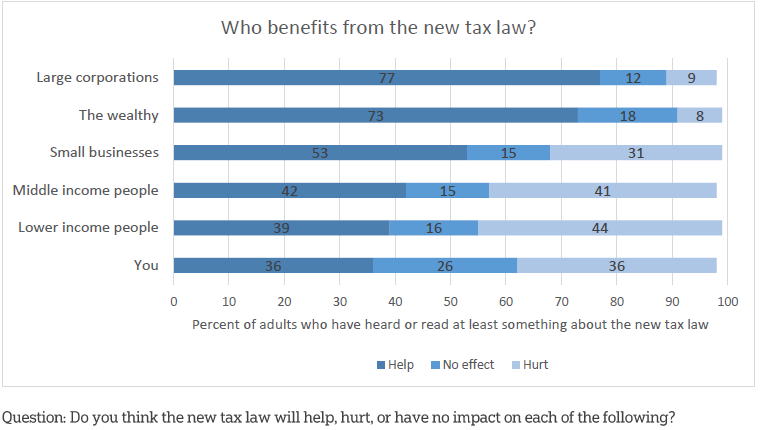 The public has become more positive about Trump's stewardship of the country overall. His approval rating is 42 percent, up from 35 percent in February. And the percent who disapprove has dropped from 64 percent to 58 percent.
As in the past, Trump gets his best marks on handling the economy: 47 percent approve, while 52 percent disapprove. And 46 percent now approve of Trump's handling of taxes, up from with 33 percent in December 2017 as the law was being negotiated. However, approval on his handling of the budget deficit has declined from 43 percent last March to 35 percent now.
Forty-one percent approve of how Trump is handling trade negotiations with other countries, while 58 percent disapprove.
The nationwide poll was conducted March 14-19, 2018 using the AmeriSpeak® Panel, the probability-based panel of NORC at the University of Chicago. Online and telephone interviews using landlines and cell phones were conducted with 1,122 adults. The margin of sampling error is plus or minus 4.2 percentage points for all respondents.