September 23, 2020
Renewed protests against police violence and racism across the country were ignited by the decision in Kentucky to bring charges against only one of three police officers involved in a raid that killed Breonna Taylor. A new survey conducted by The Associated Press-NORC Center for Public Affairs Research finds that the major shifts in opinions on race relations observed shortly after the killing of George Floyd, a Black man who died while in police custody in May have receded over the past several months. However, large gaps remain in the views of Black and white Americans, in the survey which was conducted Sept. 11-14, before Wednesday's announcement that one Louisville police officer would be charged in the Taylor case, but not for her actual death.
Although there were additional incidents of police violence against Black people and protests continued throughout the summer, the latest AP-NORC poll indicates a drop in support for the protests. While a large majority of Black Americans approve of the protests, that support has also dropped since June.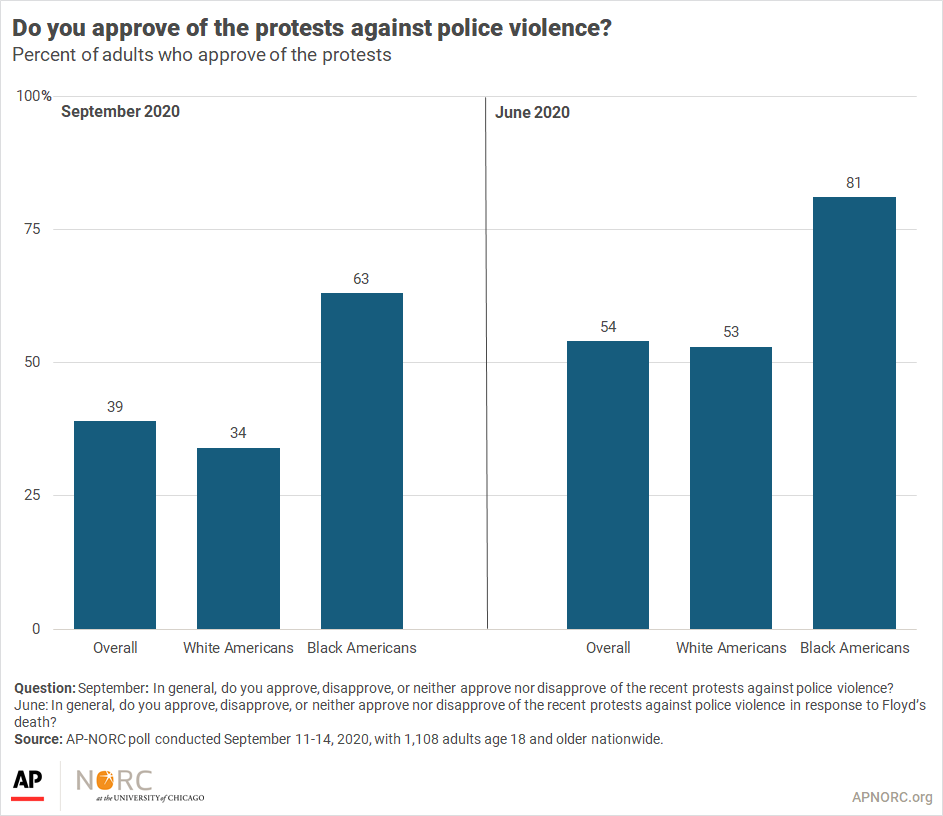 Views of the protests differ by party identification with 70% of Democrats approving and 75% of Republicans disapproving. This partisan difference emerges even among white Americans: 72% of white Democrats approve of the protests while just 9% of white Republicans agree.
There has been less change in how people perceive the nature of the protests. However an increased number of white Americans consider the protests to be mostly violent and Black Americans are more inclined to say the protests have been mixed.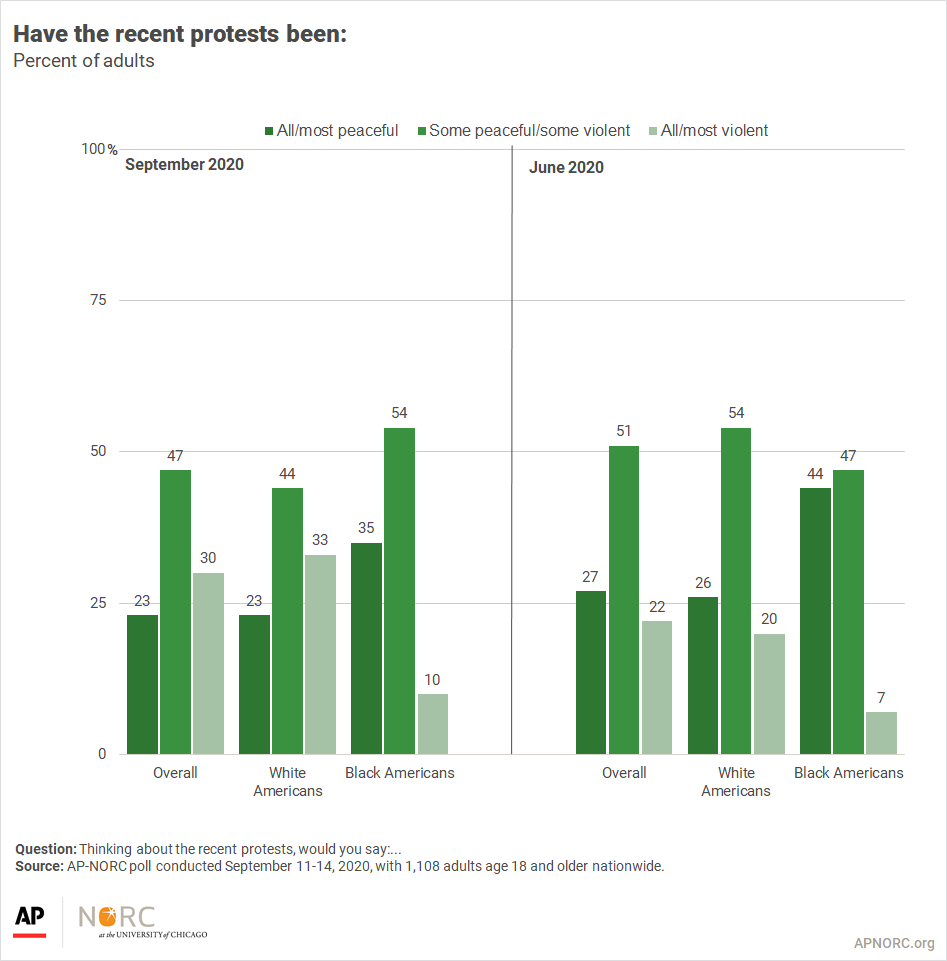 Democrats are more likely than Republicans to say that the protests were generally peaceful. Again, the partisan differences remain even among white Americans: 52% of white Democrats say all or most of the protests have been peaceful, while 53% of Republicans say all or most have been violent.
The number of Americans who say police are more likely to use deadly force against Black people than white people is just about the same as seen in an AP-NORC survey conducted in 2015, although down since June. The public is closely divided over whether deadly force is more likely to be used against black people or that race has no effect.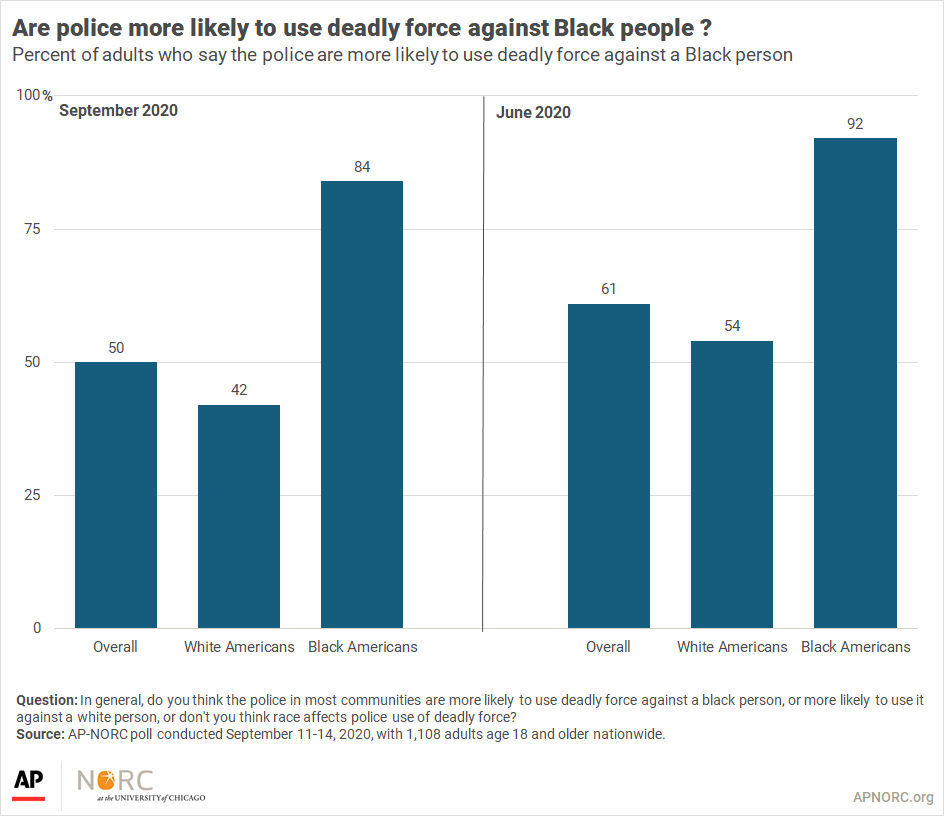 Most Americans – including nearly half of white and a large majority of Black adults – think police officers who cause injury or death in the course of their job are treated too leniently by the justice system. This is higher compared with 2015, when only 41% overall and a third of white Americans said police were treated too leniently. Still, more Americans said police officers are handled with leniency in June.
Democrats are more than three times as likely as Republicans to say police are treated too leniently by the justice system (80% vs. 24%).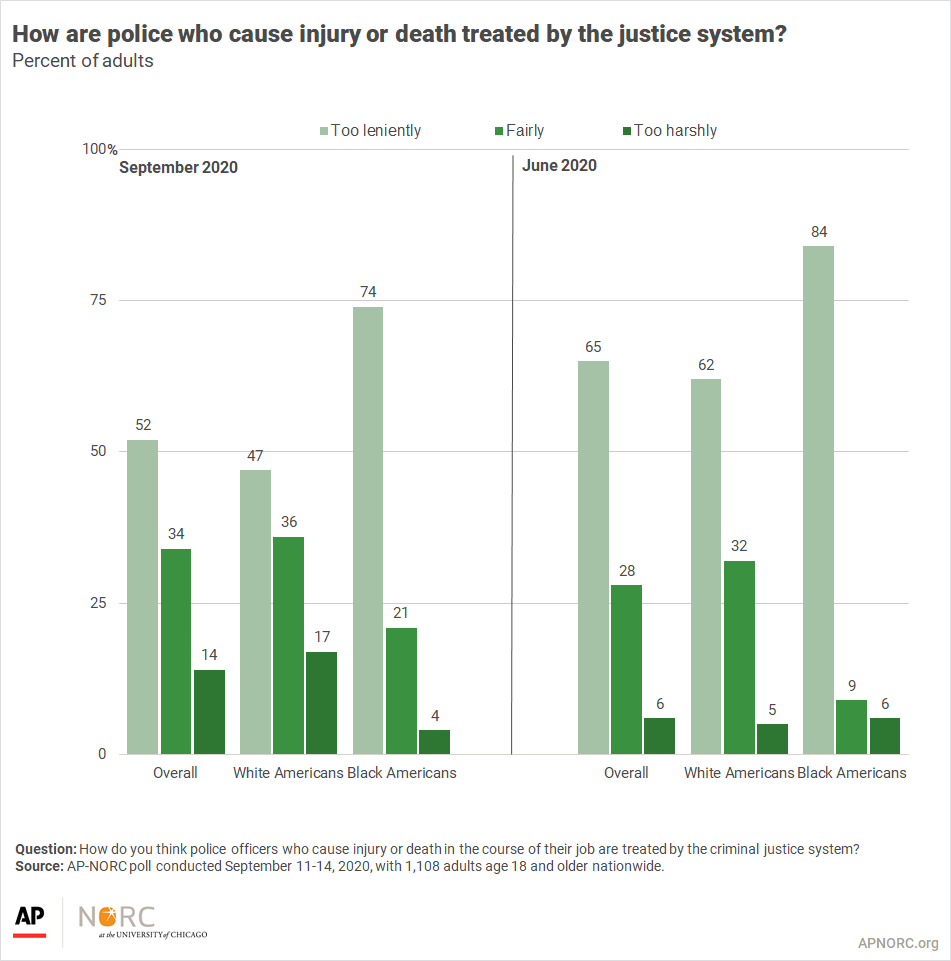 Forty-four percent of the public, including 35% of white and 76% of Black Americans say police violence against civilians is very or extremely serious, slightly lower than the numbers in June. But the public is still more likely now to say police violence against the public is serious than in 2015 when 32% overall and 19% of white Americans said it was a serious problem.
However, more Americans now consider violence against police to be extremely or very serious. There have been several recent cases of attacks on police officers, including the shooting of two Los Angeles sheriff's deputies while the survey was being conducted. Forty-eight percent of the public says it is a serious problem, up from 39% in June, and 38% in 2015.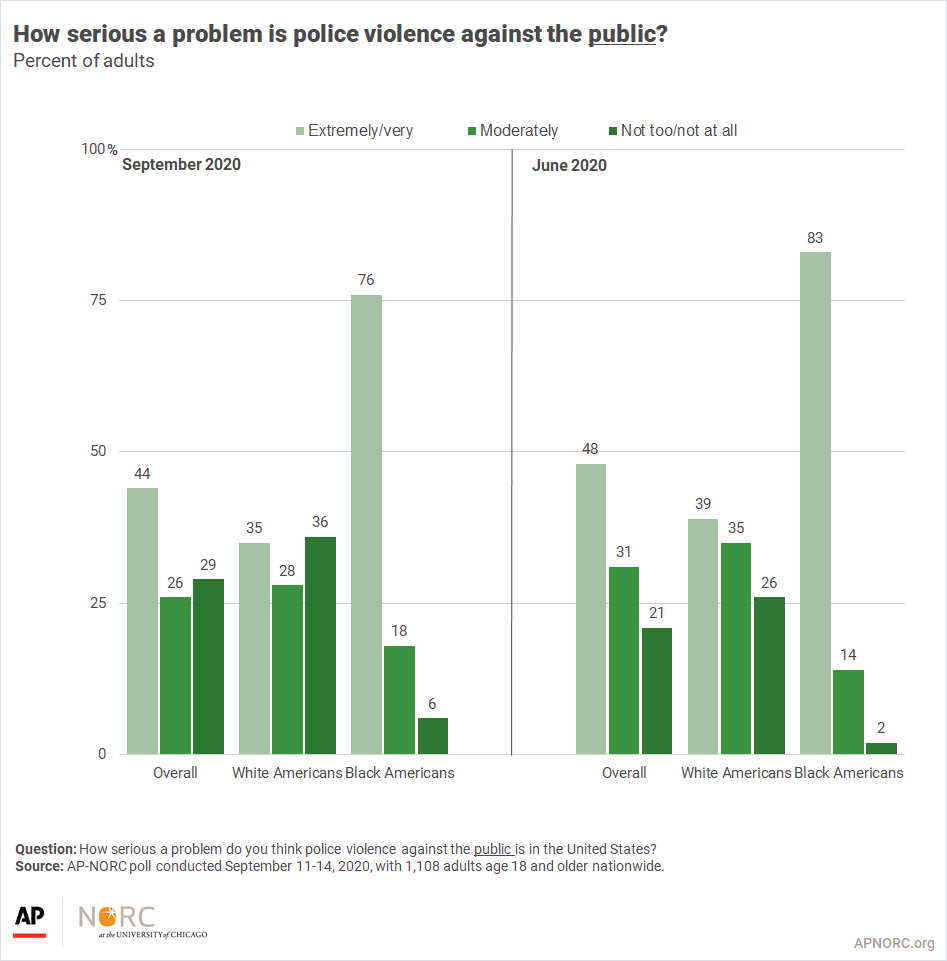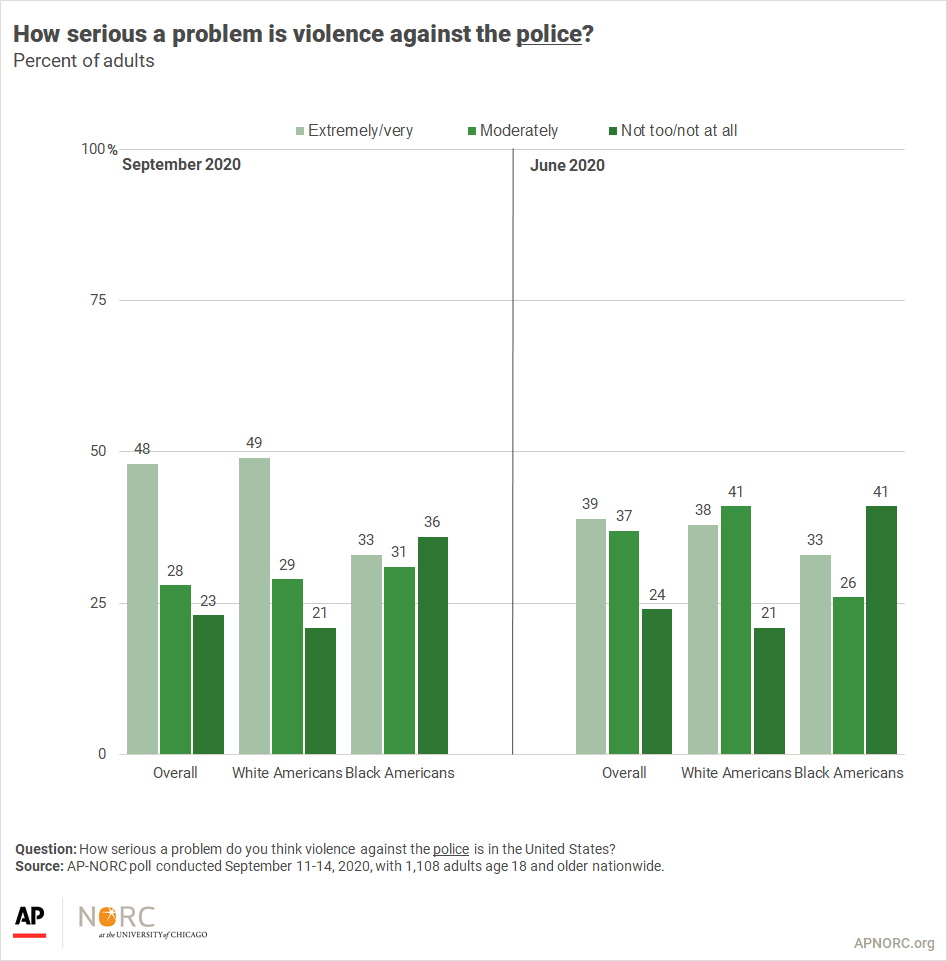 Americans are critical of how President Trump is handling race relations and policing.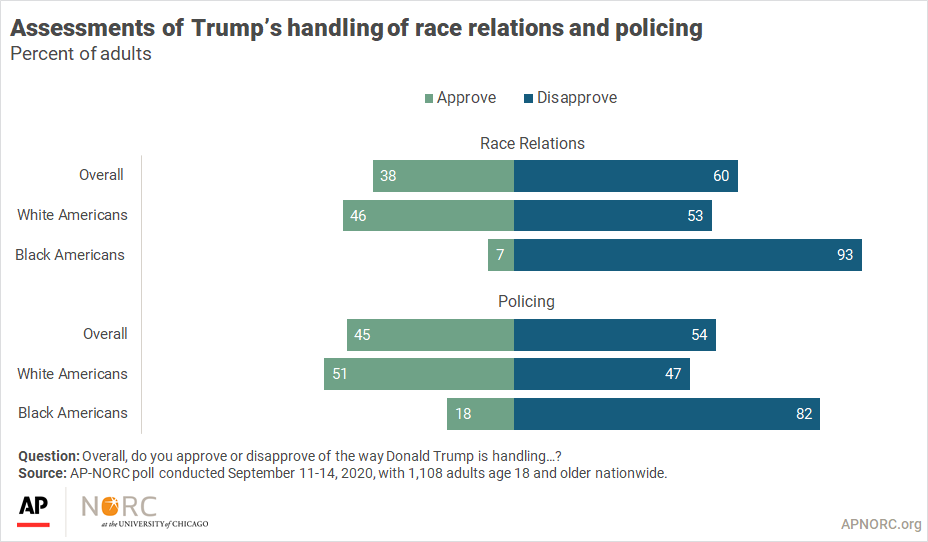 The nationwide poll was conducted September 11-14, 2020 using the AmeriSpeak® Panel, the probability-based panel of NORC at the University of Chicago. Online and telephone interviews using landlines and cell phones were conducted with 1,108 adults. The margin of sampling error is +/- 4.0 percentage points.
Suggested Citation: AP-NORC Center for Public Affairs Research. (September, 2020). "Growing Disapproval of Protests Against Police." [https://apnorc.org/?post_type=project&p=2761]