Large majorities of the public support the implementation of policies aimed at reducing police violence, but few back a reduction in the funding for law enforcement. Most Americans say the country's criminal justice is in need of serious transformation, and police officers who kill or injure civilians are treated too leniently by the courts.
In the national AP-NORC survey, which was conducted as protests spread across the country in response to the killing of George Floyd, a handcuffed black man who died after a white police officer pressed his knee into Floyd's neck for several minutes, nearly half regard police violence to be very serious problem.
The public agrees that several reforms could help prevent police violence against civilians. Americans, regardless of race, strongly support policies that include body cameras, holding police accountable for excessive force and racially biased policing, and creating criteria for the use of force. There is little support for reducing funding for law enforcement.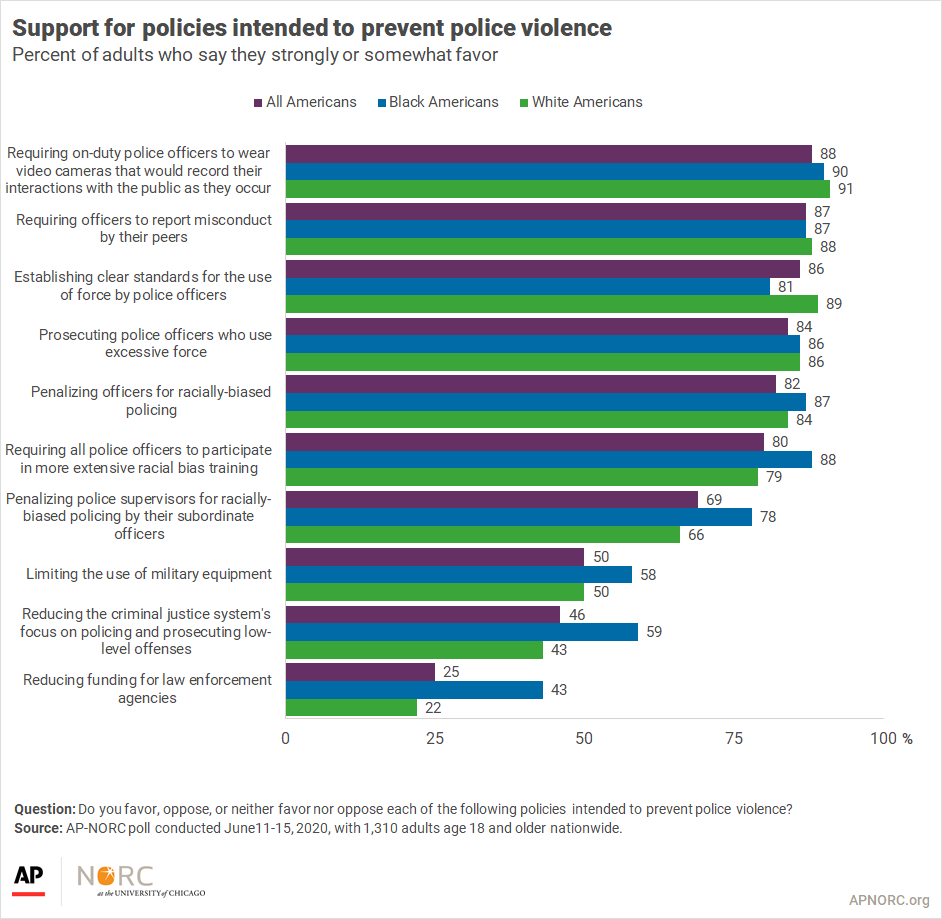 There is majority support in both parties for a number of reforms. However, Democrats are more likely than independents and Republicans to support all the guidelines to prevent police violence included in the survey. The biggest partisan gaps arise when it comes to limiting the use of military equipment, reducing funding for agencies, and limiting the criminal justice system's focus on policing and prosecuting low level offenses.
More than two-thirds of the public say that criminal justice system needs either major changes or a complete overhaul. Black Americans are more likely than white Americans to say the system needs a complete transformation.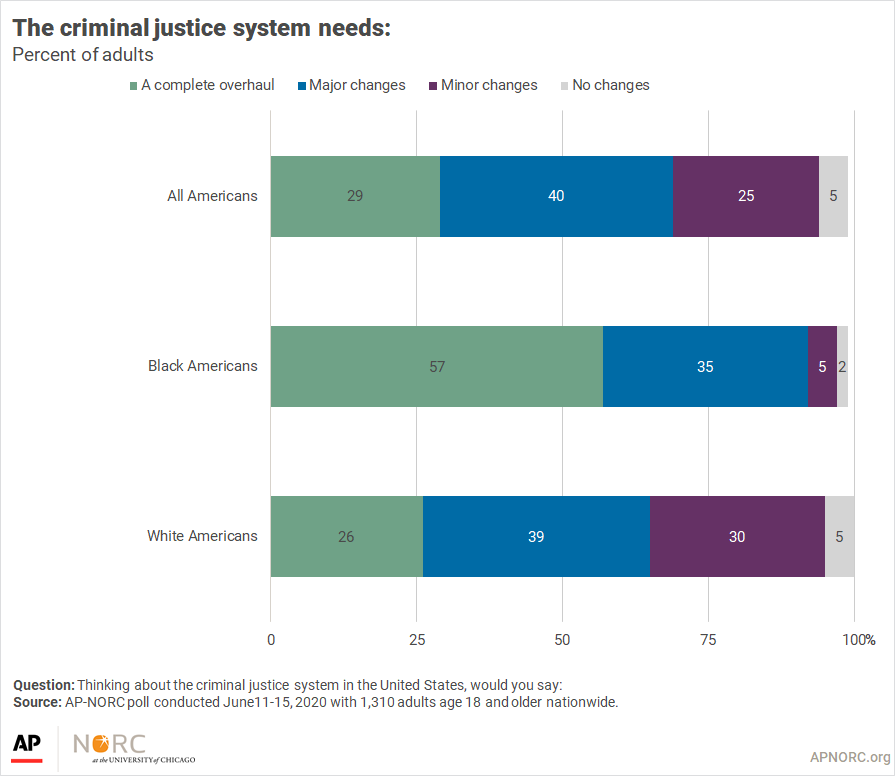 Views differ based on partisanship with 44% of Democrats saying the system needs a complete change while just 27% of independents, and 12% of Republicans say the same.
Most Americans – including a majority of white and Black adults – believe that police officers who cause injury or death in the course of their job are treated too leniently by the justice system. In 2015, just 41% of all adults and 32% of white Americans said the same.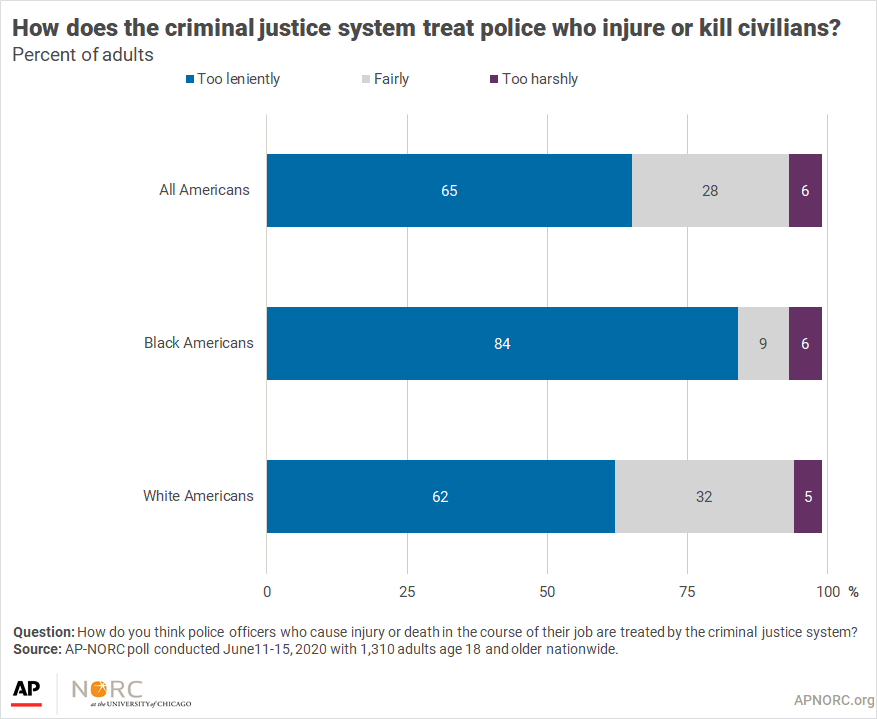 Democrats are almost twice as likely as Republicans to say police are treated too leniently by the justice system (85% vs. 43%).
Overall, 48% of Americans say police violence against the public is a serious problem, up from 32% in 2015. In 2015, only 19% of white Americans said police violence against civilians was an extremely or very serious problem; now 39% say the same.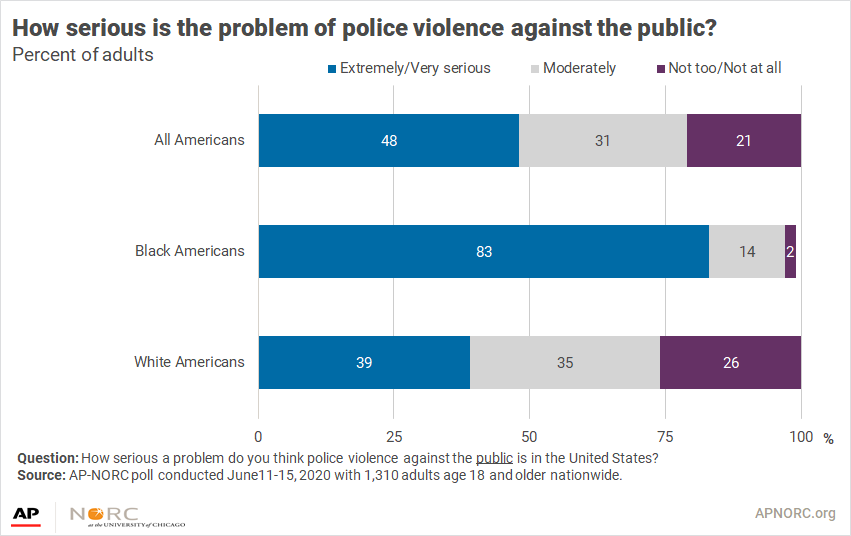 The nationwide poll was conducted June 11-15, 2020 using the AmeriSpeak® Panel, the probability-based panel of NORC at the University of Chicago. Online and telephone interviews using landlines and cell phones were conducted with 1,310 adults. The margin of sampling error is +/- 3.7 percentage points.
In addition, Black adults were sampled at a higher rate than their proportion of the population for reasons of analysis. The overall margin of sampling error for the 377 completed interviews with Black respondents is +/- 5.3 percentage points.