Daylight saving time is observed from the second Sunday in March until the first Sunday in November. While states can opt into standard time permanently — which Hawaii and Arizona have done — the reverse is prohibited and requires congressional action. More than 30 states are considering legislation related to the practice of changing clocks twice a year, and Florida Sen. Marco Rubio introduced legislation making daylight saving time permanent nationwide.1
Only 28% want to continue changing the clocks. Among the rest of Americans, 40% prefer year-round standard time and 31% prefer year-round daylight saving time.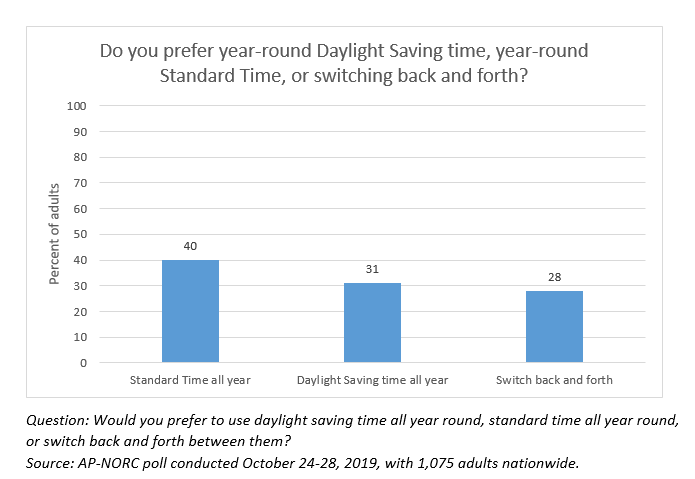 Older Americans are more likely than younger Americans to support staying in daylight saving time permanently. Thirty-eight percent of Americans age 45 and older support year-round daylight saving time, compared to 22% of Americans under 45.
The nationwide poll was conducted October 24-28, 2019, using the AmeriSpeak® Panel, the probability-based panel of NORC at the University of Chicago. Online and telephone interviews using landlines and cell phones were conducted with 1,075 adults. The margin of sampling error is plus or minus 4.1 percentage points.