Ahead of the holiday, AP-NORC asked Americans about their Halloween holiday plans. Seventy-six percent of American adults do something to celebrate Halloween, whether with decorations, passing out candy to treat-or-treaters, or watching a scary movie. Fewer plan to mark the holiday by dressing pets in costume or handing out healthy snacks instead of candy.
Americans living in cities are less likely than suburban or rural residents to say they will celebrate Halloween by passing out candy to trick-or-treaters or displaying Halloween decorations.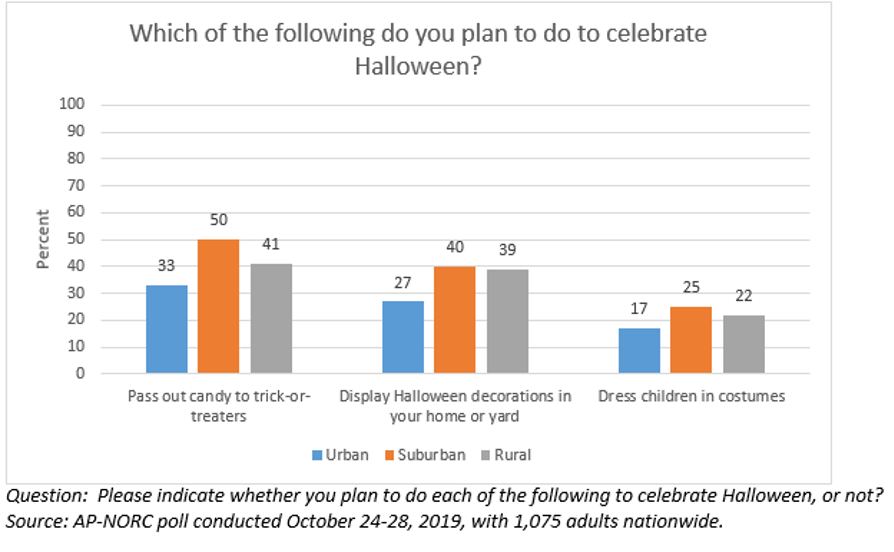 The biggest Halloween danger for children is car accidents. According to the National Safety Council, children are more than twice as likely to be hit by a car and killed on Halloween as on any other day of the year.1 Seventy percent of Americans think it is unsafe for children to go trick-or-treating by themselves on Halloween compared to 29% who say it is not dangerous.
The nationwide poll was conducted October 24-28, 2019, using the AmeriSpeak® Panel, the probability-based panel of NORC at the University of Chicago. Online and telephone interviews using landlines and cell phones were conducted with 1,075 adults. The margin of sampling error is plus or minus 4.1 percentage points.