This holiday season, 92% of Americans will celebrate Christmas, 5% will celebrate Hanukkah, and 3% will celebrate Kwanzaa. Five percent will celebrate more than one holiday. Additionally, 81% will celebrate New Year's Eve.
Among those who celebrate Christmas, 52% observe it mostly as a religious holiday and 48% consider it more a non-religious cultural holiday. Americans who attend church at least weekly are more likely to celebrate Christmas as a religious holiday than those who attend less frequently.
More Americans feel positive than negative during the December holiday season. Gratitude is the most commonly felt emotion. Although far fewer report feeling sad or lonely, still about 1 in 5 are struggling with those emotions during the season. Fifty-nine percent of Americans plan to volunteer or make donations during the holiday season.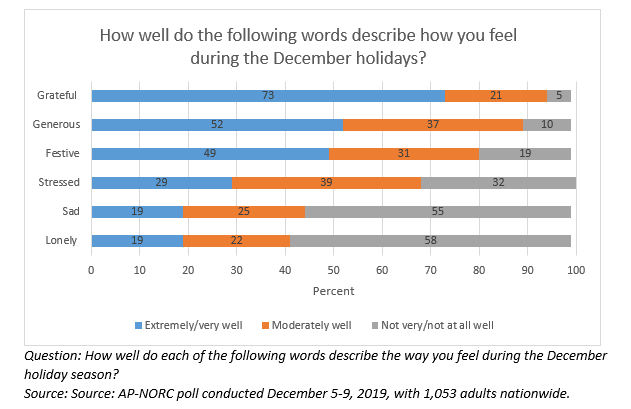 Less educated Americans are more likely to say that they are lonely and sad during the holidays, and younger Americans are more likely to say that they are stressed. Americans who attend church at least once a week are more likely to feel grateful and generous than those who go to services less frequently. Women are also more likely than men to describe themselves as grateful, stressed, generous and sad. Older Americans, more affluent people, those who attend religious services weekly, and women are all more likely than others to say that they plan on volunteering or donating during the holidays.
When asked about family holiday traditions, 58% report that they have traditions that they are looking forward to this holiday season and just 12% have traditions they are dreading.
The nationwide poll was conducted from December 5to December 9, 2019, using the AmeriSpeak® Panel, the probability-based panel of NORC at the University of Chicago. Online and telephone interviews using landlines and cell phones were conducted with 1,053 adults. The margin of sampling error is plus or minus 4.0 percentage points.