Americans' favorite holiday movies run the gamut from Frank Capra's 1946 holiday classic, "It's a Wonderful Life" to Tim Burton's animated musical, "The Nightmare Before Christmas". More than 70 different films were named as a favorite holiday or Christmas movie.
Still, 17 percent were unable to come up with a favorite movie, and another 5 percent volunteered that they didn't like holiday movies at all.
One movie on the top 10 list of the AP-NORC Center survey triggers a debate each year. Is Die Hard a Christmas movie? The film's distributor, 20th Century Fox argues that it is, while Bruce Willis, who starred in the 30-year-old movie contends that it is not.1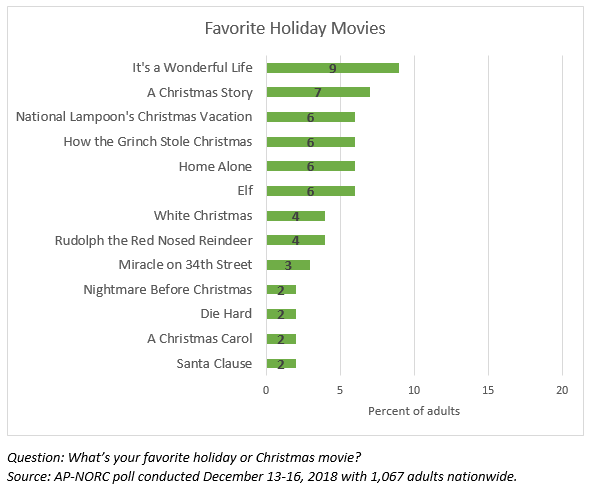 While most of the top 10 favorite movies are fairly current, favorite songs tend toward old-time classics.
The 19th century German Christmas carol, "Silent Night," was most frequently named as a favorite holiday or Christmas song. Other favorite Christmas carols from the past in the top 10 include "O Holy Night" and "Joy to the World." The most popular secular song is "Jingle Bells," which was published in 1857.
"Baby, It's Cold Outside," which dates from the 1940's, makes no mention of Christmas, but like "Let It Snow," is has become a holiday standard and often covered on Christmas-themed albums. This year, the Academy Award winning song has come under fire. Debates on social media have erupted over its lyrics.
The controversy may have triggered people to name it as a favorite song, tied in third place with "White Christmas." In surveys conducted by CBS News in 2010 and Marist College in 2008, few if any mentioned "Baby, It's Cold Outside" as their favorite holiday song.
More than 100 individual songs were named in the survey. Again, 5 percent say they do not like holiday music, and 14 percent had no response.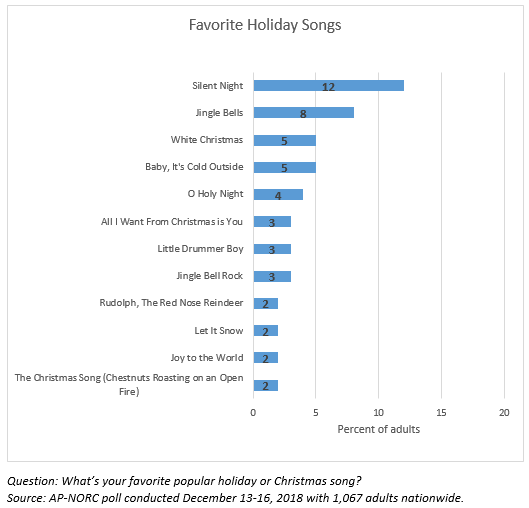 The nationwide poll was conducted December 13-16, 2018 using the AmeriSpeak® Panel, the probability-based panel of NORC at the University of Chicago. Online and telephone interviews using landlines and cell phones were conducted with 1,067 adults. The margin of sampling error is plus or minus 4.1 percentage points.
The Washington Post: 'Die Hard' isn't just a Christmas movie — it's the best ever, according to its Hollywood distributor. ←