Few Americans expect to be debating politics over the cranberry sauce and candied yams on Thanksgiving, according to a new survey by The AP-NORC Center for Public Affairs Research. About half of people say the dinner conversation is not likely to turn to the news coming out of Washington these days, and another quarter say it is only somewhat likely to be a discussion topic at the Thanksgiving table.
Still, 2 in 10 Americans do anticipate politics will come up during dinner. Among them, 35 percent are eager for that political conversation, while 39 percent dread the very thought of it. Twenty-three percent of those who expect the topic will come up don't feel strongly one way or the other.
Those who think politics are less likely to come up during dinner tend to be more ambivalent about the topic.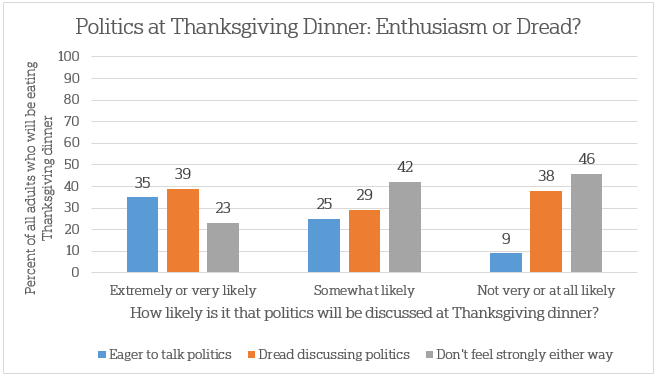 College educated Americans are about twice as likely to expect a political debate during dinner as those who have received less formal education (30 percent vs. 14 percent).
Younger Americans are also more inclined to anticipate exchanging political views around the dinner table. Those age 40 and older are more likely to say politics is an unlikely topic of conversation (53 percent vs. 40 percent).
Regardless of whether or not they expect the discussion to turn to politics during dinner, staunch Democrats and Republicans are more inclined than their less partisan counterparts to say they would be eager to join such a conversation (28 percent vs. 16 percent).
There are also gender differences as 41 percent of women dread the thought of discussing politics over the holiday feast compared with 31 percent of men.
The nationwide poll was conducted November 15-19, 2017 using the AmeriSpeak® Panel, the probability-based panel of NORC at the University of Chicago. Online and telephone interviews using landlines and cell phones were conducted with 1,070 adults. The margin of sampling error is plus or minus 4.2 percentage points.