Published: August 24, 2020
Dissatisfaction with the federal response to the coronavirus pandemic remains high. In the wake of Congress' failure to pass an additional coronavirus relief package and a growing number of COVID-19 cases in some states, Americans say individuals, small businesses, and public schools need more government assistance to withstand the pandemic.
Sixty-five percent of Americans disapprove of how Congressional leaders are handling the coronavirus outbreak, up 7 percentage points from the prior month. Evaluations of the federal government's COVID-19 response are similarly negative, though people are more positive about how their state and local governments are managing the response.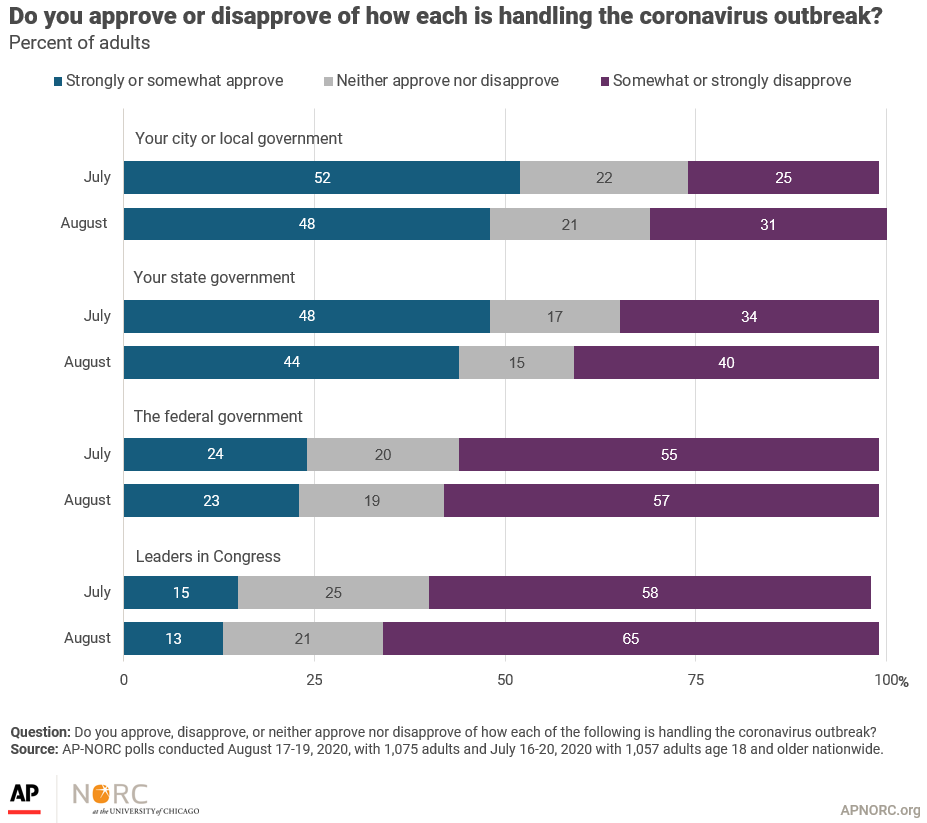 Democrats and Republicans are in agreement about the response of Congressional leaders and their local governments. But 43% of Republicans approve of how the federal government is handling the pandemic, compared to just 10% of Democrats.
Americans want the government to do more to improve the financial situations of individuals, small businesses, and public schools in response to the coronavirus outbreak. Support for the government to do more to help individuals increased from 53% in April to 66% in August.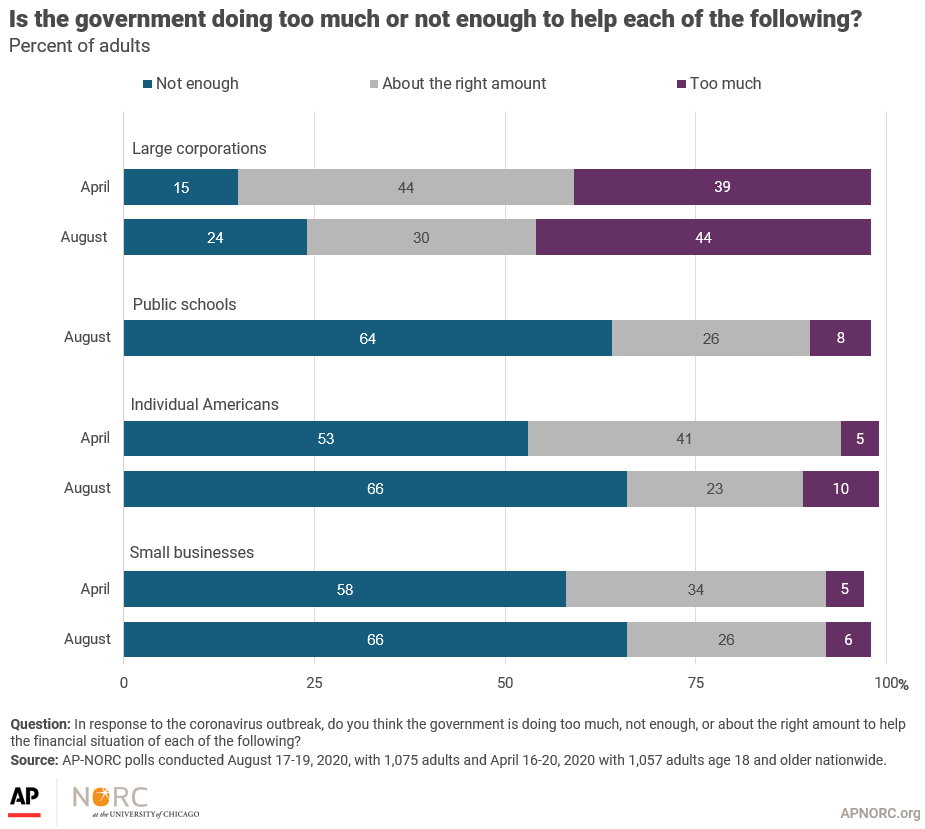 A majority of both Democrats and Republicans think the government is not doing enough to help small businesses. A majority of Democrats say the same about public schools and individual Americans.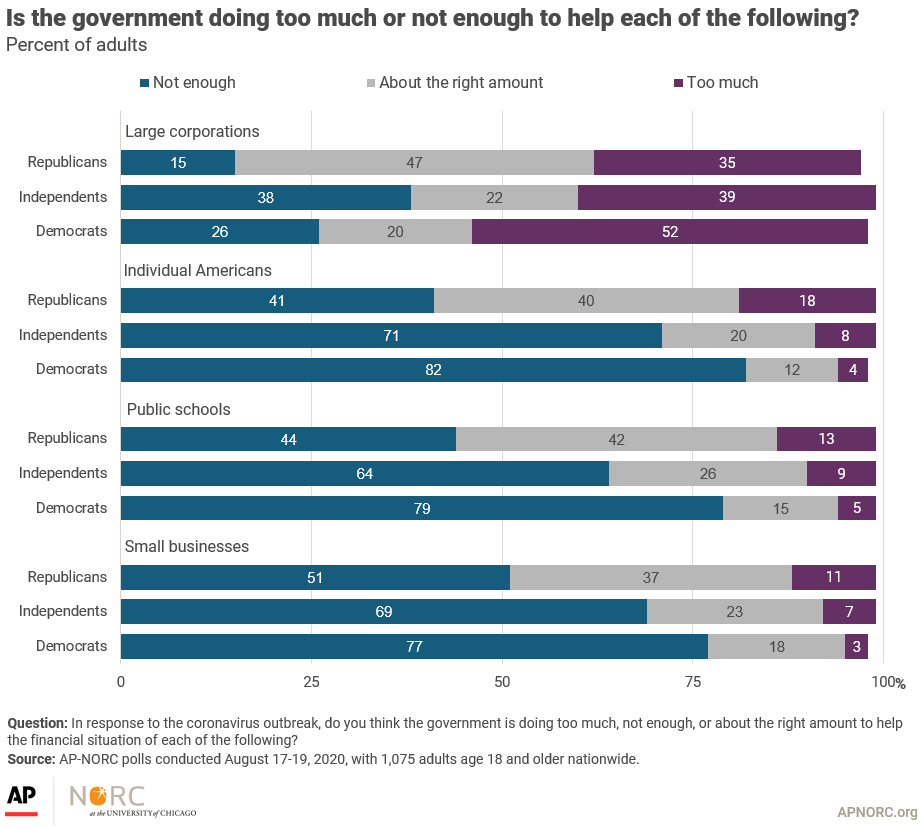 Forty-two percent of Americans are very or extremely worried about someone in their family getting infected with the coronavirus and 31% are somewhat worried. Democrats are more worried, with 57% saying they are very or extremely worried compared to 25% of Republicans who say the same.
Assessments of the President's overall job performance and his handling of the coronavirus, the economy, and health care are similar to those from the July AP-NORC survey. And the majority of Americans have a negative view of how Trump is handling foreign policy.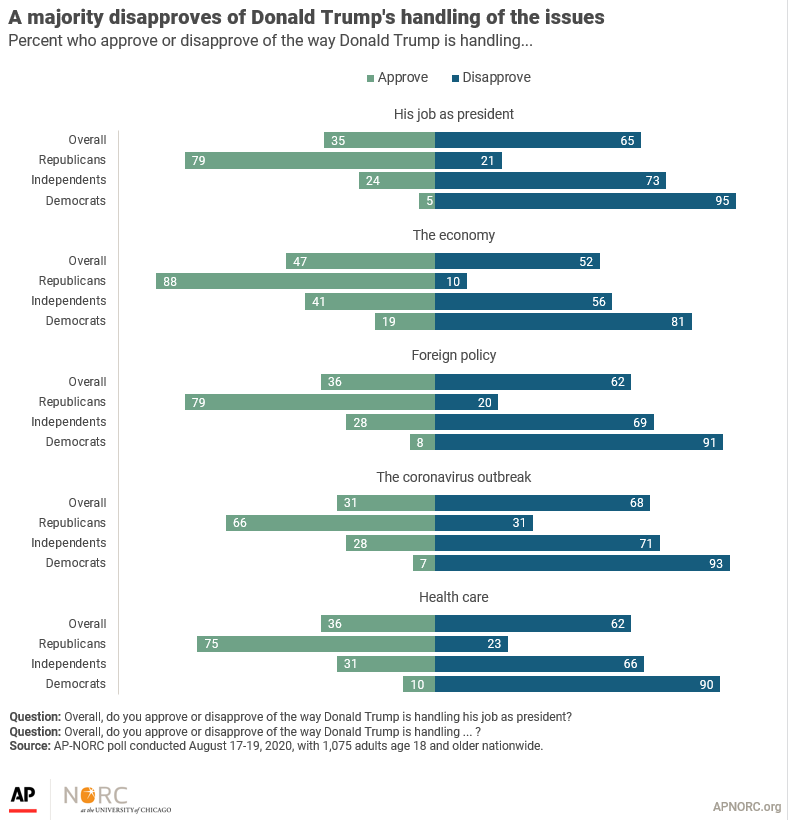 Most Americans – regardless of party identification – say the country is headed in the wrong direction; 87% of Democrats and 61% of Republicans.
The nationwide poll was conducted August 17-19, 2020 using the AmeriSpeak® Panel, the probability-based panel of NORC at the University of Chicago. Online and telephone interviews using landlines and cell phones were conducted with 1,075 adults. The margin of sampling error is +/- 4.1 percentage points.
Suggested Citation: AP-NORC Center for Public Affairs Research. (August, 2020). "Dissatisfaction with the Federal COVID-19 Response Remains High." [apnorc.org/dissatisfaction-with-the-federal-covid-19-response-remains-high]