October 16, 2020
Three weeks before Election Day, a large majority of voters expect the outcome of November's election for president to have a significant impact on the future of the United States. Most Americans think the country is divided about its most important values, and few expect those divisions to lessen any time soon.
Seventy-four percent of registered voters say the country is headed in the wrong direction. But voters are slightly more hopeful for the future. Fifty-five percent think America's best days are ahead compared to 42 percent who say they are in the past.
Most registered voters view the upcoming presidential election as consequential for the country and for their own lives. Eighty-six percent of voters think the outcome of this election will have serious consequences for the country, and 52% feel it will have a large impact on them personally.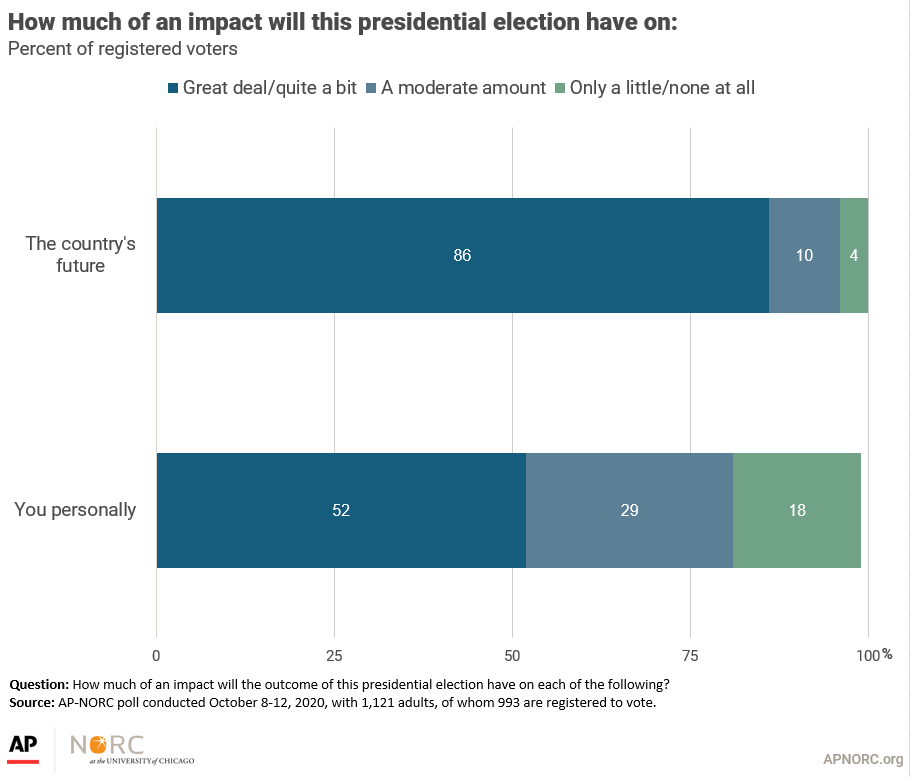 Eighty-five percent of voters say the country is greatly divided over important values. Looking forward, 34% expect the country to become less divided over the next five years, 30% think it will become even more divided, and 33% say things will stay the same. Most voters think Trump's reelection will lead to more division in the country, including 25% of Trump's supporters.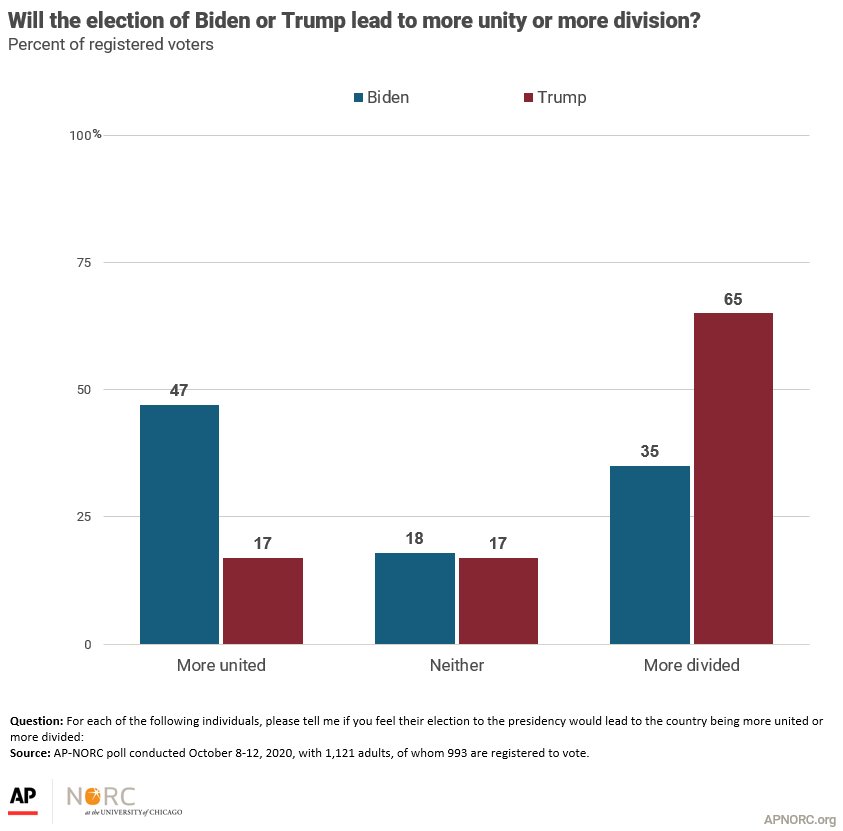 Few voters consider American democracy as particularly successful these days. Only 15% say democracy is working extremely or very well, 36% say it is working moderately well, and 49% say it is not working very well or at all. Biden's supporters are especially negative: 62% percent say democracy is not working very well or not working at all. In contrast, 70% of Trump's supporters say democracy is working at least somewhat well. And, voters don't have much hope that either candidate will strengthen democracy if elected.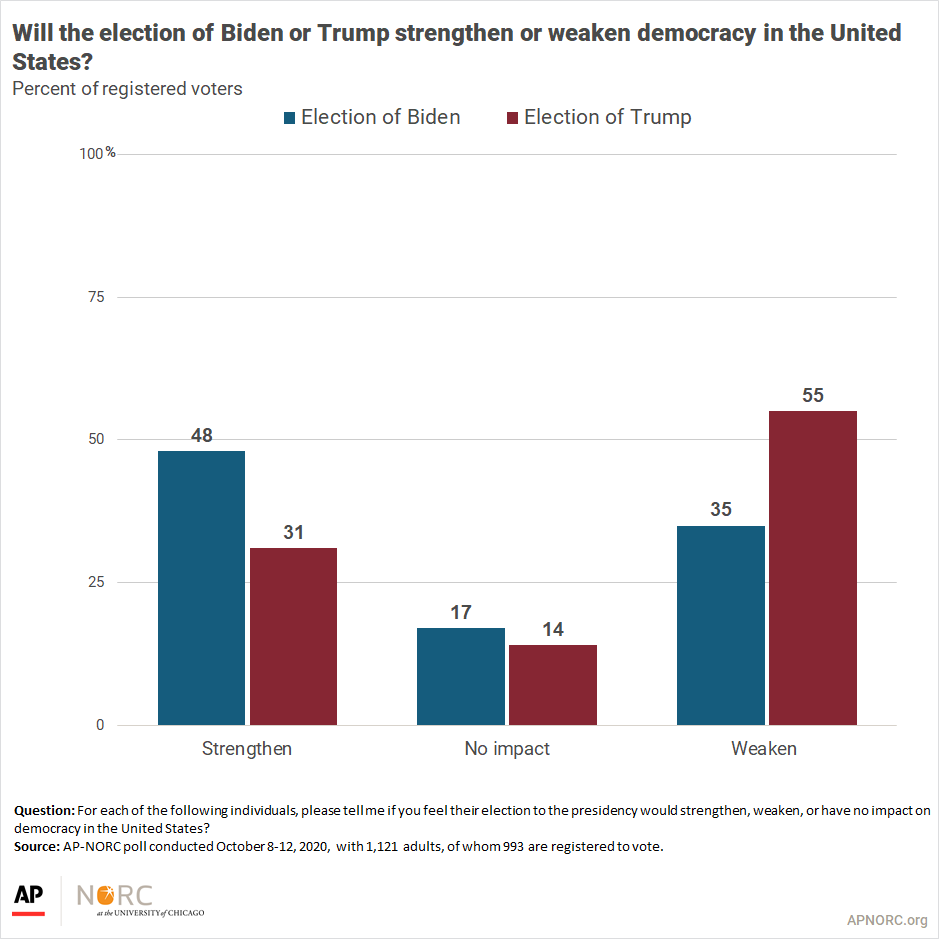 Voters are closely divided on whether Trump or Biden would do a better job of handling the economy, but most give Biden the edge regarding race relations, the pandemic, or Supreme Court nominations.
Sixty-five percent of voters think the diversity of the United States makes the country stronger. But Biden's supporters and Trump's supporters again have divergent views on this topic.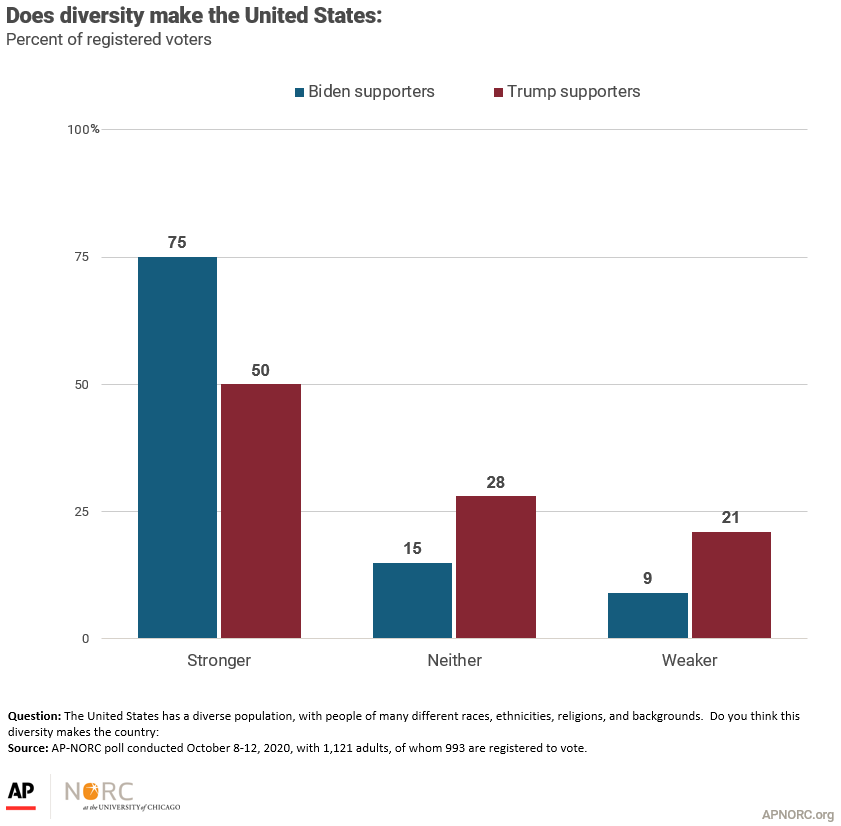 Biden's supporters have more confidence in the accuracy of the vote count in November than Trump's supporters. Fifty-three percent of Biden's supporters have a great deal or quite a bit of confidence that the votes will be counted correctly, while only 28% of Trump's supporters agree.
Voter suppression is more of a concern for Biden's supporters, while the prospect of voter fraud is more worrisome for Trump's supporters.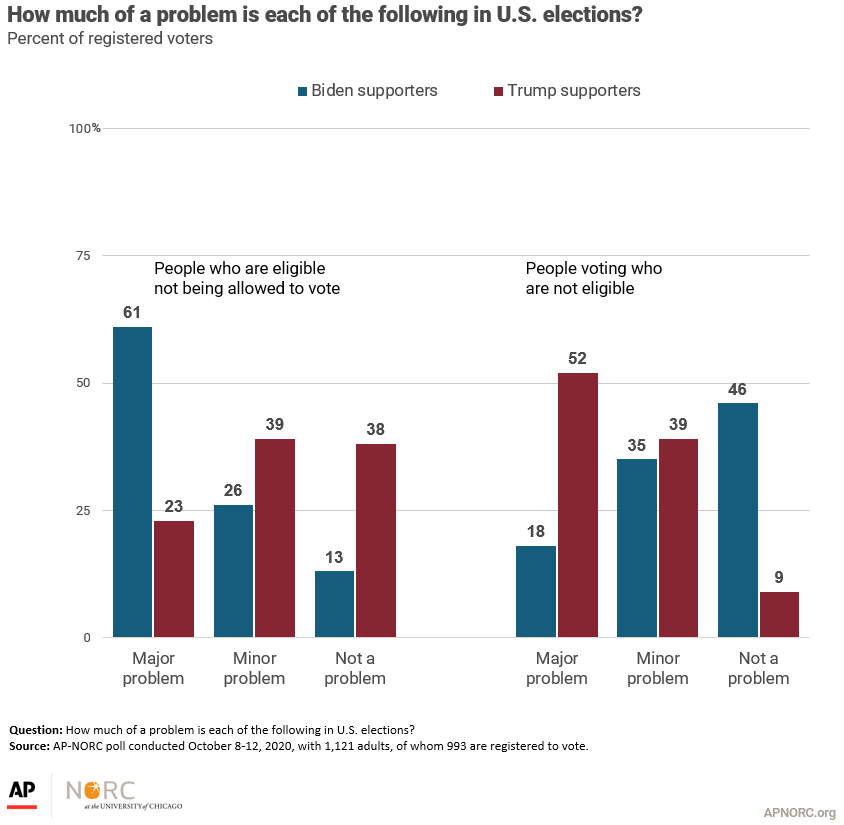 Seventy-seven percent of voters – both Trump supporters and Biden supporters – describe themselves as interested in the campaign. Most voters are paying attention to news about the election and watched at least one of the debates. Fewer voters have posted about the election on social media, participated in candidate forums or rallies, donated or volunteered. There is little difference between Trump supporters and Biden supporters when it comes to engagement in these election related activities.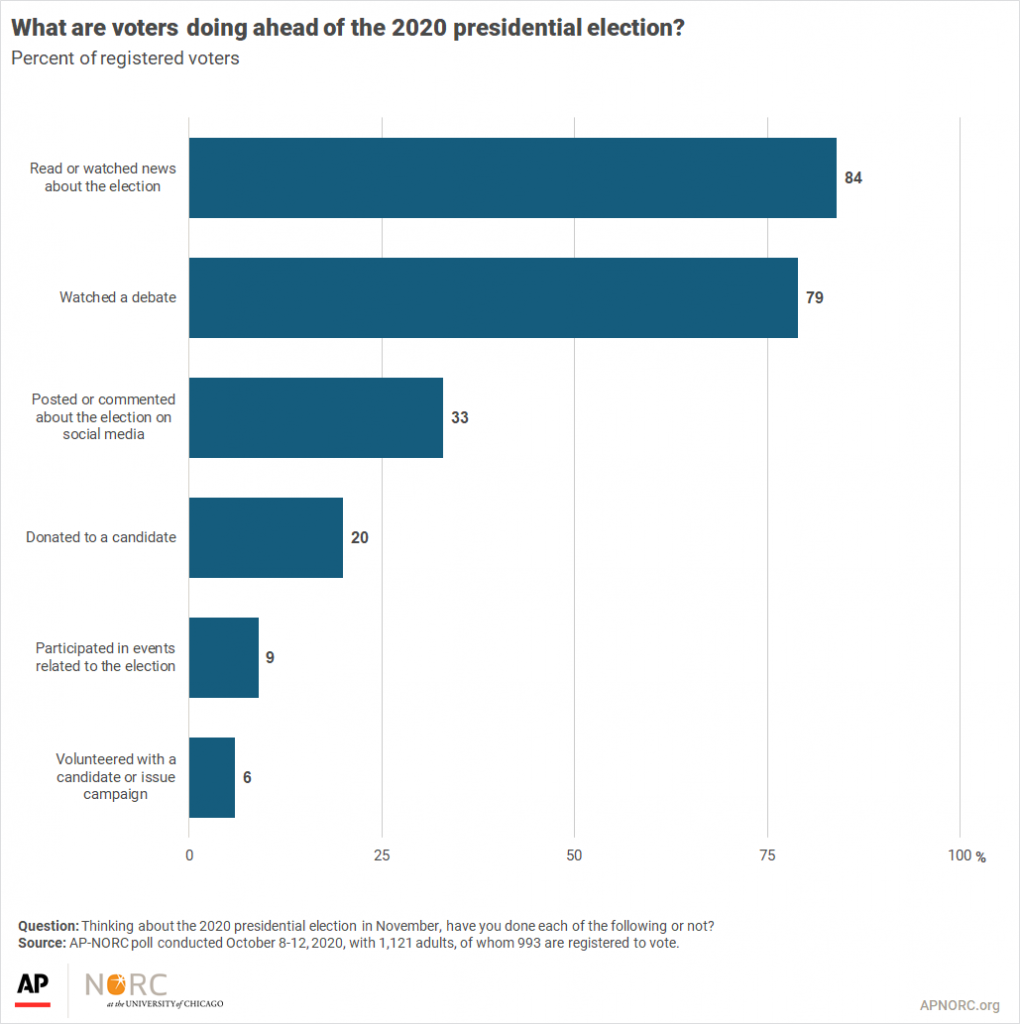 The nationwide poll was conducted October 8-12, 2020 using the AmeriSpeak® Panel, the probability-based panel of NORC at the University of Chicago. Online and telephone interviews using landlines and cell phones were conducted with 1,121 adults, of whom 993 said they were registered to vote. The margin of sampling error is +/- 4.0 percentage points for all adults; for registered voters it is +/- 4.1 percentage points.