Across government, academia, and the private sector, efforts are underway to develop, test, and produce a vaccine against COVID-19. Viewed by experts as a critical component to ending the pandemic, half of Americans plan to get vaccinated when it becomes available, but half are skeptical.
Twenty percent of Americans anticipate that a COVID-19 vaccine will be available to the public before the end of the year, while 61% expect it during 2021 and only 17% think it will take longer than that.
If a vaccine against coronavirus becomes available to the public, 49% say they plan to get vaccinated, and 20% say they will not. Another 31% are not sure.
A 2019 survey conducted for the National Foundation for Infectious Diseases found a similar number, 52%, planned to get vaccinated against the flu that season.1
Older Americans, and those who worry that they or someone in their household could be infected with the virus are more inclined to say they will get a coronavirus vaccine once it becomes available. Black Americans are more likely than other racial and ethnic groups to say they do not plan to get the vaccine if it becomes available.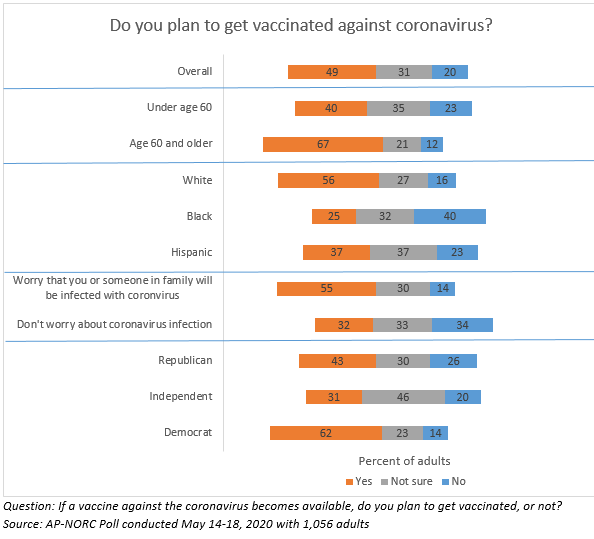 Among all Americans, 79% say that a vaccine is an important criteria for re-opening activities and businesses in their area, including 46% who say it's essential for re-opening and 33% who say it's important but not essential. Among those that feel a vaccine is essential for a safe re-opening, 65% would get immunized when a vaccine is available.
Those planning to get the vaccine are doing so primarily to protect themselves and their families. But many also want to protect their community and believe widespread vaccination is necessary for life to go back to normal.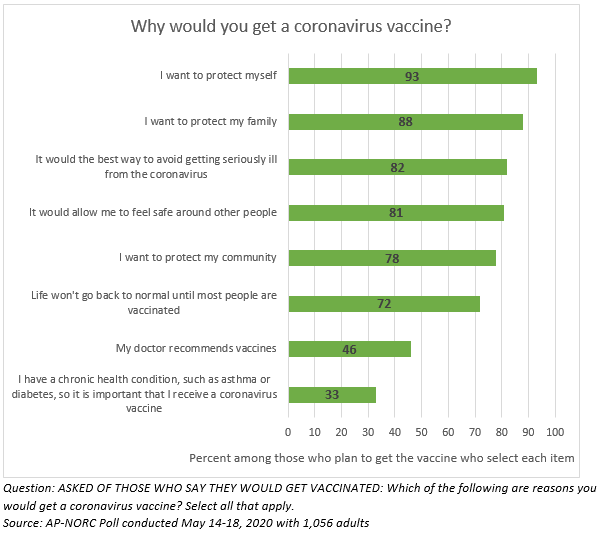 Among the 20% of Americans who say they will not get the vaccine, concern about side effects is overwhelmingly the top reason for avoiding the vaccine.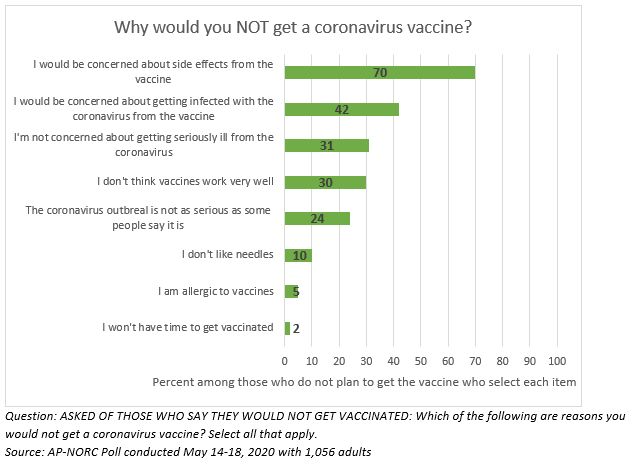 The nationwide poll was conducted May 14-18, 2020 using the AmeriSpeak® Panel, the probability-based panel of NORC at the University of Chicago. Online and telephone interviews using landlines and cell phones were conducted with 1,056 adults. The margin of sampling error is plus or minus 4.2 percentage points.
1 https://www.nfid.org/about-nfid/newsroom/news-conferences/2019-nfid-influenza-pneumococcal-disease-news-conference/national-poll-attitudes-about-flu-and-pneumococcal-disease-prevention/