October 19, 2022
As the 2022 election season comes to a head, about half of the public feels our democracy is working poorly and just 1 in 10 think it's working well. People are slightly more likely to say they have confidence that the votes in the 2022 midterm elections will be counted accurately than they were about the 2020 presidential election. Most adults continue to see voter suppression, voter fraud, and gerrymandering as at least a minor problem.
Only 9% say democracy is working extremely or very well. Republicans have a more negative outlook on how democracy is faring than either Democrats or independents. Overall, there has been little change in the public's view over the past two years. However, the proportion of Democrats who say democracy is working well has increased since 2020—from 6% to 15%—and the proportion of Republicans who say so has decreased—from 23% to 5%.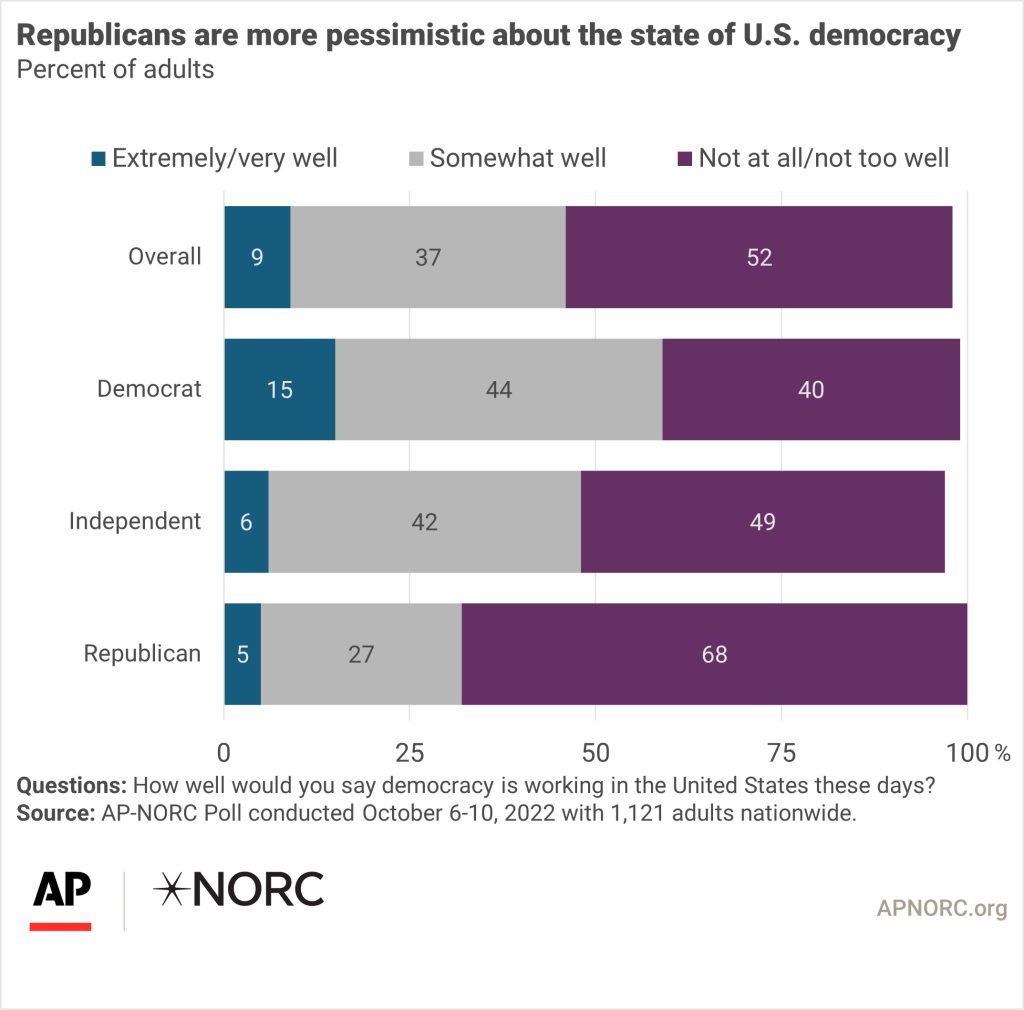 Overall, 47% of the public is confident the 2022 midterm votes will be counted accurately, with Democrats expressing far more faith in an accurate vote count than Republicans or independents.
In 2020, only 39% were confident that the votes for president would be tallied correctly, including 51% of Democrats and 28% of Republicans.
Despite partisan differences when it comes to vote counting and the state of democracy in the United States, Republicans and Democrats both have negative outlooks about the way leaders are chosen under our political system. Only 30% of Democrats and 24% of Republicans are optimistic, while 42% of Democrats and 48% of Republicans are pessimistic about how leaders are chosen.
Many people think there are major problems in American elections. Sixty-one percent believe that states drawing legislative districts that intentionally favor one political party – gerrymandering – is a major problem. Democrats are more likely than independents or Republicans to view gerrymandering as a major problem.
Nearly 4 in 10 adults consider voter suppression a major problem in U.S. elections, and about as many say voter fraud is a major problem. However, there are distinct differences along party lines. Democrats are more likely than Republicans or independents to say people who are eligible not being allowed to vote is a major problem, while Republicans are more likely than Democrats or independents to cite fraud as a major problem.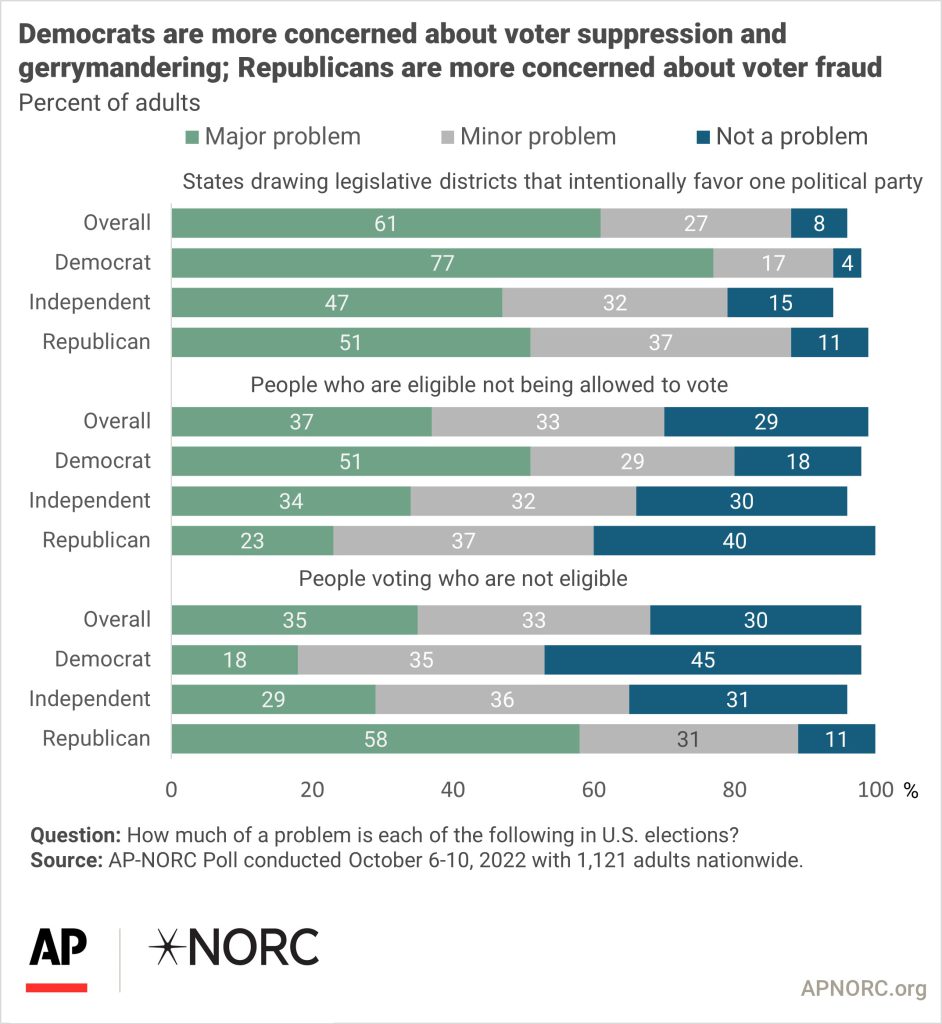 Unsurprisingly, Republicans and Democrats tend to say their own party would do a better job of handling voting laws. Sixty-four percent of Republicans trust their party to handle voting laws, while 74% of Democrats trust their party. Most independents (57%) trust neither party.
The nationwide poll was conducted October 6-10, 2022 using the AmeriSpeak® Panel, the probability-based panel of NORC at the University of Chicago. Online and telephone interviews using landlines and cell phones were conducted with 1,121 adults. The margin of sampling error is +/- 3.8 percentage points.