Most American workers think the recent spotlight on sexual misconduct and racial diversity will have little effect in their own workplace. Still, a recent AP-NORC/SAP survey conducted by The Associated Press-NORC Center for Public Affairs Research finds a majority of employees in workplaces that have instituted new harassment and diversity procedures in recent years say they have had positive outcomes.
The poll explores American workers' views about sexual harassment and ethnic and racial diversity in the workplace. With allegations of sexual harassment on the rise,[1] 43% of employees expect attention to sexual misconduct in the workplace will increase in the next few years. Fifty-three percent of employees think the emphasis on recent sexual misconduct cases will bring positive change for women in the workplace. Fewer, 21%, say it will bring positive change for male employees.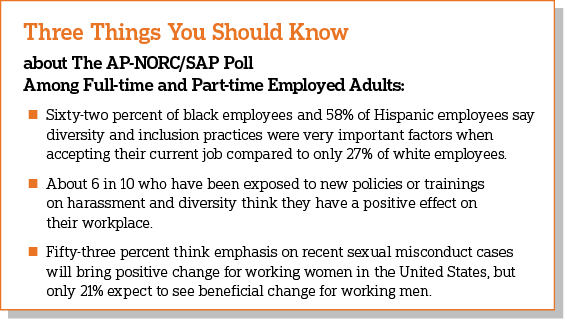 When it comes to racial and ethnic diversity, less than half of workers believe that things will change significantly in favor of racial and ethnic minorities. For example, 43% say things will improve for black employees in the country. Racial groups believe positive changes are more likely to come for groups different from their own. Forty-six percent of white employees say things will improve for black employees compared to 23% of black employees.
About 4 in 10 workers think white and male employees have more advantages at their workplace compared to other groups.
The nationwide survey of 1,000 full-time and part-time employed adults was conducted using AmeriSpeak®, the probability-based panel of NORC at the University of Chicago. Self-employed adults were not included in the survey. Interviews were conducted between July 25 and 30, 2019, online and using landlines and cell phones. The margin of sampling error is +/- 4.2 percentage points.
[1] In 2018, more than 7,600 sexual harassment claims were filed with the U.S. Equal Employment Opportunity Commission (EEOC). This was a 14% increase from 2017, when 6,696 cases were registered. https://www.eeoc.gov/eeoc/statistics/e nforcemen t/sexual_ harassmen t_new.cfm