While the coronavirus outbreak has shuttered congregations across the country, religious Americans' sense of spirituality and faith remain strong according to a new study by UChicago Divinity School and The AP-NORC Center for Public Affairs Research.
While few are able to attend religious services in-person, many continue to pray privately in their homes, and more are watching live-streaming services than before the outbreak. And though many support allowing drive-thru or in-person religious services—at least with restrictions—less than half think measures prohibiting these services violate freedom of religion.
Most Americans believed in God before the outbreak and still do. About a quarter say their faith or spirituality has strengthened because of the outbreak, only 1% say it's weakened. A majority who believe in God feel that God is telling humanity to change how it is living and that God is protecting them from being infected.
Most Americans attribute blame for the current coronavirus situation in the United States on governments, global trade, and other things in nature, though 1 in 10 Americans attribute it to human sinfulness.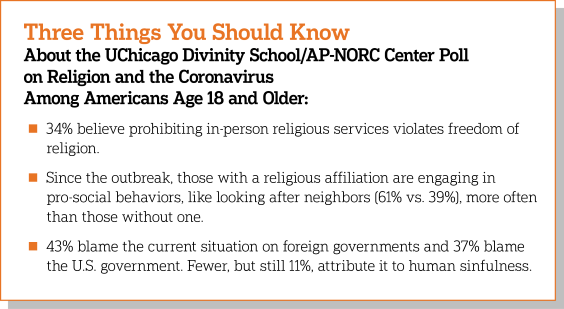 The data also reveal that Americans hold nuanced views about balancing public health and safety with the protection of rights such as freedom of religion and freedom of assembly. Adults with a religious affiliation are more likely to support the protests against stay-at-home orders than those without one.
The nationwide poll was conducted April 30-May 4, 2020, using the AmeriSpeak Panel®, the probability-based panel of NORC at the University of Chicago. Online and telephone interviews using landlines and cell phones were conducted with 1,002 adults. The margin of sample error is +/- 4.2 percentage points.