Published: August 5, 2020
While a majority of Americans value freedom of religion and want to see the government protecting it, the public as a whole has mixed views about what constitutes a violation of religious freedom, according to a new study by The AP-NORC Center for Public Affairs Research and UChicago Divinity School.
The survey—conducted in February 2020 before the COVID-19 outbreak in the United States—reveals widespread support for the right to practice any or no religion without government restriction and that the government should not favor one religion over another. But, majorities often do not see government action as a violation of religious freedom when presented with different scenarios where government policy conflicts with the religious beliefs of individuals. The public is far from unified in what they see as violations of freedom of religion, with differences in attitudes based on the religious views of the respondent.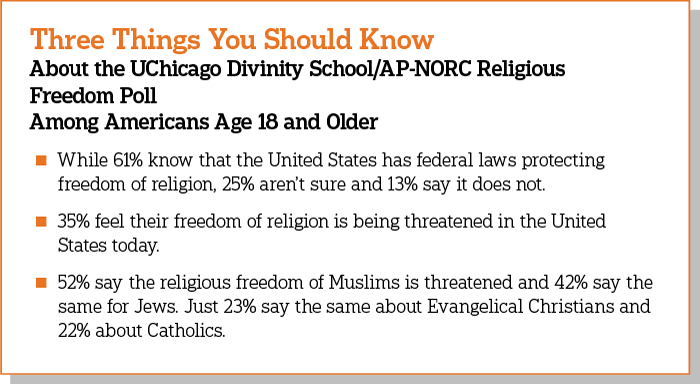 The survey also finds that Americans think some groups—particularly Muslims and Jews—face threats to their freedom of religion in the United States today. And Americans express more positive than negative views of religious groups like Buddhists, Jews, Catholics, Evangelical Christians, and other Christians, while they express more negative views about Muslims and atheists. These attitudes vary based on the religious views of the respondent. Additionally, a survey-based experiment reveals that actions taken in the name of religious freedom are judged differently depending on the religion of the actor.
The nationwide poll was conducted February 13-16, 2020, using the AmeriSpeak Panel®, the probability-based panel of NORC at the University of Chicago. Online and telephone interviews using landlines and cell phones were conducted with 1,015 adults. The margin of sample error is +/- 4.2 percentage points.
AP-NORC Center for Public Affairs Research. (August 2020). "Examining Americans' Views on Religious Freedom and Its Limits" [https://apnorc.org/projects/examining-americans-views-on-religious-freedom-and-its-limits/]