December 14, 2021
Most Americans with a religious affiliation say religion is important to them now and was as a child. Among those without a connection to organized religion, few consider religion important now but 58% say religion was at least somewhat important in their family when they were children, including 29% for whom it was very or extremely important. Forty four percent of those without a religious affiliation feel at least somewhat connected with their spirituality. Twenty-two percent of Americans describe themselves as an atheist, agnostic, or having no religion in particular.
Overall, most Americans who do consider themselves affiliated with a particular religion say religion is currently important to them and was when they were young. Catholics are more inclined to consider religion less important now than when they were young. Only about 4 in 10 white mainline Protestants say religion is extremely or very important, now or when they were young.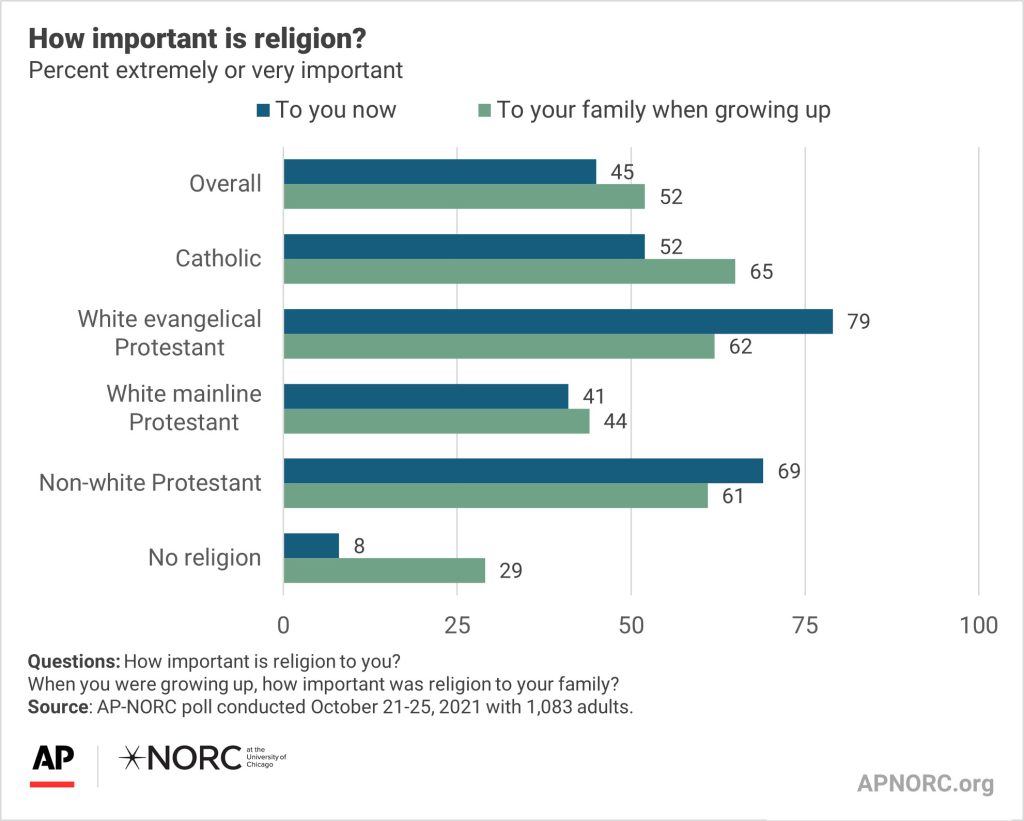 Americans feel most connected with their family and friends. A majority of those with a religious affiliation also have a connection with God or a higher power (63%) or their spirituality (59%).
Feelings of connection are less common among Americans with no religious affiliation. Fewer than half (49%) feel connected with their family and friends. And even fewer feel attached to their community (12%), God or a higher power (16%) or their own spirituality (17%).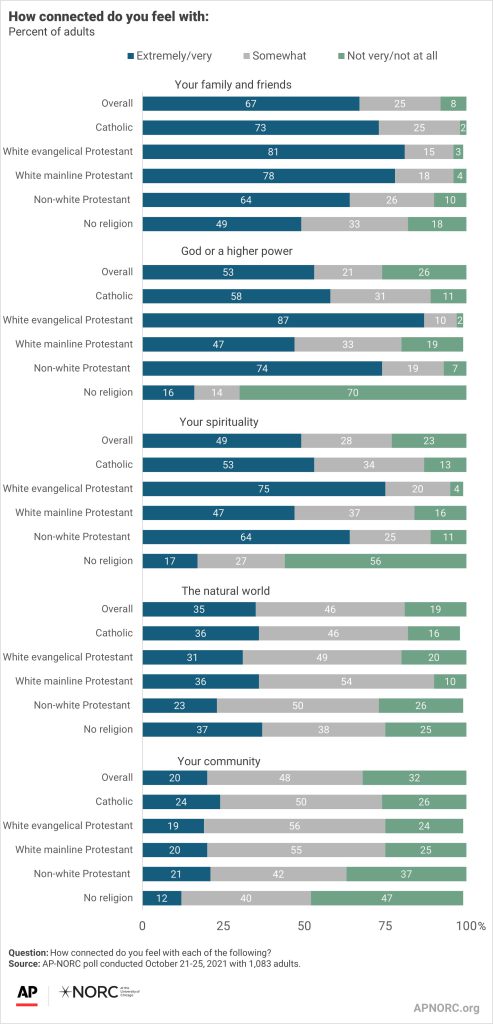 While few have a lot of trust in religious or spiritual leaders, most people with a religion affiliation have at least some faith in these leaders. Among the unaffiliated, about three-quarters have little or no confidence in religious leaders.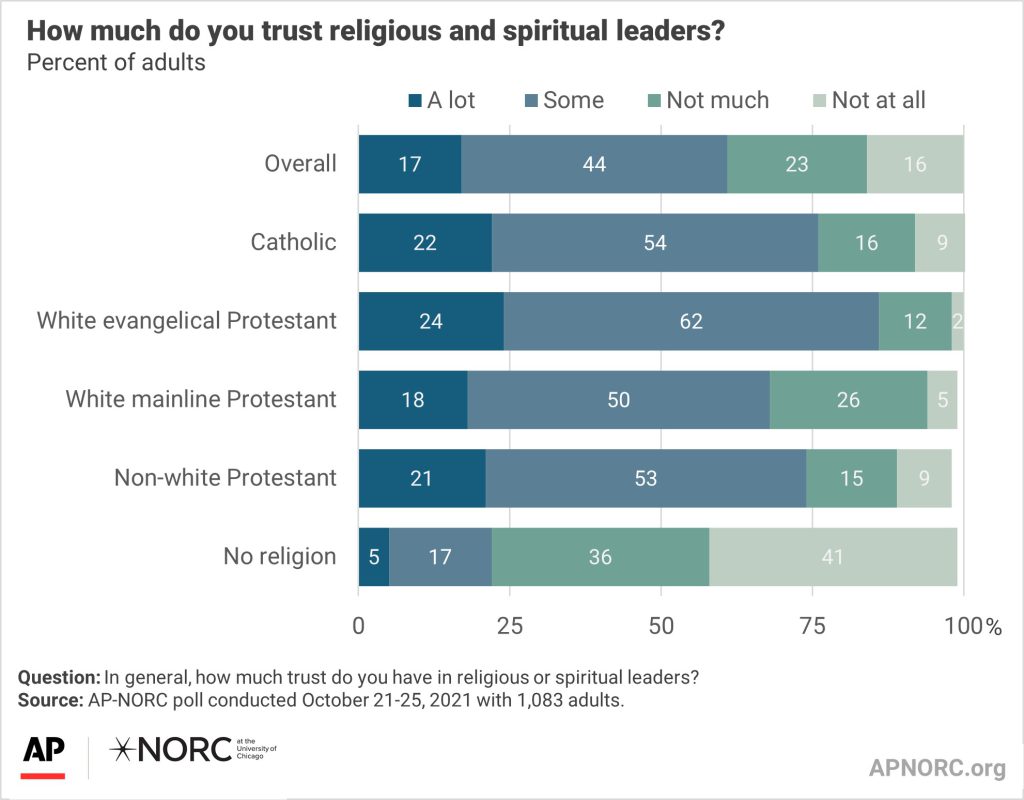 As vaccination rates rise across the United States, life in religious congregations is showing signs of slowly returning to normal. Twenty-one percent are attending religious services at least once a week, up from 5% in May 2020. While fewer are watching live streaming services, many continue to pray privately in their homes.
White evangelical Protestants are more likely than members of other religions to pray privately, read the Bible, and go to church in-person at least weekly.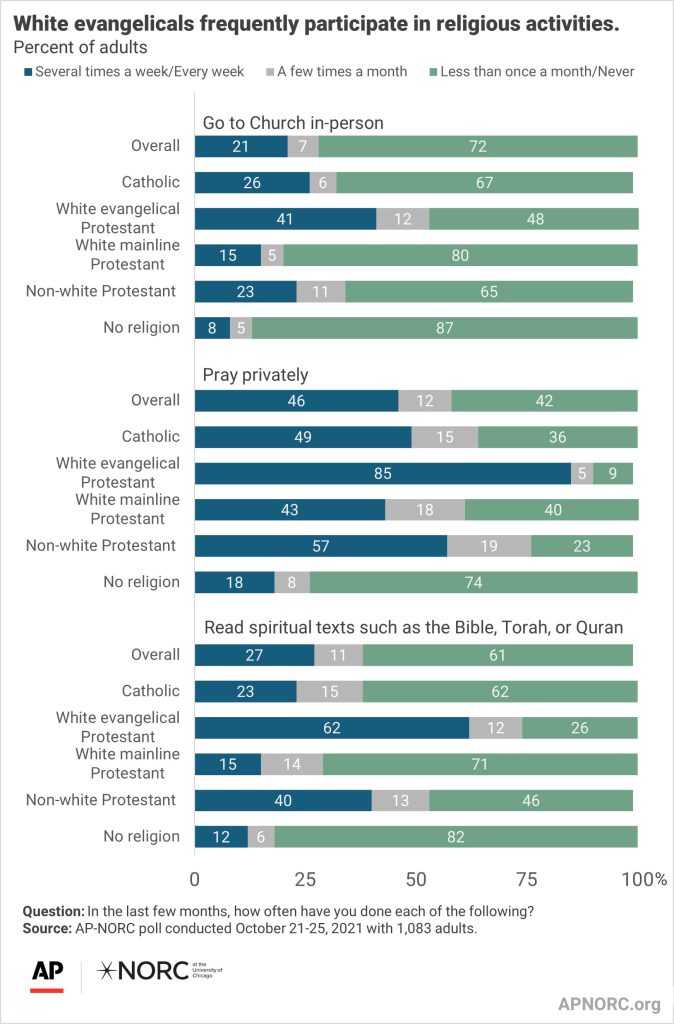 The nationwide poll was conducted October 21-25, 2021 using the AmeriSpeak® Panel, the probability-based panel of NORC at the University of Chicago. Online and telephone interviews using landlines and cell phones were conducted with 1,083 adults. The margin of sampling error is +/- 4.0 percentage points.
Suggested Citation: AP-NORC Center for Public Affairs Research. (December 2021). "How Important is Religion to Americans?" https://apnorc.org/projects/how-important-is-religion-to-americans/