May 26, 2021
A majority of Americans think discrimination against Asian Americans has increased over the past year, and many are concerned that incidents of violence are up as a result of the coronavirus pandemic. Most Asian Americans feel unsafe in public because of their race at least sometimes.
Sixty percent of Americans — including majorities across racial and ethnic groups – say discrimination against Asian Americans is higher now compared with a year ago. In an effort to combat increasing violence against Asian Americans and Pacific Islanders, President Biden signed the COVID-19 Hate Crime Bill on May 20 after it passed the House 364-62 and the Senate 94-1. The legislation, introduced by Rep. Grace Meng (D-N.Y.) and Sen. Mazie Hirono (D-Hawaii), will provide federal grants to local law enforcement to support the identification, reporting, and investigation of hate crimes as well as designate a Justice Department official to oversee reviews of hate crimes related to COVID-19.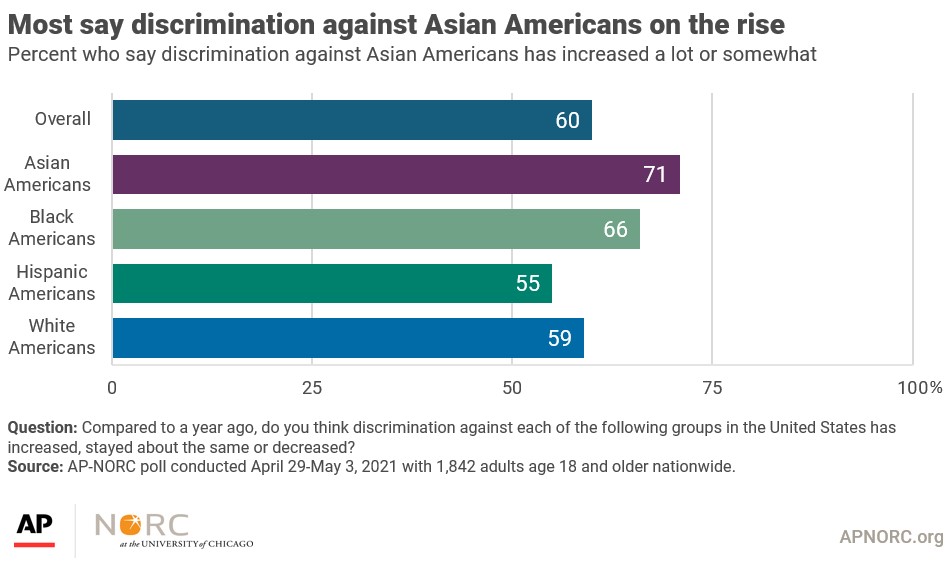 Sixty-seven percent of Asian Americans are extremely or very concerned about increased violence against Asian people because of the pandemic. And 78% of all Americans are at least somewhat worried that incidents targeting Asian Americans have increased. However, there are significant partisan differences. Most Democrats say they are extremely or very concerned, while only 22% of Republicans agree.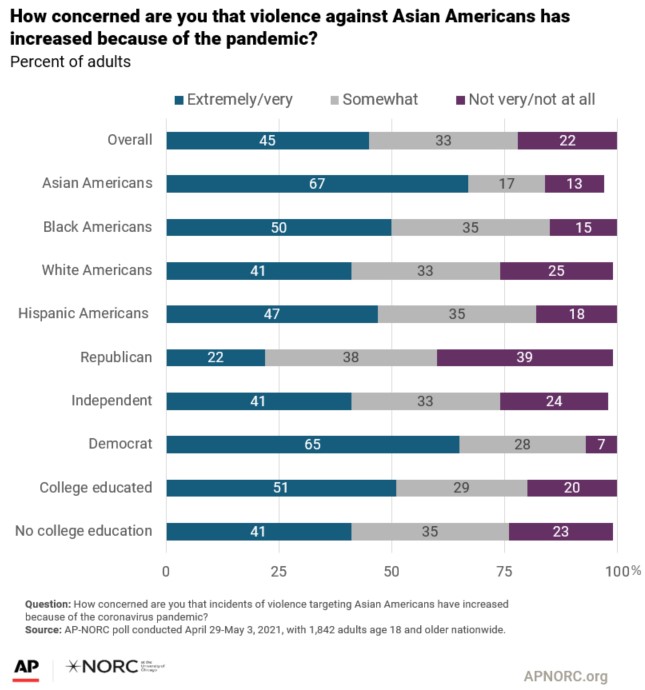 A majority of Americans across all racial and ethnic groups agree that Black Americans face considerable discrimination in most sectors of society. While fewer say the same for Asian Americans, a majority of both Asian and Black Americans think Asian people face a considerable amount of discrimination in this country.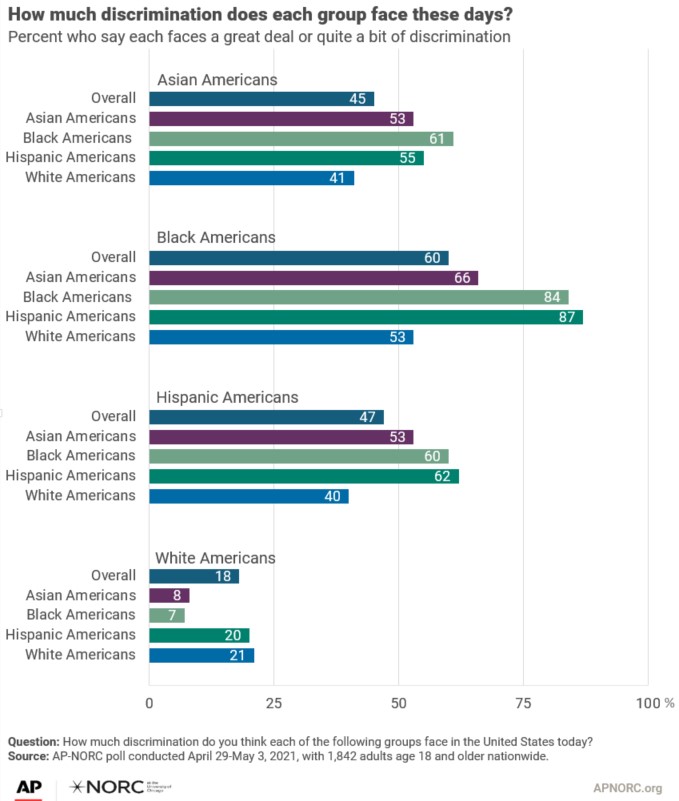 Asian Americans are more than 3 times as likely, and Black Americans are more than 4 times as likely, as white people to say they've been discriminated against on the job market. While 22% of adults say they often or sometimes face discrimination while shopping, 59% of Black Americans and 40% of Asian Americans have experienced discrimination in stores.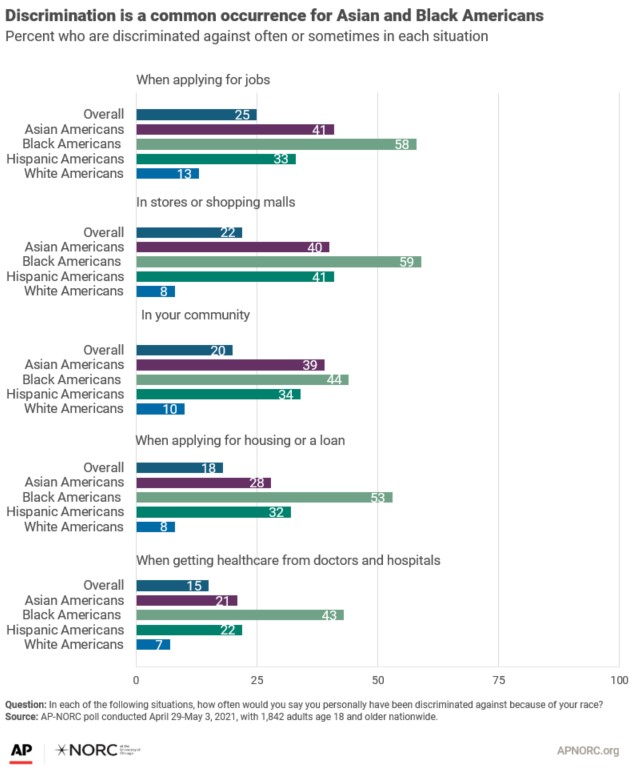 In addition, both Asian and Black Americans are much more likely than white people to say they often or sometimes feel unsafe in public.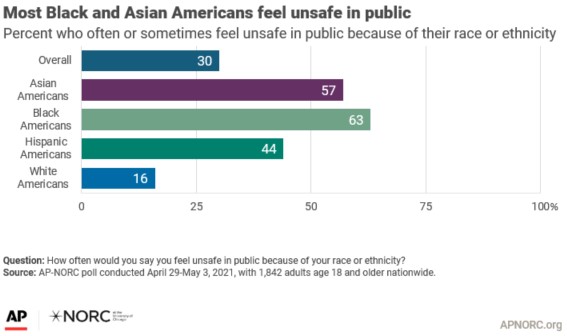 The nationwide poll was conducted April 20-May 3, 2021 using the AmeriSpeak® Panel, the probability-based panel of NORC at the University of Chicago. Online and telephone interviews using landlines and cell phones were conducted with 1,842 adults. The margin of sampling error is +/- 3.2 percentage points.
In addition, Asian and Black adults were sampled at a higher rate than their proportion of the population for reasons of analysis. The overall margin of sampling error for the 344 completed interviews with Asian respondents is +/- 7.2 percentage points. The overall margin of sampling error for the 411 completed interviews with Black respondents is +/- 6.0 percentage points.
• Suggested Citation: AP-NORC Center for Public Affairs Research. (May, 2021). "Increasing discrimination against Asian Americans a major concern" [apnorc.org/increasing-discrimination-against-asian-americans-a-major-concern]