October 26, 2020
More than four times as many registered Virginia voters plan on casting a ballot before Election Day compared to prior elections, according to a new Hampton University/AP-NORC Poll.
A majority of registered voters plan to vote either by mail or in person before November 3, and people's plans to vote are closely tied to their political beliefs. Democrats are more likely to vote early or by mail, and they cite concerns about the coronavirus as a major factor. In contrast, a majority of Republican voters plan to vote in person on Election Day and are more likely to doubt their ballot would be delivered by mail.
Among registered voters in Virginia, both Joe Biden and Kamala Harris are viewed more favorably than unfavorably, while majorities view Donald Trump and Mike Pence unfavorably.
The polls finds that although 62% of Virginia voters say their personal financial circumstances are in good condition, less than half hold a similar view about the economy in their community, state, or the country. At all levels, a majority of voters expect the economic situation will stay the same or worsen in the next year. Despite this economic uncertainty, most registered voters prioritize using restrictions to prevent the spread of the coronavirus, even if the economy suffers.
In the midst of the coronavirus, 66% of Virginian registered voters say they are spending less than usual, but only 30% report paying down debt faster than usual and 43% say they are saving more money. Most support more government help for small businesses and individuals.
Forty-two percent of Virginia voters intend to get a COVID-19 vaccine when it's available, but 19% won't, and 38% are not sure. Among those expressing some reluctance about getting vaccinated, the most commonly reported concerns include becoming infected with the coronavirus from the vaccine, potential side effects, and the process of developing and approving a vaccine.
The survey also shows that a majority of registered voters consider racism a serious national problem, and most believe the situation is worse than in the last year. However, less than half of voters support protests in response to police violence.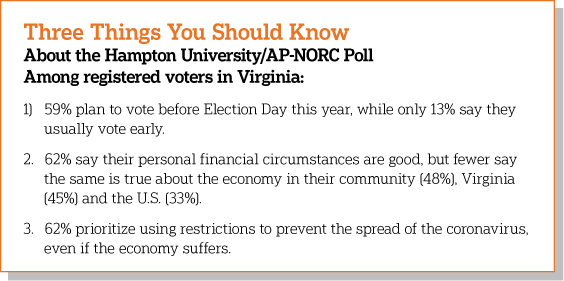 The statewide poll was conducted from October 6-12, 2020, among 887 registered voters in Virginia. Interviews were conducted online and via telephone. The margin of sampling error is +/- 4.6 percentage points.