Published: September 24, 2021
Nearly a quarter of Americans report experiencing food challenges, and 37% of adults received some type of food assistance from a nonprofit organization or a government service to help feed their household in the last year, according to a new study from Impact Genome and The Associated Press-NORC Center for Public Affairs Research. But many also faced barriers to accessing needed services to meet these challenges.
Twenty-three percent of Americans report experiencing food challenges in the last year—including 4% saying they sometimes or often did not have enough to eat, and 19% saying they had enough, but not the kinds of foods they wanted. More than half (58%) of adults struggling with food challenges also faced at least one barrier accessing services, and 21% of those with challenges— 12.5 million adults—could not access any government or nonprofit food assistance program. The most common reason cited is a perception that they were not eligible for support.
The survey asked those experiencing food challenges which strategies were necessary for meeting their family's food needs. Half (50%) say they would need extra money to pay for food and bills, 29% need more reliable transportation, and 26% need additional free food. Many are uncertain of how long they would need support. To cope, Americans with food challenges are choosing longer-lasting nonperishables (49%), buying cheaper foods (42%), and managing finances (39%).
Healthy eating is another dimension of food security tackled by the study, which found that while most Americans self-report eating healthily over the last year, 27% lack confidence in their household's ability to get enough healthy and nutritious food to eat. About a third struggle with knowing which foods are healthy when shopping, how to plan and prepare nutritious meals, and are unsure about what they need to be healthy. People facing food challenges are less confident in their ability to get healthy food: just 27% are very or extremely confident compared to 87% of those not facing food challenges. They are also less confident with more specific knowledge about how to be healthy and get nutritious food on the table.
Where people get their food is closely linked to healthy eating: 13% regularly get their food from convenience stores, with those already experiencing food challenges nearly twice as likely to regularly frequent these outlets (21% vs. 11%).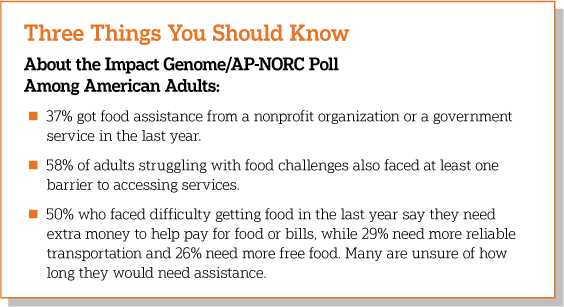 The nationwide Impact Genome/AP-NORC Poll was conducted with support from The Albertsons Companies Foundation between August 5 and 23, 2021, with 2,233 adults age 18 and older using AmeriSpeak®, the probability-based panel of NORC at the University of Chicago. Interviews were conducted online and via telephone using landlines and cell phones. The margin of sampling error is +/- 3.2 percentage points.