New research shows that although Americans are in many ways divided in their attitudes toward the media, Republicans and Democrats are in many ways strikingly alike in their behavior toward the news.
They are equally likely to pay for news, to get news from social media, to seek it out actively rather than passively, and to get news multiple times a day, according to two recent studies by the Media Insight Project, a collaboration of the American Press Institute and The Associated Press-NORC Center for Public Affairs Research.
Republicans and Democrats are also about equally likely to cite a local news source when asked about the news media they use most often and are equally likely to follow news about their towns and neighborhoods.
In general, it is independents who stand out from partisans of either stripe, particularly for being less likely to follow news closely or engage in other ways with the news.
But putting behavior aside, there are striking and potentially challenging differences among people of different party identifications when it comes to attitudes toward the news. There are also differences in the specific sources Democrats versus Republicans rely on for their information once you move beyond local news.
In general, Republicans and independents are less satisfied than Democrats—even with the news sources for which they pay and that they use most often.
Democrats, for instance, are more likely than Republicans or independents to say both the sources they use for free and the sources they pay for are reliable. Democrats are also more likely than Republicans or independents to say their paid source is a good value.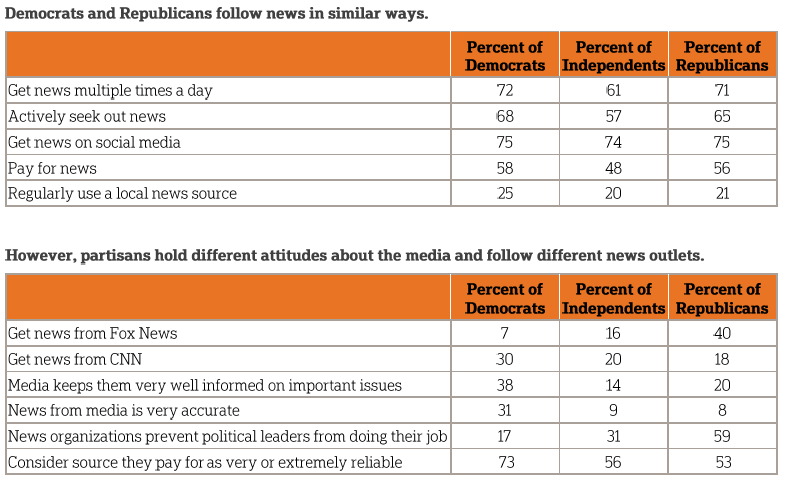 This research comes from two recent Media Insight Project surveys. The first, a study about subscribing to news, interviewed 2,199 American adults from February 16 through March 20, 2017. The second is a study of people's trust in news from the media in general versus their trust in the news they use most often, which is based on interviews with 2,036 American adults from March 8 through March 27, 2017. This latter study employed an experiment where half of the respondents were asked questions about "the news media" generally, while the other half were asked the same questions about "the news media they use most often." Both surveys used AmeriSpeak®, NORC's probability-based panel.